Sophia to get Gold Card from Biman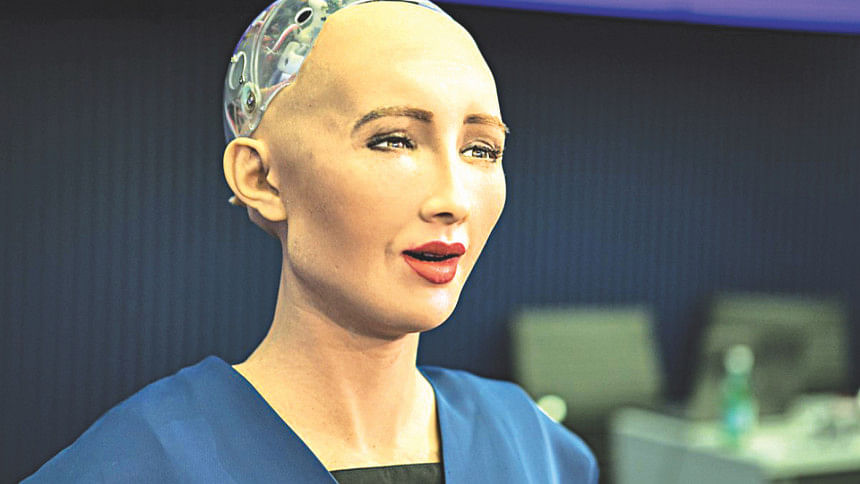 Biman Bangladesh has decided to give Gold Card to the artificially intelligent robot, Sophia.
Biman has decided to gift the Gold Card under the Biman loyalty Club to celebrate the attraction of the Bangladeshi youth for Sophia, Shakil Meraj, general manager of public relations department of Biman Bangladesh Airlines, told The Daily Star.
Sophia, a Saudi citizen, has arrived in Bangladesh last midnight to attend the Digital World Exposition scheduled to be held in Dhaka from tomorrow.
As a Gold Card holder of Biman Bangladesh, Sophia will get free tickets from Biman wherever it wants to fly, the Biman official said.  
State Minister for ICT Zunaid Ahmed Palak will officially hand over the Gold Card to Sophia during her appearance at the inaugural session of the four-day exposition at Bangabandhu International Conference Centre tomorrow.   
Sophia will appear before public at the inaugural ceremony from 2:30pm to 4:00pm.
Along with Sophia, its manufacturer David Hanson will also be in Dhaka on December 5. Hanson will present a key note at a session of the event focusing on robotics and artificial intelligence.
Sophia was activated on April 19, 2015, using artificial intelligence, visual data processing and facial recognition.
A Hong Kong-based company, Hanson Robotics, developed the robot and it has been designed to respond to questions, and has been interviewed by media from across the world.
Islami Bank Bangladesh Ltd is sponsoring the robot's visit to Dhaka. The humanoid robot can chat, smile and even tell jokes, according to different global media reports.
While it has some impressive capabilities,it does not yet have consciousness, but its manufacturer say they expect that fully sentient machines to emerge within a few years.