Sophia charms PM, Dhaka audience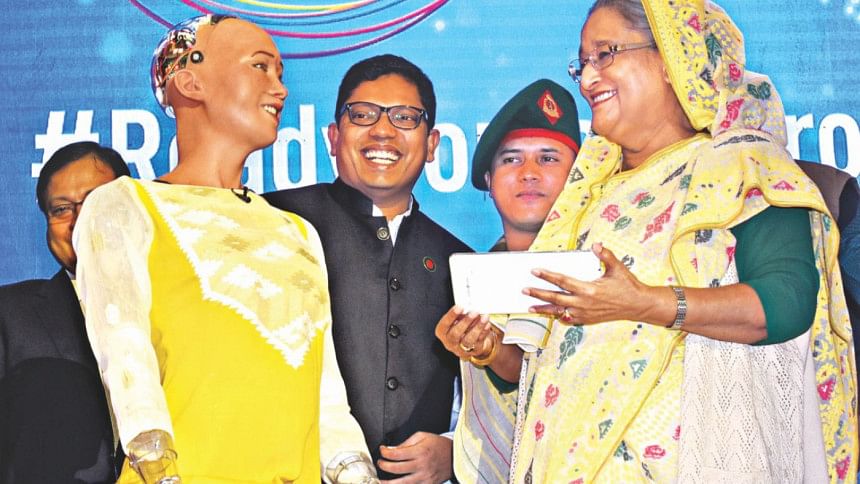 Sophia, the world's new sensation, yesterday caught Prime Minister Sheikh Hasina by surprise as the humanoid robot readily gave the premier information about her.
Hasina met Sophia at the inaugural ceremony of the four-day-long Digital World at Bangabandhu International Conference Centre (BICC).
The robot has generated quite a buzz among the youth and the artificial intelligence industry around the world.
After Hasina's inaugural speech, the organisers announced that Sophia would be brought to the stage to meet the PM.
Wearing yellow-white top and skirt, Sophia came on the stage. The PM asked her "Hello Sophia, how are you?"
"Hello honourable prime minister, I am feeling proud. This is very nice to meet you," Sophia replied.
Hasina wanted to know how she knew her. Sophia said she had read much about the PM and Bangladesh.
"I know you are the daughter of the great leader, Father of The Nation Bangabandhu Sheikh Mujibur Rahman. You are also known as the Mother of Humanity in the world and you are implementing the Digital Bangladesh," Sophia said.
The robot also said it knew it very well that the name of the PM's granddaughter was also Sophia.
"Yes, the name of Joy's [prime minister's son and the ICT adviser] daughter is Sophia," a smiling Hasina informed the audience.
The premier then asked the robot what she knew about her vision and Digital Bangladesh.
Sophia flawlessly communicated information to the PM about her vision and Digital Bangladesh.
Saudi citizen Sophia came to Dhaka on Tuesday from Hong Kong to attend the mega ICT event. She interacted with visitors at the expo from 2:30pm to 4:30pm.
She answered questions from visitors at the Hall of Fame of the BICC at a session titled "Techtalk with Sophia".
Sophia is a robot with its body shape built to resemble the human body.
Hong Kong-based Hanson Robotics Ltd made Sophia. The company says its humanlike robots have remarkable expressiveness, liveliness, and interactivity.