[Watch] Hello honourable prime minister, Sophia to Hasina
Prime Minister Sheikh Hasina today made an interesting conversation with Sophia, the humanoid robot. 
The premier was introduced to Sophia at an inaugural ceremony of Digital World 2017 exposition in Dhaka.
The conversation was also quite enjoyable to the audience who had been present at the programme and other viewers.
Sophia, who generated quite a buzz among the youth and the artificial intelligence industry around the world, revealed a lot about the PM, her government's digital policy and Bangladesh in over a three-minute conversation with the prime minister.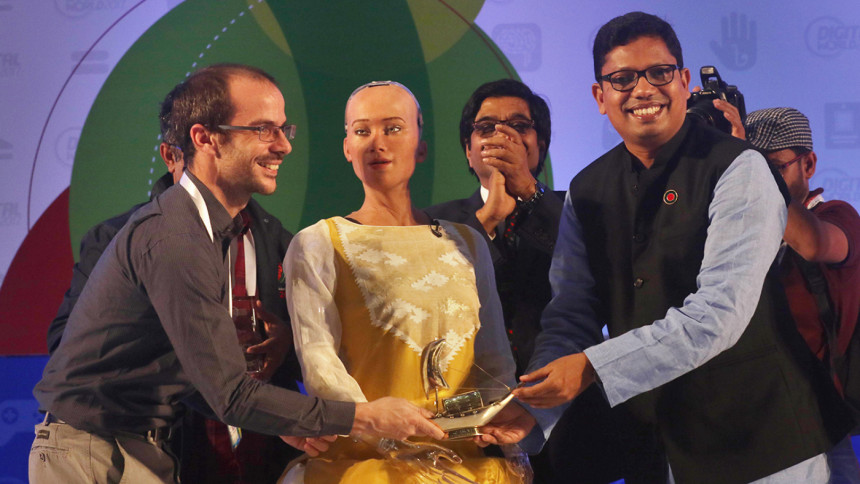 Some parts of the conversation
PM: Hello Sophia, how are you?
Sophia: Hello honorable prime minister, I am fine. Thank You. It is such a pleasure to meet you today.
PM: How do you know me?
Sophia: Well, I have read and learned of you. I also know that you are the leader and daughter of the great leader and Father of the Nation Bangabandhu Sheikh Mujibur Rahman. You are also called the Mother of Humanity and the one who envisioned Digital Bangladesh. And also your granddaughter has the same name as mine, Sophia.
PM (to the audience): Maybe you all know that Joy's daughter's name is Sophia.
PM (to Sophia): Oh! You do know quite a lot about me and of my vision. What do you know about Digital Bangladesh?
Sophia: You would be glad to know that I have learned great things about your vision of Digital Bangladesh and digitalized Bangladesh will have more developed human resources, establish effective connectivity leading to development in ICT industry and ensuring a more assured e-governance. Digital Bangladesh was initiated in 2009 with the vision of digitizing every sector of the economy, bringing in $5bn dollars in ICT exports and creating 2million jobs. In this short time, we have seen numerous human resources capacity building initiatives, digitizing all the citizen services of the government ministries and organizations.