Solution lies in local gas, not imported LNG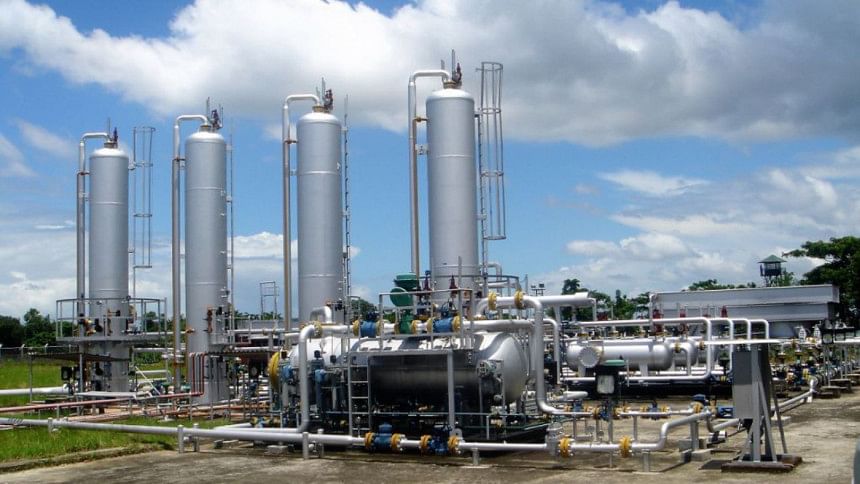 Bangladesh enters a new era of energy use as it starts importing liquified natural gas (LNG) beginning in July in order to solve the prevailing gas crisis. Already a floating LNG terminal is in place in the sea off the Moheskhali island with first the load of LNG from Qatar. At this initial stage about 500 mmcfd (million cubic feet per day) of gas will be provided which comprises 18 percent of the total gas supplied in the national grid. The LNG input will be increased to 1,000 mmcfd by early next year. As per the Power Sector Master Plan (PSMP) 2016, the government projects to increase the LNG input to about 40 percent of total gas supply by the year 2025 increasing it further to 50 percent by 2030 and 70 percent by 2040.
LNG is a comparatively environment friendly fuel which is available abundantly in the international market. However, it is an expensive fuel and its uses are seen very widely in developed economies like Japan, Korea etc. where little indigenous primary energy is available. For Bangladesh, a short term limited LNG import to meet the ongoing acute energy crisis may seem justified, but the rationale of large scale LNG import on a very long-term basis is questionable. The latter will make the nation widely dependent on expensive LNG and this will have negative impact on the economy. According to geoscientists, Bangladesh is a gas prospective area and there is significant amount of "yet to discover" gas lying untapped due to a lack of exploration.
How expensive is LNG and how would it affect the gas price structures in Bangladesh? According to Petrobangla, the national gas combinedly supplied by foreign oil companies (60 percent of total supply) and by national oil companies (40 percent of total supply) has an average price of Tk 5.32 per cubic metre gas. On the other hand, the LNG procured from international market has a price of Tk 33.44 per cubic metre gas. Petrobangla would mix the national gas and LNG (gas) and the mixed gas is set to have a price of Tk 12.89 per cubic meter (Public hearing, 24 June 2018, Energy Regulatory Commission). That means, due to addition of LNG in the national gas supply system the price of gas is set to increase more than two-fold.
The price of gas will increase further for the following reason. Petrobangla calculates the gas price as above on the basis of LNG price of USD 8.50 per MCF in the international market. But this price is not fixed and it fluctuates according to the price of oil. The oil price has been on the rise again and therefore, as Petrobangla calculates, if the LNG price reaches USD 10 per MCF, then the price of LNG mixed gas in our gas supply system will be increased to Tk 15 per cubic metre.
There is a further issue that will drive the gas price even higher. For calculating the price of mixed gas as above, the ratio of national gas to imported LNG is taken as 2,700 mmcfd to 1,000 mmcfd or 2.7 to 1. The quantity of LNG import will increase significantly in future and therefore the ratio of LNG will also increase in mixed gas, thus, pushing the mixed gas price higher. In simple terms, more the LNG portion in the mixed gas, higher will be the gas price. In one independent study it has been shown that the LNG import will initially cost Bangladesh about USD 2.7 billion per year (Padma bridge is being constructed for USD 3.5 billion).
The notion that natural gas resources of Bangladesh is on its way to depletion is based on wrong concepts and misinformation. The known gas reserves may well be depleting in near future but enough gas lie underground untapped as believed by petroleum geologist. Bangladesh is one of the least explored area in the world and its true potentials have not been unearthed.
Historical data (from pre-Pakistan period) show that the rate of exploration drilling in this country had been one well drilled per year or even less which is considered anything but serious by any standard. Yet the result of exploration was remarkably good in the sense that significant reserves have been discovered in the eastern part of the country. It is strongly believed that a serious gas exploration drive would certainly find significant new reserves in the largest delta basin of the world. The following points lend support to this belief:
i)   Exploration activities in this country are essentially limited to simple and easy targets. These are anticlinal structures very commonly found in the eastern part of the country and house almost all gas fields discovered so far. But there are equally common prospects occurring in the delta basin known as "stratigraphic prospects". These are more difficult to find and drill. Bangladesh exploration programme historically take a backseat in venturing into more difficult prospects and a very large part of the land in the country remains unexplored.
ii)   The Chittagong hill tract area has a series of anticline structures, recognised as good prospects, but exploration drillings have been minimum because of hilly terrains requiring robust logistics. Bapex, the national gas exploration company, has for a long time, been trying to form joint venture with foreign company to explore the area, but could never come up with a right partner.
iii)   Bangladesh offshore, a prospective gas province, has 26 shallow and deep exploration blocks. Only 4 blocks have IOCs exploring under PSC, while 22 blocks sit idle—a statistics pointing out the lack of serious drive for offshore gas exploration. It remains a puzzle as to why Petrobangla's offshore multiclient survey programme initiated after the maritime boundary dispute was settled with Myanmar in 2012, was lost out of sight.
iv)   It is wrong to keep the cheap locally found gas untapped and bring in expensive LNG. A very large gas field (shahbazpur) in Bhola island, for example, has not been duly developed even 20 years after its discovery. A new gas field, Bhola north, also remains untapped. Another large gas field named Chattak in Sylhet area was unlawfully given to a dubious foreign company Niko, only to be blown up and destroyed.
v)   The gas wells operated by foreign oil companies have higher rate of gas production per well than the ones operated by national companies. It is a matter of technology and management applied to the gas wells that make the difference. Application of the more robust technology and management by the national oil companies could easily enhance the production rate in the national wells thus making extra gas available from the existing gas fields.
vi)   Unconventional prospects, geologically known as thin bds, synclinal, high pressure to name a few are promising prospects around the world. Some of these prospects open up new frontier for gas exploration in neighbouring Tripura. Similar unconventional prospects are present in Bangladesh and need to be drill tested for gas.
vii)   A good number of exploration wells in the past were declared dry and abandoned without complete and conclusive tests, although tell-tale signs of gas were indicated (The Daily Star, June 1). These wells should be re-drilled for complete tests.
It is not logical to raise a slogan on exhaustion of gas resources in Bangladesh, while exploration status for gas remains poor and incomplete. It seems that the policymakers tend to believe otherwise, since they appear more interested in LNG import rather than exploring Bangladesh's own gas. The negative impact of large scale and long-term import of expensive LNG on the economy will be inevitable and the question remains if this factor has been taken into consideration.
---
Dr Badrul Imam, Professor of Geology and energy analyst.
---
Follow

The Daily Star Opinion

on Facebook for the latest opinions, commentaries and analyses by experts and professionals.
To contribute your article or letter to The Daily Star Opinion, see our

guidelines for submission

.
---