AFFORDABLE BIOSIMILAR MEDICINE
A low-hanging fruit ready for picking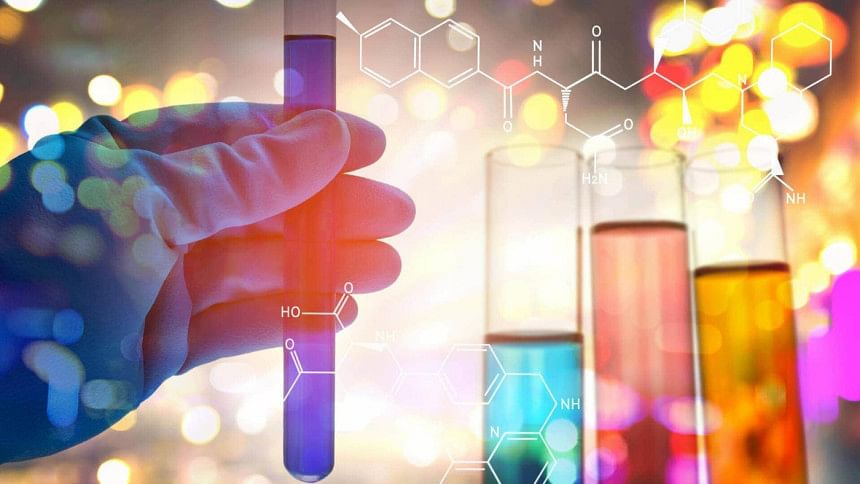 The pharmaceutical sector in Bangladesh has huge potential and opportunities for producing affordable modern medicines for the ordinary citizens as well as the developing world. The vibrant pharmaceutical industry produces 98 percent of all medicines used domestically, and exports high-quality drugs to about 130 countries. Almost all medicines made locally are generic (exact copies of the original drugs) produced by repackaging ("fill-finishing") of imported active chemical ingredients (ACI). At a recent seminar organised by the Dhaka Chamber of Commerce and Industry (DCCI), it was claimed that local production of ACI could substantially decrease the production cost of generic medicines and increase export earnings from the current USD 130 million to over USD 1 billion within five years (The Daily Star, November 3, 2019). The pharmaceutical industry and university researchers have till now failed to join forces to develop generic API in Bangladesh, even though the required expertise and technologies are available.     
To move with the times, and for long-term viability, the local pharmaceutical industry needs to think beyond generic medicines. In the last two decades, largely as a consequence of lifestyle, climate and environmental changes, non-communicable diseases (NCDs) and chronic ailments (such as diabetes, hypertension, asthma and various cancers) have rapidly proliferated in both developed and developing countries. Chemically synthesised small-molecule drugs, and their generic copies, have not proved to be sufficiently effective against these NCDs and chronic diseases.
Attention has largely shifted to a new class of drugs, Biologics, which are genetically-engineered versions of naturally occurring bioactive proteins and peptides present in the human body. Cheaper copies of Biologics, which retain their biological and therapeutic properties, are known as "Biosimilars" as they are structurally similar but not identical to the originator Biologics. Biologics and Biosimilars are produced by recombinant DNA technology where microscopic bacteria, fungi or mammalian cells are converted into living factories for the large-scale production of rare and high-value foreign proteins.
In more recent times, a new class of Biologics has entered the market and it constitutes the bulk of novel drugs in the pipeline of major multinational drug companies. In these new Biologics, proteins or peptides of medical importance are linked to, and resemble, human monoclonal antibody (mAb) molecules. These new mAb Biologics are unusually potent in treating and managing previously untreatable forms of NCDs and chronic diseases. These new wonder drugs are extremely expensive, costing in excess of USD 50,000 per person every year, and clearly out of reach for the common man. There is, therefore, huge demand for cheaper mAb Biosimilars. Producing these in developed countries is not effective in making them more affordable to the citizens of poorer countries.
This has created a great opportunity for any developing country, with reasonable technological proficiency and low labour and production costs, to step in to produce the new class of Biosimilars. The global market for Biosimilars, and particularly the mAb Biosimilars, was USD 2 billion in 2013, and has now surpassed USD 30 billion, and is projected to reach up to USD 0.5 trillion in 2026. Even if Bangladesh could capture 5 percent of the global market for Biosimilars, it could amount to USD 50 billion and its export could become the largest, and most stable, foreign exchange earner for the country. Compared to generic medicines, the development of the new Biosimilars, particularly the mAb Biosimilars, is technologically and conceptually complex. Because they are biologically produced, Biosimilars are not exact copies of the original Biologics, and as such they are subjected to very extensive and costly regulatory procedures to ascertain safety and effectiveness, resulting in increased production costs.
The overriding rationale for undertaking this ambitious project would be to develop affordable mAb Biosimilars for the common man in Bangladesh and the developing world. This could be possible if these wonder drugs were locally produced from scratch, including the development of the molecular seed clones. This would also provide a mechanism for competing with—and keeping ahead of—potential rivals like Korea, China, India and Brazil by making use of the WTO's exemption of Bangladesh from patent restrictions till 2033. While all developed and developing countries have to wait till patent expiry to copy a novel Biologic into its cheaper Biosimilar, Bangladesh is legally free to copy any new Biologic, irrespective of its patent status, thus gaining valuable time over potential rivals in developing, selling and exporting new Biosimilars. It would be a pity if the pharmaceutical sector in Bangladesh failed to make the best use of this competitive advantage.
Does Bangladesh possess the competencies required for developing and commercialising new Biosimilars from scratch? At least one local company has invested heavily in establishing world-class large-scale fermentation and downstream processing facilities (under GMP conditions) to produce recombinant protein APIs of a number of first-generation Biosimilars (such as Insulin and Erythropoietin) from molecular clones obtained from overseas sources. Some other local companies are also developing similar facilities which would be available for the production of new recombinant Biosimilars. The local pharmaceutical industry also has extensive experience in manufacturing and marketing of high-quality generic medicines, and their export to developing countries. This could ease the way for entry of Bangladeshi-made Biosimilars into established overseas markets.
The only missing competency is in upstream technologies needed for the development of molecular clones of targeted Biosimilars. This involves intricate design and construction of genetic vehicles for biological production of Biosimilar proteins. It could be the most complex biotechnology project undertaken in Bangladesh thus far, but fortunately, trained human resources with the required advanced molecular and cell biology skills are already present in Bangladesh and within the NRB scientific community. The immediate requirement, to get the ball rolling, is for some start-up funds and access to a semi-automatic clone selector to complete the proof of concept studies needed to demonstrate that it is, indeed, possible to develop the seed molecular clones in Bangladesh.
This ambitious project would work best as a tripartite partnership between the research community, the industry and government. While productive collaboration between academic researchers and the industry should be the biggest strength of the pharmaceutical sector, in reality, lack of substantive university-industry links remains one of its major weaknesses. To encourage academia-industry collaborations, researchers could be offered a share of profits from the sale of products they help develop, and the industry could be granted tax concessions for supporting R&D. Government agencies could play important enabling roles. The Directorate General of Drug Administration could streamline and simplify guidelines to speed up the regulatory process, and the Bangladesh Medical Research Council could establish Contract Research Organisations (CROs) to support and expedite preclinical animal studies and human clinical trials.
Bangladesh has the technical capability to produce the latest Biosimilar medicines. Can a nation that aspires to become an advanced nation by 2041 afford not to take advantage of this opportunity to use home-grown technology and local talent for producing the latest and most effective high-tech medicines at an affordable price for its own citizens and those in developing countries, and in the process also create wealth for the nation? This would also be an opportunity for early investors to stake a claim for big rewards in the future. Political will, self-belief and a need for all stakeholders to work together are critical for the successful production of the latest Biosimilars in Bangladesh.
Prof Ahmed A Azad, PhD, is a retired academic and biomedical researcher. After retirement, he has been working with resident and NRB scientists to help develop molecular biosciences research capacity in Bangladesh. Email: [email protected]