Empowering rural courts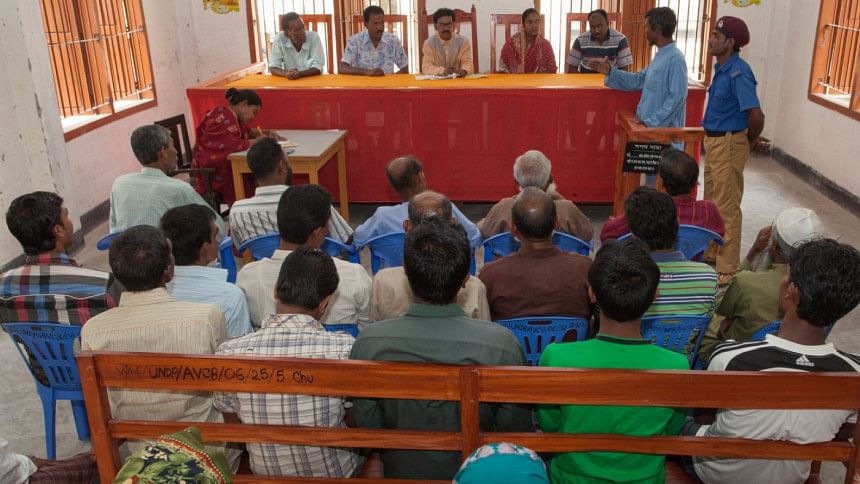 Increasing access to justice at the grassroot level can directly protect human rights of the rural poor. It is estimated that nearly 4 billion poor around the world cannot access the protection of the law and justice system.
A study by the Hague Institute for Innovation of Law (HiiL) and BRAC Human Rights and Legal Aid Services found that on average, 31 million people, mostly belonging to rural areas, experience legal problems every year.
Building upon its earlier success, the second phase of "Activating Village Courts in Bangladesh" (AVCB-II) is being implemented under a public-private partnership (PPP) modality with the aim of constructing village courts. The village court system is a quasi-formal dispute resolution mechanism. Mostly located in village areas for convenience, this system has demonstrated to be less intimidating and more affordable to a rural citizen than formal courts at the district level.
The research by Copenhagen Consensus and BRAC Institute of Governance and Development (BIGD) shows that at present, for each taka spent, the village court system is generating double returns in economic and social benefits. Although such a benefit-to-cost ratio is a positive sign supporting the rationale of village courts establishment, it does not capture the potential of village courts to reduce the backlog of cases in district courts.
If village courts are empowered as a quasi-formal justice system to deal with more complicated and higher value cases, it could benefit Bangladesh's economy tremendously. Reducing backlog and making it more convenient for rural citizens to access justice, without having to travel to district courts, would generate nearly Tk 19 of benefits for each taka spent.
There are, however, many implementation challenges which have been identified by our researchers. Based on BIGD's political economy analysis, we have highlighted three specific issues which can be dealt quickly enough to empower village courts to move from Tk 2 benefit to Tk 19 benefit. NGOs will play a major role in supporting local government units to address these three issues, as they are experts in terms of public outreach and information dissemination. Interview findings show that Union Parishads (UPs), smallest rural administrative and local government units, were unable to perform well, and had an increasing number of postponed cases, during the pilot phase, particularly because they were lacking the necessary support from NGOs. The first issue relates to establishing local government ownership over the village court system. AVCB-II is expected to end in December 2019. The present PPP arrangement is ensuring inclusive participation of government, international agencies and local NGOs.
However, a key feature of the AVCB-II is that it relies heavily on the financial support from external partners, making it essential to critically examine the PPP aspects and institutional challenges of sustaining the village court system after 2019.
Secondly, capacity development of village courts needs to be prioritised. Village courts are run by elected UP chairpersons who need to carry out electoral duties, and managed by assistants who lack management skills. This is hindering performance of village courts.
For example, in the absence of UP chairpersons due to other responsibilities or ill health, the right to transfer authority to another UP member needs to be included in the Village Court Act of 2006. The role of village court assistants is important because s/he often takes over some of the UP chairperson's heavy workload.
Based on BIGD's political economy analysis, we suggested that the Budget FY2019-20 should prioritise training all UP personnel responsible for village courts and introduce measures that boost leadership and management performance. Some ways that can be done include transferring authority to other representatives when the UP chairperson is not available, improving the capacity of assistants to manage cases and using technology to filling out forms and drafting petitions.
The third issue relates to functional strengthening of the village court system in order to increase its legitimacy and relevance within the rural context. This can be achieved in two steps: empowering village courts to deal with disputes valued at Tk 100,000, thereby exceeding the present Tk 75,000 cap; and allowing village courts to deal with transferred cases from district courts.
If cases were diverted from the district courts quickly enough, it would reduce the burden on the formal judiciary system and the law enforcement agencies, and ensure that the rural poor can gain access to legal remedies. The rationale for guiding the required policy reforms is also supported by our cost-benefit analysis.
Hasanuzzaman is Outreach Manager for Bangladesh Priorities, Bjorn Lomborg is President at Copenhagen Consensus Center.