India-Pakistan Standoff
Dark clouds of conflict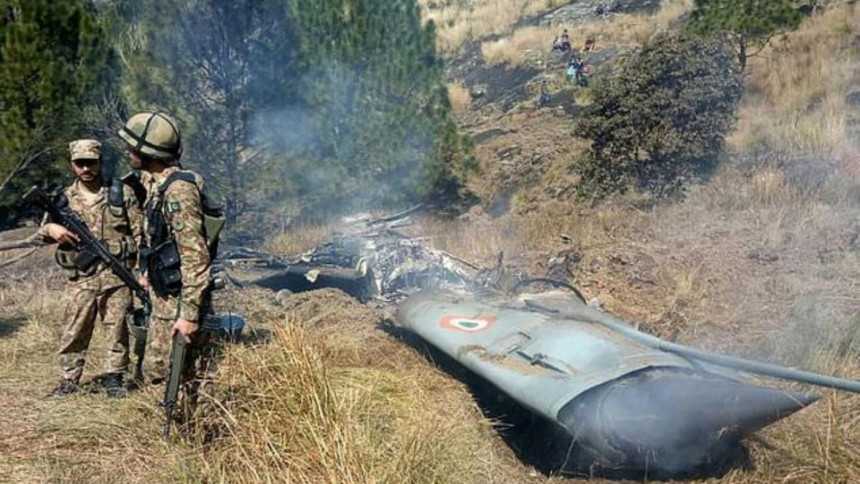 The ongoing tension between India and Pakistan is taking a dangerous turn. The Indian air force crossed Pakistani airspace and carried out strikes against alleged terrorist training camps within Pakistan-administered territory, followed by Pakistan's own airstrike. This is a paradigm shift as airstrikes across line of control did not occur even during the Kargil War. As a matter of fact, this is the first airspace violation of offensive nature since the two states fought a war in that sector in 1971.
In spite of heightened tensions, the violation of airspace by both sides adds a new layer of complexity. Tensions between the two nuclear-armed neighbours are not new; however, we have scarcely encountered situations where a rapid escalation is feared. Any escalation between India and Pakistan, which have a history of protracted conflict, can have significant ramifications for the wider South Asian region. A special concern of the current situation is that the escalation ladder may very easily go out of control resulting in not a localised but a wider conflict. 
India and Pakistan both have some of the largest armies in the world. What is also worryingly significant is that they are both nuclear powers. Any kind of conflict or war, therefore, must be analysed from a different angle because, if war really breaks out, it will not be a national security problem of these two conflicting parties only, but a threat to security and stability of the region and the international security system. Therefore, utmost effort should be made to defuse the crisis before it starts climbing the escalation ladder. 
Later reports indicate that Pakistan fighter jets have also violated Indian airspace in Jammu and Kashmir's Poonch and Rajouri sectors. Reports also indicate that eight airports in North India were declared shut by Airports Authority of India. Pakistan has stopped flight operations from Islamabad and Lahore as well. In such a situation of increasing tensions, it is of utmost importance that confidence-building mechanisms between the two states are activated immediately. 
For the first time in the current situation between India and Pakistan, a new dimension of conflict has been added. We have talked about water and resources as a source of conflict between the two countries. And now, we are seeing those symptoms come to life. Both countries are signatory to the Indus Water Treaty through which they share the transboundary rivers flowing from the Kashmir valley. The treaty, which has also been guaranteed by the World Bank, has survived two wars between these two states and is seen as a model of water treaties. For the first time, India has threatened that it will unilaterally withdraw water from the upper riparian region in Kashmir and control the flow of water coming down to Pakistan.
Pakistan has long feared such a move from India and has said in a number of statements earlier that such a step will be completely unacceptable to Pakistan as it will have severe negative consequences for its agricultural productivity and impact on its food security. Some Pakistani strategy experts have even gone to the extent of identifying unilateral water withdrawal by India as a "nuclear redline". We should be watching very closely to see if this is the beginning of water wars. In an environment of resource scarcity, even if other issues of disputes between the two states are solved, this will have a long-lasting consequence for both bilateral and regional security.
South Asia is one of the most populous regions in the world and is already in a fragile state from a security point of view. Any addition of new security pressures would mean serious consequences for all member states of the region. Bangladesh, which is an important member of the region, also stands to meet the challenges from any fallout from a potential conflict between India and Pakistan. Regional efforts must therefore be taken to defuse the tensions and avoid conflict at any cost. Bangladesh, which has a longstanding international reputation of peacemaking, can also play a vital role in initiating such a move. We firmly believe that solution of all conflicts and disputes can only be found through discussions and dialogues. A solution has to be reached in conference tables and not in battlegrounds.
---
Major General ANM Muniruzzaman ndc, psc (retd) is the president of Bangladesh Institute of Peace and Security Studies (BIPSS).
---
Follow

The Daily Star Opinion

on Facebook for the latest opinions, commentaries and analyses by experts and professionals.
To contribute your article or letter to The Daily Star Opinion, see our

guidelines for submission

.
---