Entrepreneurship to the rescue!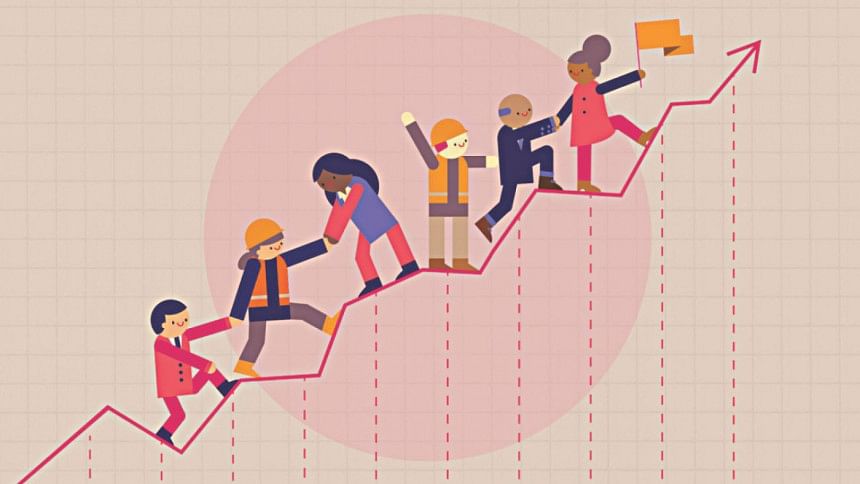 In 2016, OXFAM released a report that categorically stated that the wealth of the richest 1 percent of individuals was equal to that of 99 percent of the global population. The report further portrayed how eight men owned the same wealth as half of the global population. Even though OXFAM's report was branded as misleading and inaccurate by some, it sheds light on the stark reality of global inequality in wealth and income. Debates surrounding inequality have often focused on creation of job opportunities and a human-capital based approach towards recruitment. Many scholars, however, are promoting a slightly different, and some may say, a more sustainable mechanism to bring about change.
In Bangladesh, despite there being commendable progress in eradicating extreme poverty, wealth inequality remains a major challenge, a condition sustained through a system fashioned to the advantage of the powerful elite. The solution, therefore, lies in refashioning, or restructuring, that system, not its total obliteration, as some Marxists may like to propose.
During a lecture at the University of Toronto in Canada on February 3, Nobel Prize-winning social entrepreneur Muhammad Yunus shared his thoughts on the current state of global political economy, the future of microfinance, and the prospects of sustainable development. Whatever maybe one's views about his role in empowering rural populations in Bangladesh, one cannot question the inspiring, almost common-man approach the economist has taken towards reducing inequality. Yunus emphasised the role of entrepreneurship to reduce the stark differences in wealth inequality between rural and urban populations, as opposed to simply providing platforms for job creation.
Debunking the traditional economic thought that human beings are inherently selfish when it comes to making decisions, he vociferously called for the recognition of "selflessness" as a core component of human behaviour, and its prospects in entrepreneurship. Human actions, according to Yunus, is an amalgamation of self-interest and selflessness, and it can be turned into a positive force through avenues of social business.
To encourage sustainable entrepreneurship across societies, one needs to first recognise that it is rational for a human being to be both self-seeking and selfless. To imply that business in general will have profit maximisation ingrained in its nature, without consideration for people's empowerment and sustainability, is not necessarily true. Yunus suggested the introduction of social business as an alternative to traditional business degrees in academia across universities and schools. If social business is seen as a lucrative proposition for the graduates, it will, like most ideological movements, slowly get internalised within the society. Critical avenues in human history, such as the Industrial revolution, created the market for work across societies. But it is important to remember that we are job-makers, not simply job-seekers, as Yunus had suggested. Therefore, the role of academics to promote sustainable social business is fundamental to shaping entrepreneurship as a solution to reducing poverty.
Job creation is an integral part of public policy. But boosting rural entrepreneurship through tangible support, either in the form of finance, as is the case with the Grameen Bank model, or through state subsidisation of individual entrepreneurial initiatives, needs to take a front seat. The welfare schemes within our governance structure are expected to support healthcare and education, but in certain scenarios, it may result in inactive human resources. This does not mean that human beings are lazy—in fact, inequality does not exist because of human kind, but because the system entraps human innovation. So a welfare state giving handouts without encouraging innovation will lead to a more unequal society. For a country of 160 million people, it is impossible for Bangladesh to ensure full employment. Therefore, to encourage growth in wealth potential in rural Bangladesh, the state and the private sector have a responsibility of spurring innovation amongst the population, rather than simply making them dependent on the job market.
A classic example of entrepreneurship in rural Bangladesh is the jamdani sari business, a once-promising sector in the region. But jamdani producers and entrepreneurs are being increasingly side-lined in the national economy. People's changing fashion sense and taste may be a contributing factor here, but adequate support, planning and infrastructural structure may help boost the sector. From local food businesses to furniture production, the potential for rural entrepreneurship remains untapped and un-invested-upon.
That social business can be lucrative can be internalised through education and awareness. Social business is not an idea owned by any one man. Its prospects and benefits are for everyone. To make social business mainstream, we need to make sustainable businesses lucrative to the investors, job-seekers and job-makers, and further promote public-private partnership. Bangladesh is on a path to development like never before, but if international statistics on inequality are any indication, we are still following a dangerous, unsustainable model for economic emancipation. Recognising the potential of citizens to create, diversify and innovate must take a front seat in determining what kind of society we want to be in the long-run.
---
Mir Aftabuddin Ahmed is a student of economics and international relations, University of Toronto, Canada.

Email: [email protected]
---
Follow

The Daily Star Opinion

on Facebook for the latest opinions, commentaries and analyses by experts and professionals.
To contribute your article or letter to The Daily Star Opinion, see our

guidelines for submission

.
---