Funny Money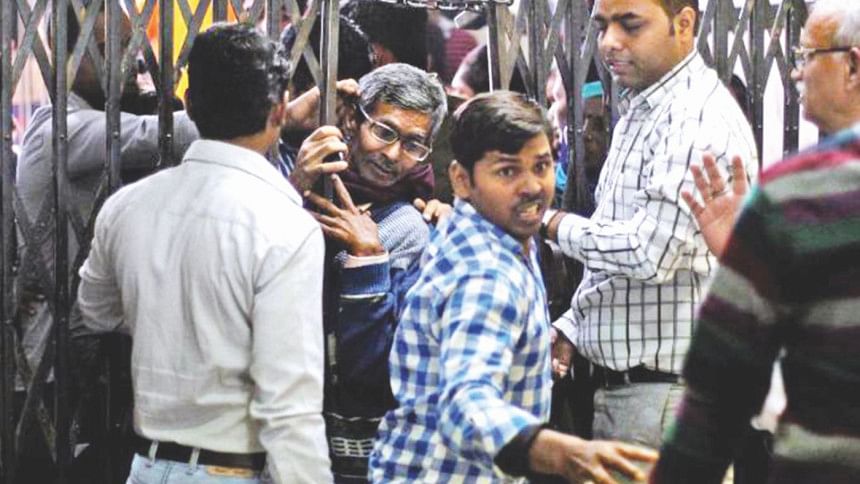 It's not clear what India's temporary proscription of Rs 500 and Rs 1000 notes is going to achieve. The move is supposedly aimed at cracking down on illegal cash holdings - commonly known as "black" money in this part of the world - and counterfeit currency. Nobody has an estimate of how much illicit wealth is stashed in wads of notes of these denominations which accounted for more than four-fifth of the currency in circulation.
The sudden move has sparked scenes of chaos outside banks and ATMs. Low-income Indians, traders, ordinary savers and tourists have been thronging banks to deposit expired money and withdraw lower denominations. But will it be able to touch the long devised sophisticated ways in which a large part of the black money held in other forms of assets like benami properties (purchased in someone else's name) in land, real estate, gold, foreign currency and offshore bank accounts?
Therefore, the ban is unlikely to affect anything other than a tiny fraction of the present stock of black money. Some economists believe it's just bad economics. Kaushik Basu, the chief economist of the World Bank and a former chief economic adviser to the previous Congress government, has said the "collateral damage" is likely to outstrip its benefits. Others say the move will have a limited impact as people will simply begin to accumulate money in new currency as soon as that becomes available.
Basu, also a professor of Economics at Cornell, means that the ban is, at best, a one-time flushing out of the system and the return of the black money is likely if not inevitable. Many other economists say the costs of such a one-time flush will be enormous. Hundreds of thousands of ordinary people among them farmers who do not even have bank accounts fear harassment by officials. So it is quite possible that all this fuss achieves is a sudden curtailment of total money supply - a kind of contraction of the economy.
Prabhat Patnaik, a Marxist economist and former professor at JNU has said the decision betrays a lack of understanding of capitalism. "Typically, what happens in capitalism in a situation like this is that there would be a new business opening up about how to change old currency notes into new ones. . . A whole range of people would come up who will say you give us 1000 rupees and we will give you 800 rupees or 700 rupees or whatever. Consequently, instead of curbing black business it will actually give rise to the proliferation of black business," he told The Wire. 
A glance at the rear view mirror of history would confirm Professor Patnaiak's fear. In 1978, when India demonetised the 1,000 rupee note, a black market sprang up and people who had these notes took a loss while selling off these notes to people who could claim them as legal income.
There are other problems with the assumptions behind the drive. All black money is not held in cash. It may be in foreign bank accounts. And all cash is not black money. Many legitimate businesses deal with large amounts of cash. Petrol pumps, restaurants, textile merchants and jewellers often have large cash holdings by the end of the day with many customers paying in cash.
And then, will the ban encourage people to disclose all incomes and start paying taxes on it? Or does that require simplification of the tax system? As long as agricultural income can be used as a way to avoid taxes and indirect tax rates have multiple rates and exemptions, the problem of tax evasion is unlikely to go away.
Even a layman can see the futility of the initiative. Is it possible that Prime Minister Narendra Modi had other motives behind the dramatic step? Let's consider the timing. It comes only a few months before crucial assembly polls in Uttar Pradesh and Punjab, where money for votes is allegedly a common practice, as is handing out gifts. Modi desperately wants to polish his image as a decisive leader something that brought him to power. He needed a big-bang idea like this to make an impact ahead of the polls. 
Not everyone opposes the move. Shahabuddin Yaqoob Quraishi, a former Secretary to the central government and former chief election commissioner of India, welcomes the decision. Money for the polls due early next year must have begun circulating already. Demonetisation will now squeeze the cash flow ahead of elections as the new currencies will be issued under stringent RBI checks, he said. 
But all this could have been done in a more planned way like the European Central Bank is phasing out the 500-euro (USD 575) notes to stop their use in "illicit activities." The ECB in May said it would stop printing the 500-euro banknote but the note would remain legal tender. That means no tourist visiting those countries would suddenly find themselves in a very difficult situation as many Bangladeshi tourists are facing in India. 
The real problems ailing the Indian economy lie elsewhere. The amount of stressed loans in the banking system has exceeded Rs. 9 lakh crore, most of which is owed by Indian corporate houses to the government banks, resulting in a huge debt overhang. Despite much hyped claims of fast economic growth, revenue mobilisation has hardly shown signs of improvement. Redistribution policies have been rolled back. 
India needs good policies to curb corruption, not gimmicks. 
The writer is member of the Editorial Team, The Daily Star.