Doing Business Index 2018
How can Bangladesh move forward faster?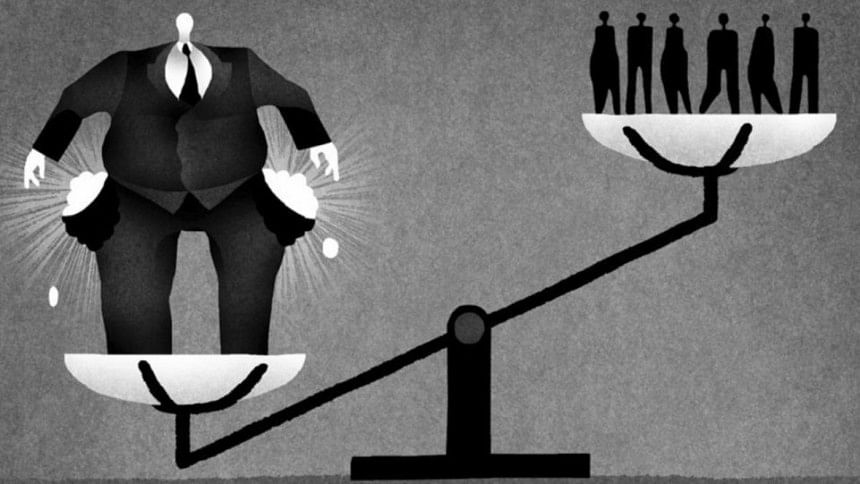 Banglade-sh placed 177th out of 190 countries in the world in the latest Doing Business Index, taking a step back from last year's position. While many of us will blame it on poor infrastructure and energy deficiency, the main reason is our rusty institutions: bureaucracy, judiciary, police, and public services. The problem goes back to our colonial history, reclusive characteristics, and corrupt attitude towards business. Despite having good intentions, the government is repeatedly trying to reform the bureaucracy the wrong way by appointing retired bureaucrats, not innovators, nor academics or business experts. It reminds us of the other version of economist Nurkse's vicious circle of poverty. The circle persists because we parade the creators of the problems as the new leaders of reforms.
When India stepped up 30 positions from 130 to 100 within a year, staying in the same zone despite talking big is a disgrace. What happened in India in the last one year? It's simple: the political leadership directed the bureaucracy to act in a way the regime wanted to promote India onto the global stage. It is the political leadership in countries like Bhutan and Nepal, where the regimes defined their goals and the public servants forged the relationship with businesses, accordingly, that was vital. Bhutan and Nepal rank much higher than we do: 75 and 105, respectively. If Sri Lanka didn't have a quarter-century long civil-war which ended only 8 years ago, the country would have been placed in a much higher position than its current 111. Even Pakistan—a country which we outperformed in economic growth—ranks 147, making our agony worse. These examples from our neighbours are enough to conclude that we are hiding some perennial defects repeatedly and sending the patient to the wrong doctors.
Are all our regulators anti-business dinosaurs? Not necessarily, although they lack imagination and courage to conduct reforms lest their positions become shaky. But the main direction must come from the leadership and political will. The story of India is a tale of transformation from the License Raj to deregulation, openness, and a business-friendly market economy approach. In contrast, the ghost of hassling others in the name of being so loyal to regulations still persists in all state-owned agencies. The desk officers seem too busy to progress. And police verification in all cases is a source of rent seeking and repression.
A fresh graduate who doesn't have uncles in high positions needs at least two basic things to start a business: electricity and bank credit. As the data show, both actions take not more than a month in India. Much to our frustration, securing a credit line takes as long as 5 months, while getting electricity takes 6 months, despite numerous claims of success by the relevant policymakers. Isn't this enough to explain why India jumped up 30 places and we are floundering in the quagmire of control and poor performance? If a defaulter can manage a big loan in less than 5 days, why should it take 5 months for a new business to commence? It signals that doing business in Bangladesh is not difficult for everyone. Rather, it is heavenly for the few that are privileged and precariously painful for fresh entrepreneurs, especially women.
Had doing business been so hard in Bangladesh, the country wouldn't have had 7-plus growth. The super-rich are optimising their objectives of abnormal profit maximisation swimmingly, making it difficult for others and also for foreign investors. This is reflected in the amount of FDIs as a share of GDP—it has remained as low as around one percent of GDP since 2009. The government formed the Board of Investment (BOI) which subsequently died (naturally) and re-emerged as Bangladesh Investment Development Board (BIDA). What BIDA has done to improve the score is praiseworthy, but it lacks authority in many areas to make changes. A separate ministry should be made to handle investment in Bangladesh.
Wanting an increase in the number of ministries may not seem palatable in a developing nation. But two politically elected ministers, if appointed to the portfolios of investment and revenue collection, can bring landmark changes in the country's economic fate through employment generation. It should be done even by curtailing two less important ministries if needed. For example, tourism can be placed under the ministry of investment.
If we make a list of top businesses in Bangladesh, we will notice a list of conglomerates, clan-based monarchies, "courageous" defaulters, and "patriotic" money launderers—economists define them as an oligarchy. While doing business in Bangladesh is fun for them, they have made the task equally restrictive for anyone with better prices. These people are so influential that they can even resist the government's long-promised VAT law. They can twist regulations in their favour. One such latest example was the proposal of more directors from one family and longer years for directors in banks—an attempt to gradually ruin the corporate character in the industry. This is certainly a self-contradiction of the government which is otherwise committed to promoting corporate culture and market competition. Let us build a new Competition Commission in the country.
Let us give a second thought to our position (177). The countries below Bangladesh such as Congo, Chad, Afghanistan, Libya, Yemen, South Sudan, Somalia, and the like are mostly noted as "failed states". They are tormented by war, terrorism, militancy, or civil unrest. If we ignore those outliers, Bangladesh is placed in the lowest rung of the index. And that is unacceptable. Serious reforms directed by the political leadership is essential to save the nation from becoming a nation that is unfriendly towards business, plagued by unhealthy competition, suffering from massive unemployment and facing economic stagnation.
---
Biru Paksha Paul is associate professor of economics at the State University of New York at Cortland. Email: [email protected]
---
Follow

The Daily Star Opinion

on Facebook for the latest opinions, commentaries and analyses by experts and professionals.
To contribute your article or letter to The Daily Star Opinion, see our

guidelines for submission

.
---