Celebrating a Braveheart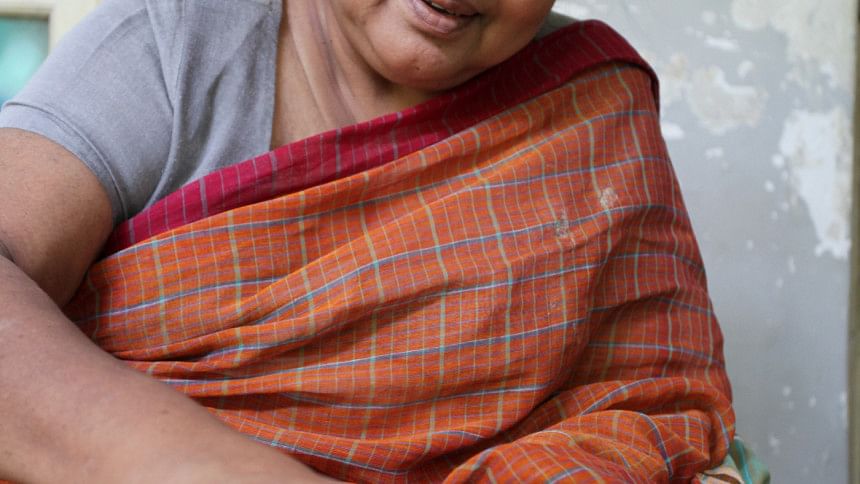 A tribute to artist and freedom fighter Ferdousi Priyabhashini on a day we celebrate women could not be more befitting except for the fact that it should have been a tribute to a living legend not a eulogy for a hero who is no more. She passed away on March 6. When one looks at the life of this incredibly brave and beautiful woman one cannot help but feel that we as a nation have failed miserably to pay our dues to this freedom fighter. Yes she was finally recognised for her sacrifices and incredible heroism, but it was 44 years after independence, in 2016. Why did it take us so long to acknowledge a sacrifice so great?
It is a question that no one has an answer to, yet hints at the cruel prejudices of society towards Birangonas of '71—prejudices that allowed war heroines to be ostracised, treated with utter neglect and contempt, giving them no solace, forget gratitude, for the hellish price they paid for our freedom. Priyabhashini, a survivor of sexual violence throughout the nine months of war, decided to become the voice of the Birangonas by taking the brave step of telling her story to her nation. Unfortunately such courage was not very well received, especially in the early years. Her family rejected her and her marriage (first) broke up.
Yet nothing, not the rejection of her relatives, the contemptuous looks of strangers or even the general apathy towards her status as a war heroine, could daunt her zest for life. She continued to speak out for other Birangonas, changing the narrative of the shamed, helpless victim of wartime rape to a phoenix-like figure that survived the most horrific trauma a woman could go through and emerged stronger than ever. Over the decades she has not only inspired other war heroines but thousands of other women and men in the motherland she so fiercely loved.
Says writer and activist Shabnam Nadiya in a heartfelt Facebook post: "…by openly proclaiming herself a survivor of wartime rape, made me and countless young girls like me, examine and understand war, womanhood, honour, courage and strength. And she showed us that the shame of violation did not belong to the victim, never to the victim."
Remarkably, instead of bitterness all that this larger-than-life personality exuded was boundless love for anyone who had the privilege of coming into contact with her. Unsurprisingly, many of her younger fans call her mother and mourn her passing with the grief of adoring children. And it was for this love for humanity, for nature and her country that she immersed herself into art, becoming a sculptor and creating the most enchanting pieces of artwork that this nation has seen. She has used iron, wood and other natural raw material to express her artistic self. Appreciating life's simple moments seem to have been recurring themes. Godhuli logno (twilight), a piece in driftwood, depicts a group of labourers going home, carrying firewood for the evening's cooking. It shows that serene, hopeful moment when the sun and the labourer end the day to rest until the next dawn. Shomudrer abashon (a home by the sea) shows a solitary hut that gives refuge from a turbulent world outside. Shoronarthi heartbreakingly imbibes the tragedy of exodus of refugees—a reference to the Liberation War. Trees have always triggered her fascination and imagination. Often she would find a piece of wood or root of a tree and turn it into a piece of art according to how she perceived it—as an abandoned house, two figures embracing or an old temple in the forest.
Priyabhashini was born in Khulna on February 19, 1947. Interestingly she got her first lessons in art at age 10, from SM Sultan in Kushtia where her father worked as a teacher in a college and it was this maestro who, many years later when they met, convinced her that her art should be shared with the world.
Her own home, in recent years, in Bashundhara, she turned into an artistic idyllic sanctuary surrounded by trees. She lived with her loving husband Ahsan Ullah whom she married in 1972 and who became blind due to an illness but saw the world through the eyes of his doting life partner—Priyabhashini—the one whose speech is endearing and sweet. She had six children but had to endure the loss of one of her daughters.
In later years various ailments caught up with her and eventually forced her into hospitalisation. One cannot help but wonder whether as a nation we could have done something more to have made her life easier, her health better.
Such regrets will always haunt our collective psyche for we are only human and it is inevitable that the voice of conscience will make its brutal point. For now let us remember and celebrate the beauty of this woman—her ability to transcend the trauma of her past and see what is beguiling in life, in nature, in relationships and in the inexplicable love for one's motherland.
---
Aasha Mehreen Amin is Deputy Editor, Editorial and Opinion, The Daily Star.
---
Follow

The Daily Star Opinion

on Facebook for the latest opinions, commentaries and analyses by experts and professionals.
To contribute your article or letter to The Daily Star Opinion, see our

guidelines for submission

.
---