How safe is the water we drink?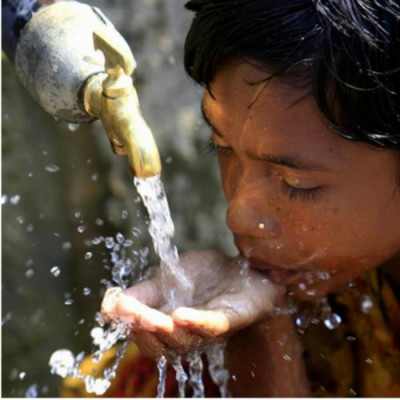 Seventy-five million Bangladeshis are at risk of contracting the most serious diseases because they are drinking unsafe water, where 13 percent of the populace is exposed to arsenic-poisoning. This is what a World Bank (WB) report has recently unveiled. The report, titled "Promising Progress: A Diagnostic of Water Supply, Sanitation Hygiene, and Poverty in Bangladesh" drives home some unpalatable truths. We have 41 percent of our people being exposed to high levels of harmful bacteria from water sources that are considered "safe", something that no doubt leaves much room for introspection for policymakers who have the power to change the situation should the political will exist. We all know that sanitation and hygiene play major roles in public health but for the purposes of this article, let's focus primarily on access to safe drinking water which has become one of the most crucial issues related to public health.
A news item printed in this paper cited the report on October 12: "Today, 98 percent of Bangladesh's population has access to water from technologically-improved sources, but E. coli contamination was found present in 80 percent of household tap-water across the country...In Bangladesh, more than one-third of children under [the age of] five are stunted, limiting their ability to grow and learn." Furthermore, "Bangladesh has made great strides in expanding access to water and can build on that progress by focusing on improving the quality of water and sanitation."
Water supply, sanitation, and hygiene (WASH) is a very important issue of public health. Unfortunately, despite best efforts, the country has not been able to tackle the issue effectively. Without good WASH, we have seen an onslaught of chronic intestinal infections that have caused stunting amongst children. Children who are stunted fail to grow to full physical structure and mental capabilities. With diarrhoea comes the problem of not being able to attend school regularly. Chronic diarrhoea leads to severe malnutrition. These ailments need to be addressed as they come from poor quality drinking water. The country has made significant progress in preceding decades where the population (according to WB data) "experienced a 20-percentage point gain in water access and 29-percentage point gain in sanitation since 1990." But the problem is elsewhere. While it is estimated that 98 percent of the population is drinking from a "technologically-improved water source", we are squarely dependent on groundwater. Groundwater extraction has brought about other problems like arsenic poisoning.
Our overdependence on groundwater is due to the fact that our natural water resources are heavily contaminated. Over the last few decades, unprecedented discharge of untreated chemical waste from factories has all but killed most rivers around major urban centres. With the water being too polluted to be treated, people have had to turn to groundwater extraction. While technology has played a major part in making water somewhat drinkable, we still have to contend with the fact that 3 percent of the population is using unimproved water resources, "which translates to nearly 4 million Bangladeshis continuing to draw drinking water from ponds, rivers, streams, or unprotected wells and springs." The pollution level of the rivers has reached a point where even groundwater with all its trappings is considered a safer option. The time has come to address the problems of our water infrastructure where faecal bacteria, arsenic, salinity have become major issues. Whenever there is a natural calamity like cyclone or flash flood, people in the affected areas are forced to resort to unsafe water from ponds or other highly polluted surface water sources because tube-wells are no longer accessible.
So how can the vast majority of the population get access to a supply of clean, uncontaminated water that is safe to drink? It is not merely about good infrastructure, i.e. having sturdy piped lines to households, public institutions and schools. The fact is that we have an institutional challenge on our hands which inhibits delivery of high-quality service delivery. The issue that comes through in the report is that government institutions at the local government level, "including union parishads (UPs), pourashavas, and city corporations, do not have the technical nor financial capacity to deliver and sustain high-quality WASH services. Instead, central agencies play multiple roles of financing, designing, implementing, and regulating WASH investments, blurring incentives and accountability of service provision in these areas." With little incentive to improve services, responsible agencies often fail to implement the WASH strategy that already exists.
There is a need for a proper regulatory framework to govern which agency will do what and in which area. We need standards, monitoring and accountability mechanisms in place that will ensure that budgetary allocations are well spent. That policymakers do not prioritise this issue is reflected in the steady decline in budgetary allocation for WASH services in the budget: "The WASH budget allocation was less than half of what it was in 2007-08, internal and external budgets show similar declines. The estimated total budget gap is about 47 percent of the total allocation in the sector to meet just the government's envisioned water targets by 2025."
Clearly there is a whole array of issues that have to be tackled head on. One of the biggest problems is of course how to keep faecal sludge from entering the water supply. Studies estimate that only about one to two percent of all faecal sludge is safely managed in urban cities, but we have no data about rural areas. Our regulatory mechanisms need to be geared towards handling intrusion into and contamination of the water supply. We have to start somewhere and it makes sense to start in urban areas, with Dhaka alone supporting about 10 percent of the population. We need to work on our water infrastructure that takes into account salinity intrusion, arsenic and faecal sludge contamination. What works in the capital city can then be replicated in other urban centres. Finally, we need to enforce our environmental laws that heavily penalise errant industries which continue to pollute our rivers and deprive us of natural water supply.
---
Syed Mansur Hashim is Assistant Editor, The Daily Star.
---
Follow

The Daily Star Opinion

on Facebook for the latest opinions, commentaries and analyses by experts and professionals.
To contribute your article or letter to The Daily Star Opinion, see our

guidelines for submission

.
---