Whose job is it to tackle Bangladesh's growing cybercrime problem?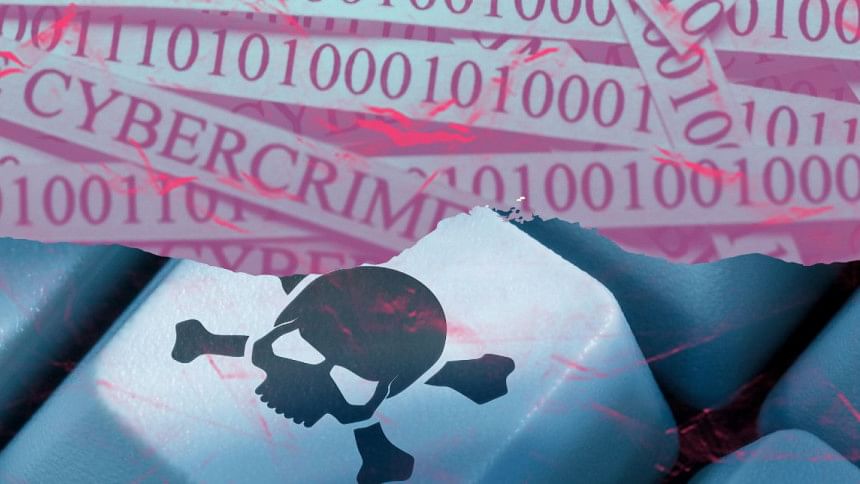 Recently, a conversation between a teacher and a student went viral on social media. The screenshots were shared online without the victim's consent, and quickly received hundreds of shares, leading to public scrutiny and debate about the behaviour of both parties. It resulted in widespread discussions across various groups of people. Unfortunately, this is a common pattern in our society, where people tend to become caught up in trending topics without considering the potential harm to those being directly affected.
While opinions about the incident varied, one thing is clear: both parties in the conversation were subject to immense ridicule on social media. Cyber harassment and cyberbullying are serious crimes that can have devastating consequences for the victims. Despite the Digital Security Act (DSA) which was passed in 2018 to "protect" people online, cybercrime in Bangladesh continues to be on the rise. In fact, incidents have only increased over the years. Although the law was intended to protect people online, it is often used to clamp down on dissenting voices, political opposition, and media. This is concerning, and raises questions about whether complaints regarding cybercrime are taken seriously at all, especially when the victims are ordinary citizens. The fact that cybercrime is still on the rise in Bangladesh despite a legal framework is alarming, and more needs to be done to address this issue.
The majority of cybercrime cases are concentrated in Dhaka, with Chattogram, coming in at a close second. The number of cases received by the cyber tribunal has been increasing since its establishment in 2013, with over 4,500 cases reported to date. These incidents include internet fraud, identity theft, hacking, cyberbullying, and harassment, among others. The majority of these cases were tried under Section 57 of the Information and Communication Technology (ICT) Act, which prohibits the distribution of distorted or offensive photographs and false and defamatory material online.
The real challenge in addressing incidents of cybercrime is in the enforcement of relevant laws. In many cases, victims are afraid to report cybercrime incidents due to fear of retaliation or lack of confidence in the legal system. Additionally, law enforcement agencies often lack the knowledge and resources necessary to properly investigate and prosecute these crimes.
To address the issue of cybercrime in Bangladesh, it is essential for the government to take a more proactive approach. This includes strengthening the legal framework, specifically using the Digital Security Act to protect people rather than silencing them. Additionally, allocating more resources to law enforcement agencies and developing a comprehensive national plan for preventing and addressing cybercrime should be prioritised. By doing so, the government can ensure that the rights of citizens are protected online and perpetrators are held accountable for their actions.
Social media platforms also have a role to play here. These platforms must be held accountable for the content being circulated and posted through them, and they must provide users with better methods for reporting criminal behaviour. Furthermore, social media companies must invest in developing technologies that can help prevent cybercrime and identify perpetrators.
However, the responsibility for preventing cybercrime is not just on the government and social media platforms. The public also has a role to play. Unfortunately, many people in Bangladesh still do not fully understand the severity of these crimes, and as a result, victims often suffer in silence. The leak of these conversations constitutes as cyber harassment, a crime that should be taken seriously and punished accordingly. As more people in Bangladesh become aware of the prevalence and seriousness of cybercrime, we must take a stricter stance against it. No one should be deprived of their right to seek support and protection from cybercrime.
According to a research study by ActionAid Bangladesh in 2022, a total of 63.51 percent of women respondents reported facing online violence, increasing from 50.19 percent the previous year. Women experienced abuse primarily on Facebook, followed by Messenger, Instagram, IMO, WhatsApp, and YouTube. The forms of harassment included cyberstalking, personal attacks, sending sexually explicit pictures and soliciting sexual favors, discrimination against women, making fake IDs, and making hateful and offensive sexual comments.
The effects of cybercrime on victims can be devastating - from psychological impacts to financial loss, to reputational damage, and ruined careers. It is essential that victims receive adequate support and protection, and that they are encouraged to report cybercrime incidents without fear of retaliation.
Cybercrime is a serious issue in Bangladesh that requires immediate attention and tangible actions from the government, social media platforms, and the public. It's time to take a stricter stance against cybercrime. By working together, we can create a safer online environment for everyone and ensure that victims receive the support and justice they deserve.
Dipendronath Das is a student at East West University.