Why are cybercrimes going unpunished?
Government must address victims' unwillingness to seek legal recourse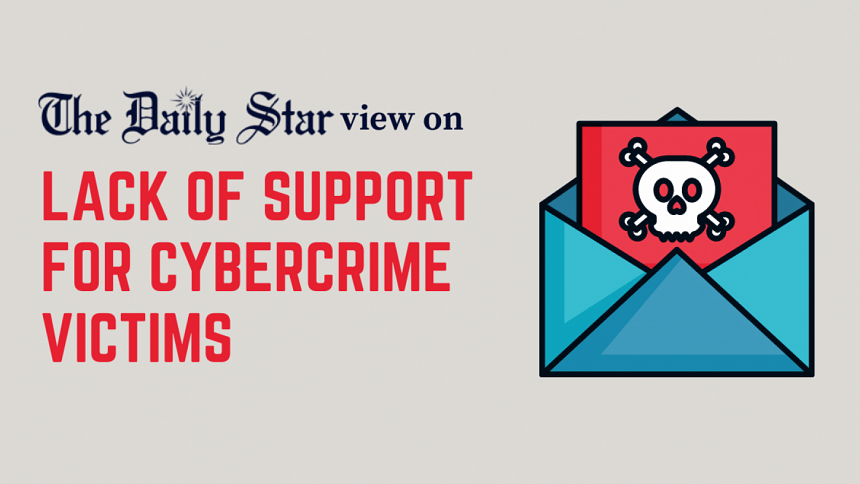 It is quite alarming that more than 73 percent of cybercrime victims in the country do not seek legal assistance, and that more than half of those who do find the support to be inadequate, as per a recently released report of the Cyber Crime Awareness Foundation. The report also found that a meagre 7 percent of the victims were "satisfied" with the support they had received. That gives a very poor impression about the state of our cybercrime-fighting ability.
As previous reports on cybercrimes have also found out, cybercrimes are rising and evolving at an alarming rate in Bangladesh. As the patterns of crimes have evolved, so have the criminals. And their victims, according to the latest report, fall between different age groups: more than 80 percent were found aged between 18 and 30, 13.57 percent aged below 18, 5.03 percent aged 31-45, and less than one percent over 45. Young people, it seems, are the biggest victims of cybercrimes. However, since most victims are reluctant to pursue legal recourse – due to lack of awareness, lack of faith in law enforcers and the justice system, fear of hassles and social stigma, etc. – and since official data on the matter is barely collected, it is also possible that many elderly people are also falling victim to such crimes, without even realising its gravity.
On the other hand, young people are definitely being victimised more when it comes to online bullying, receiving pornographic material, defamation threats and online intimidation. Meanwhile, getting defrauded when shopping online and having one's account hacked are also occurring frequently. Reportedly, female victims of cybercrimes have been found to be more reluctant to pursue justice through the legal system. And that is another concern that requires the administration's immediate attention. The fact that our justice system is not much gender-friendly was bound to spill over to the cyber space.
Despite having a number of laws in place to fight cybercrimes, the state of our cybercrime-fighting ability has remained quite appalling.
Therefore, the authorities – particularly the cybercrime fighting unit of the police – must take steps to address this situation. Since the police have a specific unit to work on the issue, they must have the willingness and required manpower and tools to reach out to all the victims who report to them and provide them prompt and necessary support. Additionally, the government must spread awareness among people that can help prevent them from falling victim to such crimes, and can also help encourage them to seek legal recourse.