WFP's Nobel Peace Prize underscores the need to combat hunger first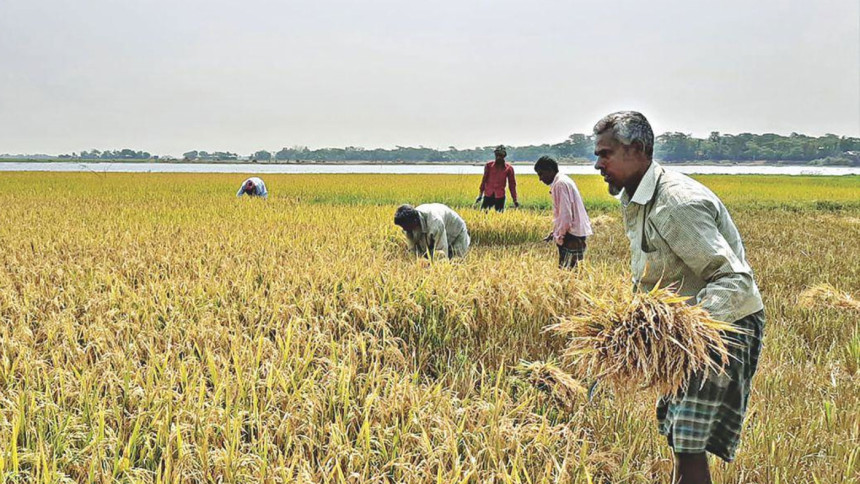 The Nobel Committee awarded this year's Nobel Peace Prize to World Food Program (WFP) "for its efforts to combat hunger, for its contribution to bettering conditions for peace in conflict-affected areas and for acting as a driving force in efforts to prevent the use of hunger as a weapon of war and conflict." This is all the more relevant in these times as recession and economic uncertainties loom large. The award may also be viewed as the Nobel Committee's priority reminder to countries and international development organisations to be alert to probable hunger and famine, should the pandemic linger further.
The award also highlights the importance of placing additional focus on food security, especially in developing countries. In the current context, bilateral and multilateral development assistance should ensure higher budgetary support to countries in transition from Least Developed and Developing statuses to Mid-Income categories.
Another critical implication that warrants attention is renewed focus on poverty and inequality. There are concerns that poverty might rise to critical levels due to rising unemployment and declining incomes. The addition of new poor may aggravate poverty levels. Based on the Global Hunger Index (by the International Food Policy Research Institute), regions that are conflict-ridden and most critically exposed to environment challenges are prone to hunger and famine.
Some pertinent questions would relate to considering whether hunger should be assessed along with food security. Food security would be a necessary element to ensure hunger prevention but may not be sufficient to combat hunger in the long run. There is a renewed global thrust on checking hunger with a focused approach. This year's Nobel Peace Award gives further indication that food policy and programme impacts should view hunger prevention both as strategy and outcome. It is important to emphasise the responsiveness and efficiency with which the WFP undertook and implemented effective and results-based programmes to help countries counter the pandemic. WFP's Mid Term Program Framework (MTPF) envisions sustainable programmes that build on three pillars of emergency intervention: support to national social protection systems, improved basic services delivery, and efficient food management without disruption. WFP also closely reviewed implications of the pandemic on the world's poorest in terms of food security, monitored trends in country economic indicators for required interventions, and reached out to countries to support respective national efforts in checking tendencies towards hunger.
Regions and communities adversely affected by climate change, environmental degradation, disasters and conflicts face greater risks of hunger and famine. This is mainly due to massive disruptions in production and supplies, insufficient access and uneven distribution. UN reports confirm over 80 percent of the world's hungry live in disaster-prone and conflict-driven countries. While resolving conflicts and promoting environment would be useful solutions to preventing hunger, it is extremely important to review and address the key causes of global hunger—rising inequalities, unequal distribution of assets and resources, landlessness, severe lack of access to credit, declining incomes and inadequate employment opportunities. The situation worsens when disadvantaged and vulnerable groups cannot afford minimum access to land, farming inputs and agricultural resources, resulting in reduced access to food.
The International Food Policy Research Institute (IFPRI) and USAID's "Food For Peace and Feed The Future" findings emphasise higher investments in agriculture and food security to reduce risks of hunger. The United Nation's "End Hunger by 2030" suggests drastic reduction in poverty and inequalities to reduce hunger and malnutrition in a sustainable manner. Poverty reduction programmes should relate to investments in food security and sustainable transformation in agriculture.
The UN may consider specific initiatives in this context, such as convening World Hunger Forum and Global Commission on Preventing Hungerthrough close coordination of WFP, FAO and IFPRI. The UN could facilitate a structured operational mechanism that would align national and regional initiatives.An International Food Bank & Global Institute For Initiatives and Research on Hunger and Faminewould add value and ensure credible and efficient outcomes in this regard. The UN may like to consider these proposed initiatives in the medium term.
In view of the current pandemic, from country perspectives, the key element would be to extend structured support to most vulnerable groups and segments of the population that are more prone to hunger risks. They include poor women and children, other vulnerable groups, unemployed individuals and communities without access to credit and resources for livelihood. This pandemic resulted in intensifying poverty and inequalities that would deepen levels of indebtedness and deprivation leading to increased hunger. The existing bilateral and multilateral development discourse should concentrate on strengthening respective country programmes to address these concerns.
Due to Covid-19, there is a need to consider enhanced safety nets and broadened social protection programmes to cover all sections of the population confronted with critical inadequacies of inputs, resources and opportunities. The issue here is to ensure the effectiveness of current protection mechanisms based on how these have worked so far, and addressing deficiencies and subsequently reshaping these in accordance with best practices. It would be pertinent to expand conventional safety net programmes to welfare net programmes that would enable convenient access to basic needs including food and shelter and easy credit access. Policy interventions should aim at mitigating risks and concerns due to the addition of new poor (for instance, loss of jobs, rising unemployment and drastic reduction in employment or reduced opportunities for inter-sector transfer of skills). To address these, entrepreneurship expansion support and easy credit access are credible and effective solutions.
It is also crucial to enhance the efficiencies of institutions and improve management and governance frameworks within country systems as well as within the ambit of development partnership. Performance-driven and results-based approaches, extensive coordination of government and NGO programmes, comprehensive community engagement and extensive stakeholder participation and buy-in should also be useful.
Dr Mohammed Parvez Imdad is an economist, governance specialist and former national and international civil servant. Email: mpinayefmimdad@gmail.com