Press freedom must be protected at all costs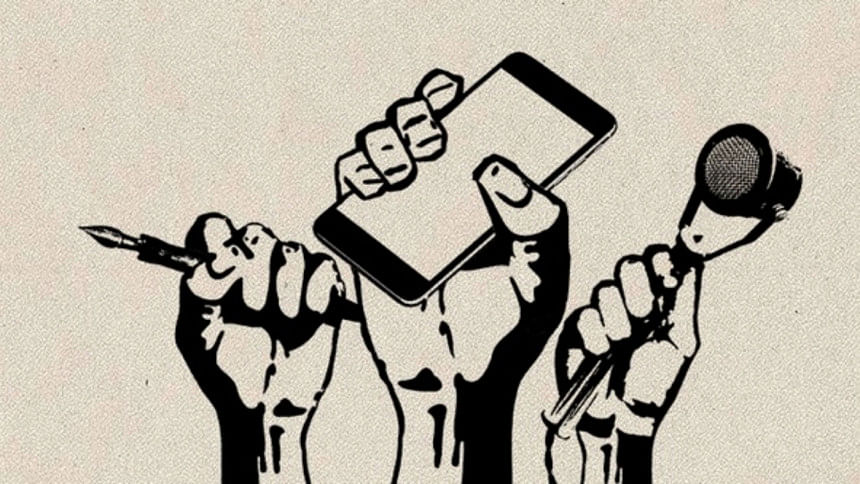 When I first met Mizan in Dhaka, he was wearing an elbow crutch to help him walk, accompanied by his elderly father. Mizan had suffered custodial torture at a local police station at Bauphal in Patuakhali. The son-father duo came to Dhaka to file a writ petition seeking proper investigation in a case filed by local police on charges of attacking and extortion from police. He had already spent three months in jail for a crime he had never committed. The High Court ordered further investigation into the case, filed in March 2015, that led to the conclusion that no such incident had taken place.
Since 2013, this was the sixth case in six years in a row against Mizan. He was acquitted of all the charges after investigations. The Bauphal correspondent of Prothom Alo, ABM Mizanur Rahman was a free man then. But he did not see it coming in 2020. This time, he was made accused in the murder case of Jubo League activist Tapas Kumar Das, killed in an intraparty clash.
Local journalists took to the street demanding a fair probe and withdrawal of Mizan's name from the case. It has been alleged that the plaintiff, Tapas's brother, has never met Mizan in his life and that he was influenced by a politician who has been disturbed by Mizan's news reports.
So far, as the definition of presumption of guilt goes, he is guilty until proven innocent. An impartial investigation will reveal the truth but if we take the experience of recent years into account, we will find a grim picture of attacks against the press and journalists in a manner that makes us worried about the future of independent journalism and free flow of information in a democracy.
In 2018, a serious level of press freedom violation marred the road safety movement in August and Bangladesh's national election in December, as a number of journalists either came under attack from the ruling party activists or were framed by the draconian Digital Security Act.
Rahat Karim, a freelance photographer, AM Ahad of Associated Press (AP), Palash of daily Bonik Barta, Ahmed Deepto and Sajid Hossain of Prothom Alo, Ibnul Asad Zawad of daily Janakantha, Rimon of US-based Zuma Press, Pathshala's photography student Enamul Hasan, Abdullah Shafi and Kamrul Hassan of Nagorik TV, Golam Samdani of Sara Bangla online, Abu Shufian Jewel of bdmorning news portal, Sharif Hossain of Naya Diganta, freelance photographers Hasan Jubayer and N Kayer Hasim, and Faisal Hossain of Channel 24 came under attack for two consecutive days on August 5 and 6 at different parts of Dhaka, while covering the road safety movement.
Then, atleast 12 journalists of Jamuna TV and daily Jugantor were hurt in an attack on December 25 when they were covering the news of the national election in 2018. Hedait Hossain Molla of Dhaka Tribune and Rashidul Islam of daily Manab Zamin were sued under the Digital Security Act for reporting on false voting in a Khulna constituency in the aftermath of the election.
Kazi Tahsin Agaz Apurbo of The Daily Star, Kafi Kamal of Manab Zamin, and Al Amin of Chattogram-based online news portal Cvoice24.com came under attack while covering the same election.
The year 2019 witnessed a relatively better situation compared to the previous year as there were fewer cases of violence against journalists. However, Shelu Akand was hospitalised with both of his legs broken when he was attacked by around 10 thugs on the night of December 18. Earlier, he was a witness to the beating of Mustafa Monju, Kaler Kantho's Jamalpur correspondent, on May 26.
Mushfiqur Rahman, a senior reporter of Mohona TV, went missing from Dhaka on August 3. Fortunately, he was later found alive blindfolded in Sunamganj on August 6.
Sadly, 2020 is likely to surpass the previous records of violence against journalists. Incidents recorded this year ranged from physical attack to enforced disappearance, from judicial harassment to police brutality to the use of Digital Security Act. Some 20 journalists came under various forms of attacks for reporting on pilferage, nepotism and corruption in connection with food aid distribution during the Covid-19 lockdown.  
Mostafizur Rahman Suman of Agami News, Zisad Ikbal of Press Bangla Agency, Mahabub Momtaji of Bangladesh Pratidin, Nurul Amin of Business Standard, Al Fatah Mamun of Jugantor, Osman Gani of Paribartan News, Sheikh Hasan of Kaler Kantho, Foisal Ahmed of The Daily Star, and Faruq Hussain of Dainik Inqilab came under attack by the ruling party activists on February 1, while they were covering the Dhaka municipal elections.
Matiur Rahman Chowdhury, Editor-in-Chief of Manab Zamin, photojournalist Shafiqul Islam Kajal and 31 others were sued under the Digital Security Act on March 10 for "publishing false news and circulating it on social media". Kajal remained disappeared for 53 days in a yet-unresolved case and was later arrested after he resurfaced. 
Ariful Islam, the Kurigram correspondent of Dhaka Tribune, was picked up from home at midnight on March 14 and handed a one-year prison term by a mobile court for alleged possession of drug and alcohol. The entire thing was orchestrated by the then Deputy Commissioner of Kurigram as Ariful had published several corruption reports against her. It was a naked example of custodial torture and abuse of power that embarrassed the entire government and the civil service. 
Toufique Imrose Khalidi, Editor-in-Chief of bdnews24.com, and Mohiuddin Sarkar, acting editor of Jagonews24.com, were sued along with two other journalists under the Digital Security Act on April 18, over a report on alleged embezzlement of food aid.
Abdul Latif Litu, the Thakurgaon correspondent of Bangladesh Pratidin, was badly beaten by the police on April 21 for allegedly defying the lockdown; he was returning from work.
Kamal Hossain of Bangla Vision came under attack on April 18 when he tried to cover an incident of alcohol sale involving the local narcotics department. 
Baten Biplob and Sajal Bhuiyan of SATV were severely injured on April 23 when they were covering the misappropriation of rice earmarked for the vulnerable people in Narsingdi.
In some cases, the law enforcement agencies initially did a commendable job of protecting the journalists from attacks and arresting the goons. But there is almost no evidence that the perpetrators have been brought to justice. It is pertinent to mention that ever since our struggle for independence began, the press and the journalists were at the forefront of it and bore the brunt of its impacts. Soon after Bangabandhu delivered his historic March 7 Speech, almost all the newspapers in the then East Pakistan started to toe the line of Bangabandhu and the Awami League. Within a space of one week after the proclamation of our independence on March 26, presses and offices of Dainik Ittefaq, Sangbad and The People were destroyed and burnt by the occupying Pakistani military force.
As we approach the golden jubilee of our independence, we must not forget that press freedom and freedom of expression are integral parts of a true democracy and just society. Journalists have the right to carry out their work under safe conditions, without fear of being harassed or attacked. Fighting impunity is what the state should stand for, and it must promptly and effectively investigate every single incident of attack and violence against the journalists and bring the criminals to justice.
Meer Ahsan Habib is a communication for development professional.
Email: [email protected]