Mental health: The conditions in which people grow, live, work and age matter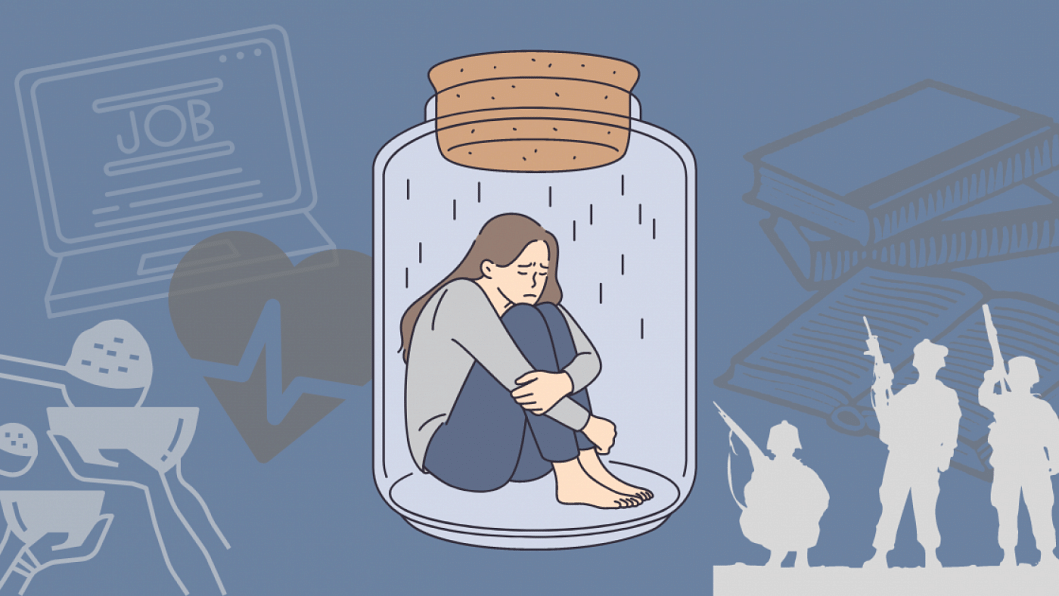 On July 6, 2022, The Daily Star published an article by Nahaly Nafisa Khan titled "The root of our unhappiness: When the personal becomes political." The eloquently written article looks into socio-economic troubles to explain the 2022 Global Emotions Report, which places Bangladesh seventh "among the world's angriest, saddest, and most stressed nations." The author traced the root of these problems to poverty, unemployment, lack of access to health care, social stigma around mental and behavioural health issues, loneliness, domestic violence, etc. 
I couldn't agree more. As a healthcare consultant designing and implementing solutions around these issues in Florida on behalf of the State Government, I am excited to share my own experience.
Social Determinants of Health (SDOH) is a fairly new concept which is increasingly gaining momentum in the West. The World Health Organization (WHO) has defined SDOH as "the conditions in which people are born, grow, live, work and age." The definition includes basic human needs such as food, housing, employment, education, health care, etc. 
An increasingly common trend in the healthcare systems in the West is the use of SDOH. They have become the main drivers of healthcare in the United States (US) in the past few years. A research article published in the American Journal of Preventive Medicine has shown that 80 percent of the US' health care costs are spent on traditional health care even though it impacts only 20 percent of health outcomes. On the other hand, 80 percent of health results depend on unrelated health issues such as food, housing, employment, education, social isolation, and domestic and communal violence. Many other studies also consistently concluded that there is a strong correlation between healthcare and unmet social needs. In fact, traditional health care has proven to be only the tip of the iceberg for an individual's health and wellbeing. 
In the US, social programmes have been a focus for many years, but recently and increasingly, the federal and state governments have moved to addressing social issues under the SDOH framework. The goal is to drive better population health outcomes by meeting citizen's needs for food, housing, employment, transportation, etc. The approach costs less to keep the population healthy. 
I myself manage two SDOH projects for the State Government of Florida. Until now, only a few states have initiated various forms of SDOH solutions, others are at various stages of implementation, while most do not even have a SDOH-oriented plan. Those who are behind do have extended social service programmes to help the needy, and sooner or later, they will be onboard the SDOH train as well. 
Seeing the value of social services, Florida has been working on a project to design and implement a statewide technological solution which will give all service providers (medical, social, behavioural, and mental) the ability to scan their members for basic necessities. For example, the programme will enable a physician to ask some simple questions of a patient – such as, if they have enough food in the house, a safe place to live, or if they suffer from domestic abuse, etc. If a need is identified, the patient will be officially referred to the specific service provider(s). The referring physician will be able to track whether or not the person has received the service(s), making sure that it does take place. Of course, the patient/member has to consent to receiving the service. The solution will allow states in the US to analyse data and identify the services needed in specific communities. Hence, various state programmes at local levels will be able to point out people with needs.
The main cause of most social problems is poverty, which leads to a cascade of issues such as stress and mental illnesses. Social needs have a direct bearing on a person's overall health. Existing SDOH data has proven that provision of social services has significantly improved care coordination of patients, reduced anxiety and anger, increased happiness and thus, decreased healthcare costs and fewer crimes.
Without basic necessities being met, we fail our society. Health care and social organisations should redirect their attention from traditional healthcare to the various social and behavioural needs which exist in our communities.
In Bangladesh, most families who have the ability are prone to saving or building wealth, often neglecting their mental and physical issues. Many families are simply unaware of the importance of personal care, while others do not have the means to live healthy. Mental health issues are almost altogether overlooked or suppressed to avoid perceived social embarrassment. But a healthy society is hard to build without awareness of these issues even if resources are available. Hence, Bangladesh should begin to address social issues more prominently so that proper healthcare can be achieved.
ABM Uddin is a programme manager at the Florida Agency for Health Care Administration.