How many Kulsums have to die!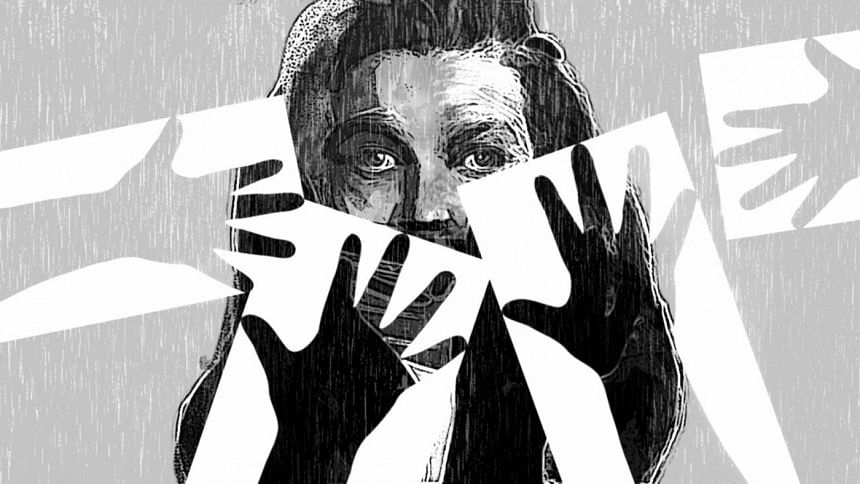 According to her primary education certificate, Umme Kulsum was only 14-years-old. But to send her to Saudi Arabia as a domestic worker, her passport falsely portrayed her as 25—since that is the minimum age for women to go as labour workers to Saudi Arabia. But the dream that the middleman had sold to Kulsum's family was broken within a year and a half when she returned to her family as a corpse.  
Kulsum died on August 9 this year while undergoing treatment at the King Faisal Hospital in Saudi Arabia. Her lifeless body arrived in the country on September 12. The family claimed that her employer and his son had beaten Kulsum, breaking her legs and arms, as well as injuring her waist. Her eye was also damaged. Merciless as they were, she was left on the street in this miserable condition. Later, Saudi police rescued her and took her to the hospital where she died after a few months.
Kulsum is the daughter of Shahidul Islam and Nasima Begum of Nurpur village in Gokarna union of Nasirnagar Upazila of Brahmanbaria. In 2017, Kulsum sat for her final examination of primary education from Nurpur Lahajura Government Primary School. According to the certificate, her date of birth is December 24, 2006. The family also confirmed that the girl was born in 2006. But the date of birth mentioned in her passport is March 13, 1993.
Her family is saying that the agency and the broker made the passport using the birth certificate issued by the chairman of the local union council which mentions her year of birth as 1993.
The family also mentioned that on April 7, 2018, Kulsum was sent to Saudi Arabia by the agency MH Trade International of Fakirapul, with the help of local middleman Razzak. But after moving there, the employer used to physically abuse the teenaged Kulsum. The family informed the local broker Razzak, but he did not take any action. Even the police weren't helpful when the family visited them again and again for assistance.
On August 18, the family lodged a complaint to the Director-General of the Bureau of Manpower, Employment and Training (BMET) in Dhaka. In the complaint, the family claimed that Kulsum was a victim of physical and mental abuse. The agency did not respond to the repeated calls to bring her back to her family. One day, the family received the news that her employer and his son had beaten her in April, breaking her legs, arms and waist, leaving her on the street with one eye damaged. Three months later, on August 9, Kulsum died at King Faisal Hospital in Saudi Arabia. The family requested that her body be sent back home.
Kulsum's family finally got to see her on September 12, but as a lifeless body. The anticipation of her parents of meeting their daughter after so long turned into a pit of sorrow. Their wait was finally over but their tears will continue to be shed, remembering their lively, smiling daughter, Kulsum.
Kulsum's mother Nasima Begum told the media in a teary voice that they were informed one afternoon during Ramadan over the phone that the girl was in the hospital. They then learned that the owner had beaten her for not agreeing to his inappropriate advances. They last talked to Kulsum while she was in the hospital the day after Eid-ul-Adha. Unfortunately, Kulsum could not recognise anyone in the family or respond to anyone's queries.
After the news of Kulsum was published in the media, Rapid Action Batallion (Rab) arrested two people, including the recruiting agency owner from Dhaka's Fakirapool area in connection with the death of Kulsum. The police said, even though the minimum legal age for a female migrant worker was 25, the agency hid her age and sent her to work abroad. Hence, they will file a charge against the agency for human trafficking, under the Prevention and Suppression of Human Trafficking Act, for knowingly sending a minor girl to be exploited. But what will happen to the Saudi employers? Will they remain out of reach?
Of course, Kulsum is not the only one! According to the Expatriate Welfare Desk at the airport, 410 women who went to work in different countries in the last four years from 2016 to 2019 have returned home in a shroud. Among them, 153 women lost their lives in Saudi Arabia alone. In addition, 64 died in Jordan, 52 in Lebanon, 36 in Oman, 23 in Dubai, 20 in Kuwait and 60 in other countries.
Out of these 410 people, 67 have died by suicide. In Saudi Arabia alone, 39 people died by suicide. In addition to the suicides, 69 women have died in accidents in the last four years of whom 29 have died in Saudi Arabia.
Families say every death is a mystery. Begum is only an example. She went to Saudi Arabia in April 2019 through a recruiting agency. But no one knows the mystery of her death in Egypt.
According to the Bangladesh embassy in Egypt, a female domestic worker named Mosammat Begum died after falling from the rooftop of a five-storey building on May 29, 2019. Begum's husband Abdul Aziz said he had learned through the union chairman a few days ago that someone called Begum had died in Egypt. But he did not take the matter seriously as his wife was in Saudi Arabia. It was after he got a call from Egypt that he realised it was his wife who had died.
The mystery behind her death was never revealed. But the families who lose their daughters know the pain and that it has no end. 
Of course, those who die somehow get saved in one sense, but those who survive have no end to their misery.
According to the BMET, more than eight lakh women went abroad between 1991 to 2019. Of these, the largest number, which is around three lakh, went to Saudi Arabia. To evade poverty and unemployment, many women migrate to the Middle East, especially to Saudi Arabia. Many of them returned because of reasons like physical torture, sexual abuse, and irregularities in the payment of their wages.
Although there is no actual report of how many women have come back from KSA, according to the embassy and various media reports of the last five years, the number is more than 10,000. Many more are reportedly waiting to return at the safe homes and immigration camps in KSA with already shattered hopes. According to media reports, women from Indonesia, the Philippines, and Sri Lanka who went to Saudi Arabia to work as domestic workers were also subjected to physical and mental abuse. While these countries stopped sending their women as domestic workers, the country became interested in taking female domestic workers from Bangladesh in 2010.
Saudi Arabia said if Bangladesh doesn't send women, they will not open the labour market for men, which was closed from 2009 to 2015.
In 2015, Bangladesh agreed to send women as workers and on February 2015, a 19-member delegation led by Deputy Minister Ahmed Al Fahad of the Saudi Ministry of Labour arrived in Dhaka, where Bangladesh signed an agreement to send women. After that agreement, 21,000 women workers went in 2015, 68,000 in 2016, 83,000 in 2017, 83,000 in 2018 and in 2019, it was 72,000. How were they doing in Saudi Arabia? Just listen to these stories...
A woman from Kurigram went to Saudi Arabia in the hope of prosperity for her family and was raped by her employer and became pregnant. She later fled to the Bangladesh embassy in Riyadh to save her life. She eventually came back to the country two months later.
On her return, a woman from North Badda in Dhaka said that the men of the house where she worked used to physically abuse and sexually harass her. When she protested, her hair was pulled out. A girl from Manikganj said she used to work in the Bani Yasar area of Saudi Arabia. She jumped from the rooftop of the four-storey house due to torture. Later, she found herself in the ICU of a hospital. A woman from Cumilla was tortured and needed 14 stitches on her head.
Last year, Sumi Akhter's video from Saudi Arabia went viral, urging and pleading everyone to save her life. She was later rescued and brought back to the country.
Ministry of Expatriates' Welfare and Overseas Employment (MoEWOE) sent a report to the parliamentary standing committee in August last year. The report said that they had talked to about 110 female domestic workers who returned from Saudi Arabia and 35 percent of them returned home after being physically and sexually abused. Forty-four percent of these women were not paid regularly.
Sometimes officials say that 300,000 women went to Saudi Arabia and less than 10,000 returned which is not a big percentage. The rest must be living in better conditions. But that is unknown to us. And the fact remains that more than 153 women have died. Why has there been no justice even in a single case? Why hasn't a single perpetrator been punished? Isn't there any value of Kulsum's life? How many more Kulsums need to die to get justice and stop this culture of modern-day slavery?
Shariful Hasan is a freelance journalist.