Booked Solid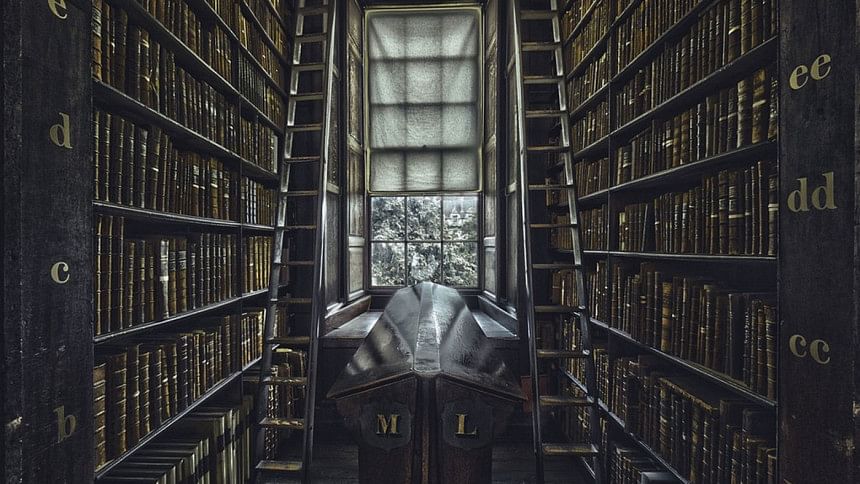 Art has always been both a mirror of and a balm for human experience through disaster. In this short series, an author of Daily Star Books—our book publishing imprint—will periodically explore a facet of this link between literature and our ongoing battle with Covid-19.
I was amused to see a recent Facebook status update from my friend, the Indian writer Madhulika Liddle. She wrote, "I want to change places—if only for a week—with all those people…who have the time to be bored, the time to need things to do. If only!" A prolific writer of darkly brilliant short stories and the creator of Muzaffar Jang, a protagonist featuring in a series of novels about the life of a detective in the Mughal era, Madhu shares on social media her many and varied interests, including creative cookery, drawing, botany and film history, all of which she fits in alongside raising a young child and managing to pull off an impressive juggling act with respect to her work-life balance. So it's no surprise that "spare" time is in short supply!
Although Madhu and I have only met once—at the Bangalore Literature Festival a few years ago—I am consistently amazed by how similar we sometimes are. So much so that at the festival, I was accosted by one of the organising team who insisted, "Madhulika Madam, you must hurry up and get on stage. You are missing your session!" It took me some time to convince him that I had finished attending my sessions, and that I was not in fact Madhulika—though I have since reached the conclusion that she is indeed my "sister from another mister", given the attitudes we share. And while I am hardly a Renaissance woman like her, I will admit that I do share her longing for the luxury of boredom.
Being responsible for an eight member household under the current circumstances doesn't leave much time to ponder one's entertainment choices. And despite having set up a family Netflix account two years ago, I have only ever watched two episodes of some TV show that a houseguest of mine insisted that I would like (not that I liked it enough to watch a single episode after she had left!)
During a recent conversation, a helpful friend suggested some Netflix shows I might like, and I confessed that I hardly ever watch TV other than my daily dose of world news. Instead, I will often utilise even a 10 minute window of opportunity to read a book instead. "Oh my God, Farah, what is it with you? Do you realise you're going against a global trend? Nobody reads any more. Supposedly we're rotting our brains with screen-time instead! Why are you such a weirdo?"
Well, the answer to that final question probably lies in the fact that I'm a writer—and surely, by that very definition, a weirdo! I mean, who else would willingly spend their lives in constant stew of self-doubt, publishers' rejections and a field where criticism comes with the territory?
Anyway, all this to say that reading has always been my go-to for both entertainment and therapy. And writers have been my rock-stars, proving that admiration frequently leads to emulation!
The therapeutic value of reading fiction is now widely accepted, something that seems almost incredible to a generation of Bangladeshis who grew up hearing that "beshi golper boi pora bhalo na" ("It's not good to read too many storybooks"). Among my friends, I was in a minority of one, and very grateful, to have parents who have always encouraged me to read widely and well.
Intuitively, of course, it makes perfect sense. For one thing, the stories that we love best make us feel less lonely—not because they prove there are others like us out there, but also because that writer whose work you love so much has created something which shows that she understands what it's like to be you.
And although I sometimes worry about my book-buying addiction, I know it's fuelled by "abibliophobia", the fear of running out of books to read. When I was growing up in Dhaka, the continuous shortage of English storybooks meant that this was a very real problem. I remember well the sense of panic I felt when I finished working my way through the children's section at the British Council (which, once upon a time, was a magical library full of books...). Hence, while attempting to stave off financial ruin as I continue to feed my habit, I console myself that given the times we live in, it could be far worse. I may well run out of living space soon, but at least it's not drugs!
Also, as any writer will tell you, while the lifestyle can be brutal, it is a major bonus when your "homework" actually consists of reading as many books as possible. Having always been a conscientious student, these days I read voraciously. And I find myself seeking out new writers and hitherto unexplored literary territory. Recent favourites have included Wolf Hollow by Lauren Wolk (a book that has distant echoes of one of my all-time favourite novels, Harper Lee's To Kill a Mockingbird), Listen Slowly by Thanhha Lai, Everybody's Son by Thrity Umrigar, When We Believed in Mermaids by Barbara O'Neal, and Honour by Elif Shafak.
One additional thing I have learned from this reading frenzy is that I will read almost any kind of story if it is well-written. The exception—you will perhaps not be surprised to hear—is any form of dystopian literature, including disaster and horror stories! Because let's face it, these days, reality would be hard to beat in that respect...
Farah Ghuznavi is a writer, translator and development worker. Her short story collection Fragments of Riversong was published by Daily Star Books in 2013. Follow Daily Star Books on Facebook and @thedailystarbooks on Instagram.