Celebrating a 'Chattal Darodi'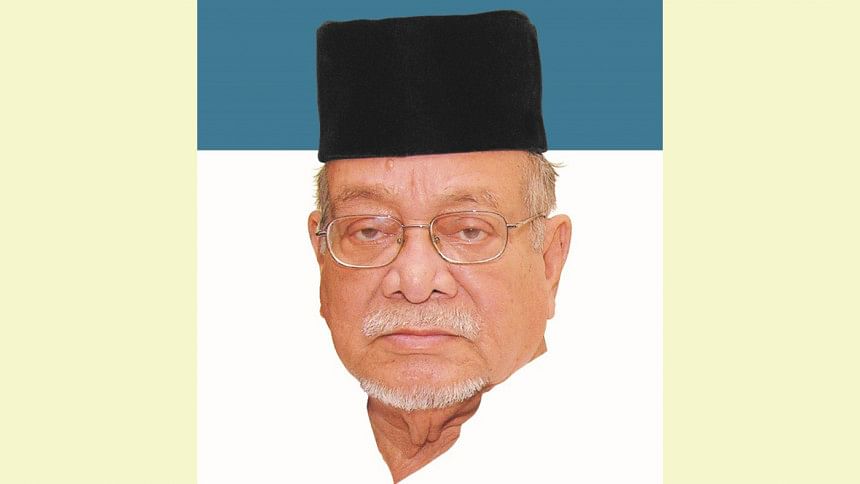 Muhammad Yusuf Chowdhury, a philanthropist who is still enshrined in the hearts of the people, has risen above his own life. Over decades, he has captivated individuals and communities.
An entrepreneur, celebrated across the community, he has been blessed with a distinguishing chequered career. His fascination for printed matter goes back to his post-matriculation days when he opened Chhatra Bondhu Library at Raozan's Fakirhat village market. Encouraged and determined, his next business venture Orient Store was in Chattogram's Jubilee Road, selling stationery, books and newspapers. In the year 1949 his iconic book stall News Front saw the light of day as his passion began to take shape.
Ground-breaking business ideas have been the secret of his success. In 1964, he moved the offices of News Front to newly constructed Chattogram's Biponi Bitan (shopping mall). By then, he acquired selling rights of several periodicals from beyond the province and later, overseas. The Illustrated Weekly of Pakistan was first, and then came Newsweek, Readers' Digest, Time and The Daily Dawn. He never had to look back.
News Front became the hub of intelligentsia and progressive cultural activists. Triggered by Little Magazines that resulted from the adda, he quenched his thirst for publishing by instituting fully automatic Signet Press Limited in 1954. He knew how to combine business with his passion.
Heedful commercial banks acknowledged his business acumen and financial reliability. Some pursued him to undertake larger ventures. The characteristically slow and steady, but successful man required prolonged persuasion, backed up by his own feasibility study, before launching Signet Box Industries Ltd for packaging in 1984.
A visionary is admired for the lasting impact of their vibrant philosophies. The state-of-the-art Signet rolled out a newspaper that was able to compete in qualitative content with time-honoured dailies of the port city overnight. From its inception in 1986, Dainik Purbokone gradually flourished into a vehicle of reform. His gifted marketing proficiency enabled the newspaper to gain broadsheet readers, old and new.
A ground-breaking dairy farmer, being revered long after he stopped caressing the grass he cherished, speaks volumes of his merit. In 1950, he developed his own dairy farm, Super Dairy Farm & Food Products, an idea that soon spread across the country. Leading from the front, two years later he founded the Chittagong Dairy Farm Association.
He further spread his wings when in the first year of this millennium, the family took over United Chemicals & Pharmaceuticals Ltd, to which he was perhaps inclined due to his youngest son being a medical doctor.
His success story on self-employment is included as a case study in the HSC textbook published by the National Curriculum and Textbook Board (NCTB) under the Ministry of Education, a testimony to his extraordinary contribution to free enterprise.
In 1995, he established Chittagong Veterinary College. Despite a decade of proven success, he had to spearhead a popular movement to upgrade the college in 2006 to Chittagong Veterinary & Animal Science University. Not a nationally favoured topic in tertiary education, the university has developed links with the international scientific world.
A dreamer's creativity is weighed by his dreams that live on when he treads no more. He was always a step ahead in carrying forward any agenda for the benefit of the people, to mould public opinion, and steer popular campaigns. As the befitting Chairman of the Brihottor Chattogram Unnayan Sangram (Greater Chattogram Development Movement) Committee, he was in the forefront. Among other undertakings, he was instrumental in advocating for developing a modern system to ease the city's traffic congestion. The city's water shortage situation, its diabolical sewerage disorder, the vulnerable fish population of Halda River, and the polluted Karnaphuly River will perhaps see better days as a result of his intervention.
A modern, liberal man, and a devout Muslim, who shunned communalism, he was a humanitarian citizen of the world. Quietly ambitious, mentally robust, and blessedly diligent, he was a self-made institution. Apt political awareness lifted him to the pinnacle of the society without the tag of any controversy. Perseverance, simplicity in lifestyle, and humble low profile were the forte of the man's character. A man of few words, rung by rung, he moved up the ladder, unchallenged because he was resolute in his purpose, and his focus was on the good of the society.
For almost half a century, he had been the key businessperson and social reformer for the port city, earning him the accolade Chattal Darodi (Chattogram Sympathiser) from his colleagues and admirers. Villagers around his birthplace, his gratified associates from various fields in greater Chattogram, and beyond, remember him solemnly with much fondness and admiration.
Born 19 September 1921 at Raozan's Dheua Haji Bari, Muhammad Yusuf Chowdhury (Chacha) lies buried in the faraway holy city of Makkah, where he breathed his last twelve years ago (September 9, 2007) while performing Umrah.
A national recognition would be an appropriate tribute to this regional herculean personality.
Prof Dr Nizamuddin Ahmed is a practising Architect, a Commonwealth Scholar and a Fellow, a Baden-Powell Fellow Scout Leader, and a Major Donor Rotarian.