A rocky road ahead for Oikyafront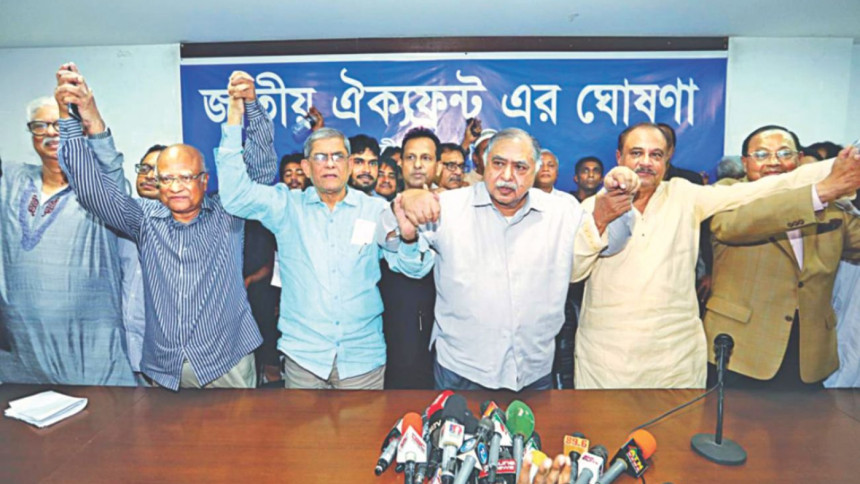 Just a week or so ago, Dr Kamal Hossain, Badruddoza Chowdhury and BNP seemed to be on the same side of the fence. They held grudges against one another, yet they were allies in opposing the incumbent.
Kamal Hossain was one of the fiercest critics of the last BNP-led government. He torpedoed BNP's voter-list manipulation scheme almost single-handedly, while Badruddoza Chowdhury was forced to abdicate his presidency by his then-colleagues in BNP in 2002.
After years of formal and informal engagement, they finally kept aside their differences, but it took only days for them to fall apart again. On October 13, Kamal Hossain and BNP forged an alliance, Jatiya Oikyafront, leaving Badruddoza Chowdhury out of the process.
Chowdhury's miscalculation
Both Hossain and BNP sounded cautious in their explanation for Chowdhury's absence, saying the door was still open for him, but Chowdhury was not one to mince words. He accused BNP and Kamal of engaging in a "conspiracy"—something he, too, was willing to be a part of just days ago. For him, the experience of being left out by BNP must have invoked bitter memories of how he was once ousted by the same party from Bangabhaban. But this time, the former president had only himself to blame.
As a veteran politician, Badruddoza Chowdhury still carries some political weight. His well-argued speeches strike a chord with reasonable people. With Khaleda Zia in jail, BNP was also desperate to make new allies, and therefore ready to make a serious compromise. But Chowdhury miscalculated how much concession BNP would be able to make and overestimated how much leverage he himself wielded. Bikalpa Dhara, the party led by Chowdhury, punched way above its weight by persistently demanding 150 seats from BNP (as acknowledged by Chowdhury himself), although the last time he tried to contest an election without BNP's support, he lost his security money.
In the meantime, a new faction emerged out of what is left of Bikalpa Dhara, claiming to be representing the mainstream of the party. Further adding to the drama, two minor parties left the BNP-led 20-party alliance, accusing BNP of engaging in a "1/11-like conspiracy".
AL unlikely to yield much space
With Chowdhury left out and other familiar faces such as Abdul Kader Siddique (of Krishak Sramik Janata League) missing, Oikyafront may not look like a unified opposition block that its founders had expected it to be, but the ruling party seems too cautious to allow the new opposition alliance to have the minimum space.
For example, the police had twice refused the Oikyafront permission to hold a rally in Sylhet—its first-ever public meeting as an alliance—on security grounds. The excuse didn't hold up as the ruling party and its allies have been seen continuously organising high-profile election rallies across the country. In the end, the police gave the permission, but only after Kamal Hossain threatened to go to the court.  
Clearly, the government is apprehensive of opposition rallies and meetings, which used to be among the most basic and recognised political activities in the post-Ershad era. Such a restrictive approach, especially with the election schedule expected to be announced any time, will have an adverse impact on what little effort there has been to ensure a level playing field.
This lends credibility to the dissenting election commissioner Mahbub Talukder's five-point proposals which, among others, called for the responsibility for the interior and public administration departments being handed over to the EC after the election schedule is announced, in order to ensure that the state machinery is not used against or in favour of any party. However, it's quite unlikely that the EC would intervene, given its poor track record in terms of exercising constitutional power, let alone go the extra mile for ensuring a fair election. What's more, another commissioner has already gone as far as to suggest Talukder's idea being "unconstitutional."
Battlefield turns digital
Now that it is confident of its strength offline, the government looks to the cyberspace to tighten its control over it.
Defying widespread concerns of the journalists, the government has put the much-criticised Digital Security Act 2018 into force. Rejecting the journalists' call for reforms, Prime Minister Sheikh Hasina said in a news conference on October 3, "Only those journalists who have piled up false news against us and are waiting for releasing [such stories] one after another after the election schedule is announced should be worried about the law." The forthcoming elections, it appears, had something to do with this hurriedly patched-up law and other regulations approved recently.
In addition, the so-called "social media rumour detection and monitoring cell" is poised to start operation from this month. According to an announcement by the police, about 100 police teams are monitoring social media to prevent "the spread of rumours and fake news".
Meanwhile, on October 15, according to a report by bdnews24, the government mulls a Tk 1.21 billion project, which is to be run by RAB, to watch social media and messaging apps "for two months before and as many months after the balloting."
Mustofa Jabbar, the post, telecommunication and information technology minister, left little to the imagination as he explained the ongoing efforts. "Preparation has been completed to control Facebook, YouTube and Google from November onwards. All sorts of [surveillance] devices will arrive this month. We will be able to tackle the spread of propaganda, rumour and misinformation during the election," he boasted in a discussion meeting on October 20, according to multiple media reports.
While the Oikyafront seems to have won the first round by seemingly forcing the government to allow it to hold a rally, to truly emerge as a formidable challenge to the incumbent would require much more than that.
---
Nazmul Ahasan is a member of the editorial team at The Daily Star. His Twitter handle is @nazmul_ahasan_.
---
Follow

The Daily Star Opinion

on Facebook for the latest opinions, commentaries and analyses by experts and professionals.
To contribute your article or letter to The Daily Star Opinion, see our

guidelines for submission

.
---