Nitpicking over nominations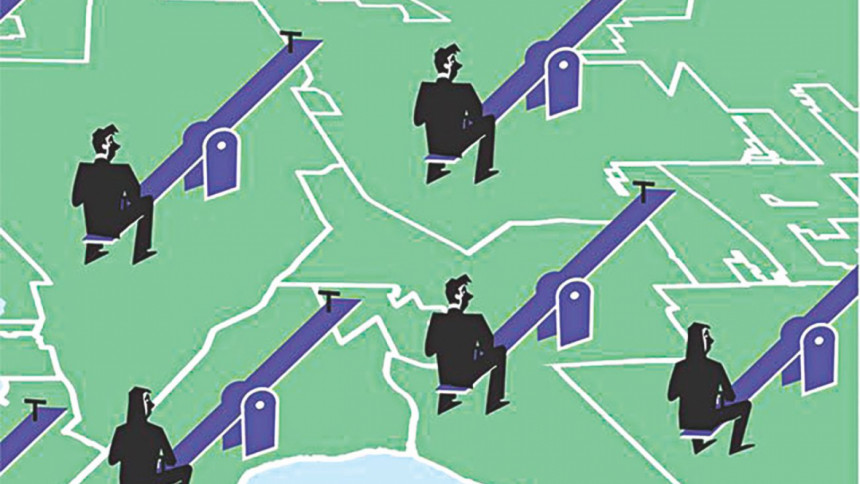 Among the reports of a record number of nomination papers being rejected by election officials, Reza Kibria's case is particularly intriguing. The son of former Finance Minister ASM Kibria, he seeks to contest the election from Habiganj as a Jatiya Oikyafront candidate, having defected from his slain father's party, Awami League. According to local election officials, his name appeared in a list of loan defaulters, thus, making him ineligible to participate in the election.
The idea that an Oxford-educated former IMF economist would default on loans and then try to contest an election knowing full well that this would disqualify him—that too when he belongs to the opposition camp—is indeed baffling.
When Kibria clarified what actually happened, it turned out to be even more bizarre. He maintains a credit card with a local bank, which he failed to renew by paying Tk 5,500 because he was abroad—a fault apparently sufficient for the presiding officer to disqualify him.
Like Kibria, the candidacy of Sheikh Md Abdullah of BNP was also reportedly cancelled because he had a credit card due of Tk 6,670.
These cases almost make one proud of our election officials, as even such trifling issues have not escaped their attention. But then we come to know of a whole lot of other cases that clearly suggests an apparent double standard.
Take Mahi B Chowdhury for example, who seeks to contest from Munshiganj. Now an official ally of the Awami League, Chowdhury got his nomination paper approved by local election officials, who unlike their counterparts in Habiganj apparently did not take the trouble to check whether the candidate's name appeared in any list of loan defaulters. Even when representatives of a financing company physically met the presiding officer to officially lodge objections that Chowdhury defaulted on a good sum of loan, the officer remained unruffled. 
In addition, several ruling coalition candidates such as Mofazzal Hossain Maya, against whom there are allegations of loan default, somehow avoided their nomination being terminated. 
There are other trivial issues that election officials cited to rescind hundreds of nomination papers. For example, the signatures of BNP candidate Golam Maula Rony and a host of others were allegedly missing from their papers, resulting in their cancellation. Shakhawat Hossain, a former election commissioner, said in a TV talk show that usually, nominations are not cancelled for small mistakes such as this.
He also reportedly criticised the way returning officers invalidated several BNP candidates saying their papers contained discrepancies between the signatures of the party general secretary. While the decision to revoke the papers was within the purview of the returning officers, he contended that it was easily verifiable whether those candidates had their party's backing. "In such cases, presiding officers generally suspend, not cancel, the paper and give the candidate time to get it fixed," he added.
As expected, Khaleda Zia's nomination papers for three constituencies were cancelled. Like her, a number of convicted BNP leaders who failed to get their conviction cancelled or stayed from the Appellate division suffered the same fate.
The Constitution bars those sentenced for at least two years from contesting parliamentary elections. However, it was once a norm that they would still be able to contest the election if they obtain a stay order against their conviction from a higher court.
"Several cases on the issue of the eligibility of a convict-appellant to contest elections had appeared before our higher judiciary, but the court's judgments were either unclear or contradictory," Badiul Alam Majumdar has written recently in The Daily Star. "In each case, a convicted person, on appeal, was allowed to contest or remain MPs."
Some observers also pointed out how several ruling party leaders such as Mofazzal Hossain Maya, Muhiuddin Khan Alamgir and Haji Selim contested the 2008 election even when they were merely on bail.
However, in response to an application of a group of five convicted BNP leaders for allowing them to contest the election, the High Court has recently appeared to set the bar a bit higher, ruling that they would require to be acquitted or their conviction(s) and sentences scrapped by a competent appeal court—a standard that the Appellate division later endorsed.
"We didn't think [the sentence] would be an obstacle to our candidacy," one of those five BNP leaders has recently told me. "We have fallen victim to a much larger effort to bar Khaleda Zia from contesting the election."
That many a politician would find their nomination papers declared invalid was a foregone conclusion. But few thought rejection rates would be this high. As per the latest count, returning officers cancelled 786 nomination papers around the country. One plausible reason was the fact that an overwhelming number of candidates from all major parties are vying to contest the election.
However, while 205 nomination papers of candidates belonging to the Oikyafront were cancelled, the ruling party suffered only three such blows. Interestingly, 384 of 498 independent candidates—many of whom are AL rebels—also found their nomination papers revoked by election officials, mainly because they allegedly failed to prove that one percent voters supported them, as required by the rules.
They still have time to appeal to the EC to review their nomination papers and take legal recourse. That is perhaps why things are not volatile as yet. 
---
Nazmul Ahasan is a member of the editorial team at The Daily Star. His Twitter handle is: @nazmul_ahasan_
---
Follow

The Daily Star Opinion

on Facebook for the latest opinions, commentaries and analyses by experts and professionals.
To contribute your article or letter to The Daily Star Opinion, see our

guidelines for submission

.
---