How will the coalition politics pan out?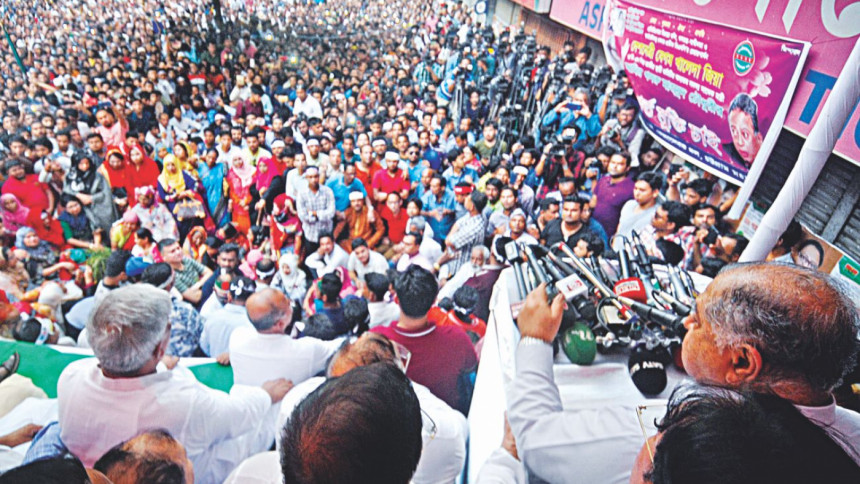 After much deliberation, the government finally allowed the Oikyafront, the opposition alliance, to organise rallies in both Sylhet and Chittagong. The fact that the prime minister held an election rally in Barguna the same day Oikyafront held one in Chittagong signals the ruling coalition's strategy to counter the opposition alliance politically rather than deprive it of any space.
Even more startling was the AL's decision to accept the Oikyafront's invitation for a dialogue to discuss its seven-point demands, which the ruling party initially rejected. None other than Prime Minister Sheikh Hasina will lead the AL in the dialogue, the party's general secretary said in a press conference. It's more significant in light of the fact that AL has persistently refused to hold any dialogue with BNP for years. 
Yet what runs contrary to such an upbeat notion, however, is how key opposition figures have recently been treated. Mainul Hosein and Zafrullah Chowdhury, who were instrumental in forming the alliance, face a barrage of cases—from defamation and sedition to a petty criminal case for allegedly stealing fish—mostly filed by people associated with the ruling party after they made some incendiary remarks.
Mainul, a longstanding critic of the Awami League-led government, was arrested and subsequently denied bail in a defamation case over his remark describing a woman commentator as "immoral" on live TV. 
The same day, Amir Khasru Mahmud Chowdhury, a top BNP leader who recently led a party delegation to India in a much-hyped visit, was arrested in a case filed under the controversial Information and Communication Technology and Special Powers Acts. A wiretapped conversation of his was leaked on social media, in which he was allegedly instigating the student movement for safer roads. Who leaked the wiretapped conversation (and under what authority) remains to be a mystery, though.
While Zafrullah Chowdhury hasn't been detained as yet, the property of Gonoshasthaya Kendra (GK), of which he is a founder, was vandalised and its land and buildings forcefully occupied by two men, including one associated with the ruling party. The local police did intervene timely and allegedly refused to record a general diary when approached by GK officials in the aftermath of the incident. This was followed by a RAB-led raid into the facility. Zafrullah's trouble began after he made an inaccurate and objectionable statement on live TV about the army chief.
All this suggests that despite the apparent easygoing approach towards the opposition, the government has no intention to shy away from cashing in on its opponents' mistakes to make their life a bit more difficult.
***
In Chittagong, Kamal Hossain refused to tone down his fiery rhetoric. He warned of a "punishment beyond imagination" for those violating the constitution. A day before the Chittagong rally, he threatened to hold the law minister to account, demanding to know why and on what legal grounds Mainul Hosein was not granted bail. His threat to challenge the legality of the police's initial refusal to allow Oikyafront to hold its rally in Sylhet seemed to have prompted the government to change its mind at the eleventh hour.
Certainly, the realm of law is Kamal Hossain's forte. It's not that the government wouldn't withstand a legal challenge mounted by him. But a court battle over an executive decision would put the court and the government at a crossroads—a prospect that the latter prefers to avoid. Perhaps, that is why he may want to continue using the legal shield to combat the government's interference in his political activities.
***
Coalition politics, meanwhile, took a new turn when Badruddoza Chowdhury's Bikalpadhara managed to court former BNP heavyweight Shamsher Mobin Chowdhury.
A well-connected former diplomat, Shamsher Mobin was a member of BNP's diplomatic wing during the tumultuous days before and after the 2004 election. He "retired" from politics in October 2015 just a few months after he was released on bail in two politically charged cases. While he cited his ailing health for the resignation, many assumed he succumbed to relentless government pressure to give up defending BNP before the international community. Now that he seems to have found comfort in Bikalpadhara, this may raise new speculations about whether the party is toeing the official line.
Interestingly, Mobin took little time to take aim at his former party as soon as he joined Bikalpadhara, claiming in an interview with BBC that BNP's politics of "communalism and violence" was the reason why he left the party. Badruddoza Chowdhury, too, criticises BNP nowadays more than he does the ruling party, which is a bit surprising as he is an opposition figure.
Mobin's decision to join Bikalpadhara also came after an important figure of the party had been accused of having been part of a Pakistani Army commando team, which attacked Mobin's group of freedom fighters during the liberation war, leading to his injury. After Mahmudur Rahman Manna of Nagarik Oikya and ASM Abdur Rab of Jatiya Samajtantrik Dal left the Bikalpadhara-led Juktofront, Badruddoza Chowdhury promised to bring in high-profile politicians to his party. We will have to wait and see who these "luminaries" are.
Meanwhile, Bongo Bir Kader Siddique (of Krishak Sramik Janata League) acknowledged that he was repeatedly approached by the ruling party to join its coalition. He has so far given contrasting and confusing signals as to which side he might opt for. For example, in a recent article in a newspaper, he lashed out at Mainul Hosein, a key figure in the Oikyafront, and demanded he be given harsh punishment. He also often expresses his keenness to meet the prime minister. On the other hand, he recently met with Kamal Hossain, expressing hope that someday they might work together, casting the Oikyafront in a good light. And he recently visited Zafrullah Chowdhury's Gonoshasthaya Kendra to condemn the vandalism of its properties.
Oli Ahmed of Liberal Democratic Party recently cleared the air by sending his secretary to the Oikyafront's Sylhet rally to offer his support.
Jatiya Party, which is in alliance with the ruling party, seems to have gone back to its pre-2014 mood. Its chief, HM Ershad, continues to threaten to contest in all 300 parliamentary seats, apparently in a bid to increase his bargaining power. While he's still not ruling out the possibility to switch sides, it's very unlikely for him to do so because the ruling party has enough bargaining chips to make him play along, like it did before.
For its part, the Awami League did initiate efforts to expand its coalition but only managed to woo Barrister Nazmul Huda, former BNP minister, and some fringe Islamist parties. However, the most important support for the governing party may come from an unlikely source: Hefajat-e-Islam. The prime minister as recently as Saturday instructed her party leaders not to criticise Hefajat-e-Islam and conflate it with Jamaat-e-Islami.
The PM's comments came as a faction of the Islamist group, which in principle repudiates electoral politics, prepares to greet her at a grand public event. While the development may be disappointing for Awami League's secular supporters, it is likely to be a massive feat for the party in the run-up to the forthcoming election.
A tacit, if not overt, alliance between Awami League and Hefajat-e-Islam, which once shared deep mutual hostilities, may result in a split in the latter, as indicated by the resignation of one of its senior leaders, Mohibullah Babunagari, and reported circulation of leaflets in Hathajari madrasa against the group's chief, Ahmad Shafi, and his son. Awami League tying up with an Islamist and anti-secularist group will impact on the present political line-up and may make the BNP's tie-up with another religious party, Jamaat, less controversial.
---
Nazmul Ahasan is a member of the editorial team at The Daily Star. His Twitter handle is @nazmul_ahasan_.
---
Follow

The Daily Star Opinion

on Facebook for the latest opinions, commentaries and analyses by experts and professionals.
To contribute your article or letter to The Daily Star Opinion, see our

guidelines for submission

.
---