Is innovation in education oversold?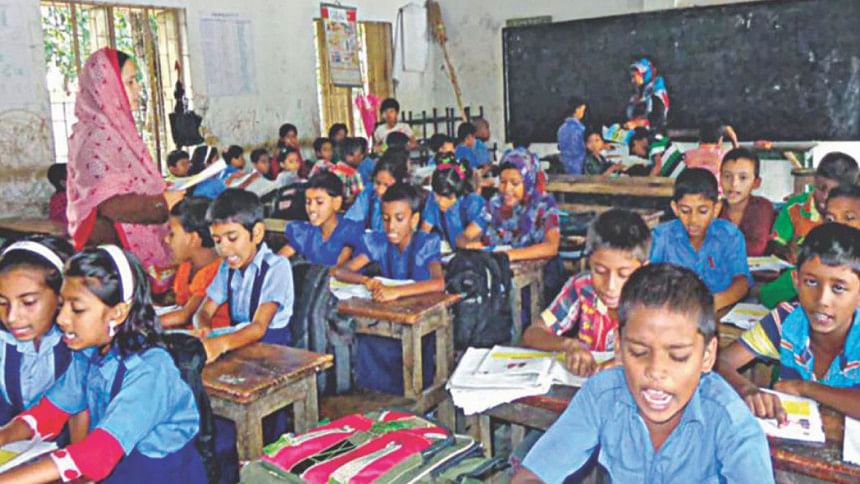 Innovation and technology are seen as the solutions to the educational deprivation of millions of children in the developing world. How does the technology-based model of innovation relate to the real world of learners, teachers, schools, families and the communities that we live in?
Focusing on scaling up quality education, BRAC hosted an international conference titled "Frugal Innovation Forum 2017," on November 9-11, 2017 at BRAC's conference centre in Savar. Some 200 educationists and innovators from Bangladesh, Australia, India, Nepal and South Africa presented projects based on innovative solutions for improving quality in education.
Only 25 percent of the 5th grade children could read at minimum grade level in Bangladesh, which means three quarters could not quite read, write and do their sums after completing primary education. This was the finding of a rigorous sample survey under Primary Education Directorate auspices in 2013. The same survey in 2015 showed no improvement.
Yet students have to sit for four high-stake public examinations at grades 5, 8, 10 and 12 before tertiary education. Test-taking—model tests, mock tests, private coaching, memorising test guides, guessing test items—is the total concern of pupils, teachers and parents. Test papers are being leaked in advance and sold to examinees—a sign of desperation for high scores in the exams.
Teaching is the last occupational choice for university graduates in Bangladesh and many young teachers keep looking for ways to move out of it.
Meeting a necessary teacher-to-student ratio of no more than 30 students per primary school teacher, with enough learning hours in a school day, would require doubling the number of primary teachers in Bangladesh.
At secondary level, qualified and subject-trained teachers lack in core subjects such as languages, math, science and computer. For 100 secondary schools, there are 50 Bangla, 57 English and 138 qualified teachers for all sciences and math, according to a 2015 survey. It is of course not just a matter of numbers.
There is no pre-service professional training or certification for school teaching. There is no career path for teachers; most school teachers begin their career as assistant teacher and retire as assistant teacher.
Two recent reports on the world education scene, the Global Education Monitoring Report 2017/18 of UNESCO and the 2018 World Development Report of the World Bank, focusing on education, draw attention to the realities in poor countries.
In 1,297 sample villages in rural India, 24 percent of the teachers were found to be absent in primary schools on unannounced visits.
High-stake tests on narrow measures lead to efforts to "game the system", which punish the marginalised, according to the UNESCO report. India's National Crime Records Bureau reported 2,672 students committing suicide in 2015 due to failing exams.
Young students who were already disadvantaged by poverty, conflict, gender or disability reach adulthood without even the most basic life skills. "This learning crisis is a moral and economic crisis," says Jim Y Kim, President of the World Bank.
The innovations described or proposed in the conference concerned pedagogy: making teaching and learning more exciting and joyful; using digital technologies to help learners and teachers; and finding new ways of mobilising funding for education and using it better. Partnerships, decentralisation and devolution, accountability, and inspired and dedicated teachers figured in the discussion.
The promises of innovation and technology still beg the question how these are made to work in the public education system which has to serve the large majority of children ensuring equity and acceptable quality.
Some of the ideas presented were: a greater role of the private sector in education; low-cost private schools; and even public funds provided for schools managed by entrepreneurs. The argument given is that the education task is too large for the government alone to handle. Moreover, greater diversity and choices must exist in services available.
A radical suggestion advocated by Dr James Tooley, professor of education policy at the University of Newcastle in UK, was to keep the government out of education and hand over schooling to the private sector. "The market gives the choice to parents, ensures best use of the resources, and eliminates corruption and waste of the public schools," argued the professor.
Tooley's aggressively utilitarian worldview seems to ignore the moral and ethical dimension of rights, obligations of the state and society, and the fact that the market has not served the poor and the disadvantaged well. Nor have the public schools. But an absolute faith in "market fundamentalism" cannot be the magic bullet, however much one wishes for it.
The main conclusion of the lively exchange points to a pragmatic and practical approach, rather than a magic solution. As Mohammed Musa, executive director of BRAC, summed it up, "For education to be able to serve the future of our communities, we need to empower teachers, methodologies, practitioners and more importantly [change] mindsets… to solve real problems with simple, frugal solutions, that include the under-privileged communities of the present world."
Horace Mann (1796–1859), a visionary US educator, said, "A teacher who is attempting to teach without inspiring the pupil with a desire to learn is hammering on cold iron." Bill Gates, summing up ten years of experience with the Effective Teaching Project in large cities in the US supported by his foundation, recently said, "Over time, we realised that what made the most successful schools successful—large or small—were their teachers, their relationships with students, and their high expectations of students' achievement."
Turning to Bangladesh, a ten-year plan for a national initiative to bring in and keep talented young people in teaching is needed. This plan needs to have four key elements: (i) education should be a major area in the four-year general undergraduate degree; (ii) talented students should be recruited competitively with the incentive of stipends; (iii) a high-quality education course in a hundred degree colleges should be introduced and essential standards and teaching facilities ensured in these colleges; and (iv) a national teaching service corps should be established where the option of suitable position and attractive rewards for graduates of the new course is available.
Thus, in 10 years, a nucleus of talented and inspired teachers can be created in each school. And the environment for innovations to work in these schools will be built.
---
Manzoor Ahmed is professor emeritus at BRAC University.
---
Follow

The Daily Star Opinion

on Facebook for the latest opinions, commentaries and analyses by experts and professionals.
To contribute your article or letter to The Daily Star Opinion, see our

guidelines for submission

.
---