Health issues of RMG workers need attention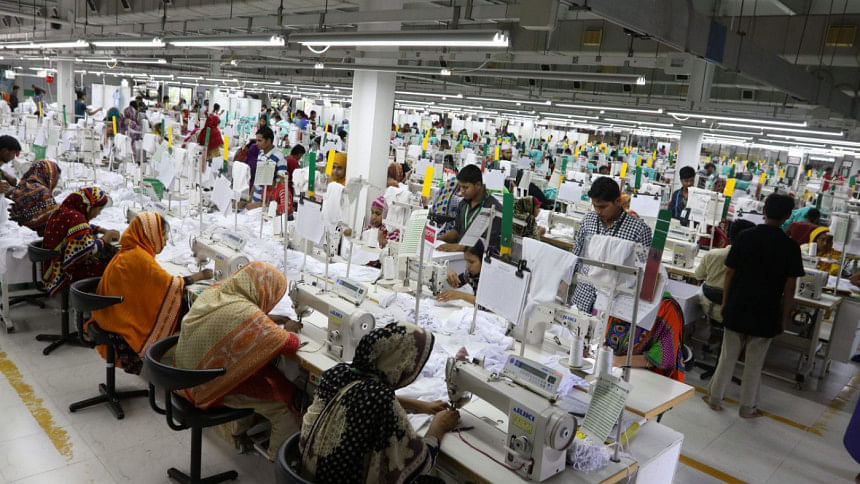 Garment workers have received a fair share of attention over the last few years due to their poor working conditions, low wages and benefits, and inadequate facilities at their factories of employment. After the loss of so many lives in several high-profile disasters, garment factories in Bangladesh have finally taken extensive, substantial measures in the face of mounting national and international pressure.
Simple workplace policies and practices like ensuring building and electrical safety, firefighting capabilities, and access to appropriate emergency exits could have prevented many of these lives. Western retailers actively participated and supervised many of these remodelling and remediation efforts through their two platforms (Alliance for Bangladesh Worker Safety and the Bangladesh Accord on Fire and Building Safety).
Bangladesh is now the second largest exporter of apparel in the global market only after China. However, while the ongoing initiatives have focused on workers' physical safety issues, their general health, wellbeing and quality of life have remained largely ignored.
Most of the garment workers likely suffer from a host of chronic health issues. In general, some of these non-fatal or non-traumatic health conditions are prevalent among women of low socioeconomic status in developing countries. Others may arise from or be aggravated by the working environment and harmful exposures in the factories that garment workers are employed in. The factory owners, western retailers, workers' advocates and policymakers in Bangladesh do not appear to be well-prepared to address or accommodate the health needs of this very large working population who are mostly female.
A recent survey-based research study provided a much-needed snapshot data on self-reported chronic health conditions among female garment workers. The following health conditions were reported to be the most prevalent among this population: dysuria; joint pain; hypertension; vision problems; insomnia; asthma; anxiety; gout; diabetes; and heart attack. Garment workers need to be made aware about these health conditions.
The fact that a health condition like dysuria (painful or difficult urination) is so highly prevalent among young female garment workers is not surprising. Urinary tract infection, vaginitis, urinary retention, sexually transmitted conditions are related to dysuria. Also, some conditions can predispose these workers to urinary tract infections and dysuria, such as diabetes. Minerals and nutritional supplements have been suggested to alleviate some of these symptoms. The factory management can provide health education and undertake campaigns to raise awareness about these preventable issues.
The prevalence of joint pain in this young working population can be partially explained by the very nature of these occupations or jobs. Untreated and sustained joint pain may reduce their employment tenure, and threaten their job prospects and workplace productivity in the long run.
The high rates of insomnia among garment workers are a surprising finding. With all the adverse exposures they face daily and the high-pace, high-stress workplace environment, this chronic sleep deprivation will result in reduced attention and productivity at work. This will also increase the likelihood of making mistakes and elevate the risk of sustaining work injuries.
Vision problems are an expected finding given the nature of garment work. Continuous close attention to small objects and machines and sewing-type activities for very long hours can lead to high levels of eye strain and it will only worsen if the light intensity at the factory floor is inadequate or not well-adjusted. Taking occasional beaks, changing up job duties, taking nutritional supplements and light intensity adjustment on the working floor may help protect and preserve workers' vision or at least delay vision loss. Most of the garment workers do not appear to wear eyeglasses; they may not know that their vision capacity has worsened or they simply cannot afford to go to the doctor for an eye exam. Organising annual eye exams and providing workers with subsidised eyeglasses are not very expensive and this is something that the factory management can pursue.
Asthma has been reported to be high among garment and textile workers previously (in other countries as well). It is quite likely that a high proportion of garment workers actually develop asthma while working in factories. Their living arrangements (deplorable housing conditions coupled with exposure to air pollution outside) trigger this further. However, asthma diagnosis in this study was self-reported and asthma can be easily misdiagnosed for other respiratory health conditions.
Providing workers with industry-grade respirators at the workplace can go a long way in terms of respiratory protection. Moving the affected workers to jobs/departments where they will be less exposed to cotton or cloth dust can be helpful for workers with an already compromised respiratory condition. Air quality of the factory floor needs to be carefully monitored to reduce the amount of suspended particulate matters. Asthma—either occupation-induced or not—can be aggravated by breathing in chemical fumes, gas, dust or other substances on the job. There are numerous chemicals and substances used in garment factories which workers may be sensitive to. Workers may feel chest tightness, and experience wheezing and shortness of breath. Those with existing allergies or with a family history of allergy or asthma are more likely to develop asthma. A factory-run health screening programme during the recruitment process or organising annual lung function tests can be helpful in screening workers who are at risk.
For other chronic health conditions such as hypertension and diabetes, factory-initiated health awareness campaigns on promoting healthy lifestyles and disease management would be most useful. Initiatives on educating the workers on healthy food habits can be undertaken. Provisions for blood sugar testing for diabetics or near-diabetics can be initiated by the factory management.
In interpreting this survey data, we should keep in mind that garment workers are a relatively young population and garment work itself is so strenuous that only workers who are in good health and have physical and mental resilience to a certain degree accept employment in this sector and continue to work in this industry. Therefore, the above-mentioned health conditions reported among this population may not be representative of other women of comparable socioeconomic background in Bangladesh. Other high-risk health conditions among this population may include hearing loss, cervical cancer, breast cancer and tuberculosis.
It would be in the best interest of western retailers, Bangladesh government, aid agencies, NGOs, workers' advocates and consumer groups to provide more resources and technical support to factory owners to help improve the overall health status of garment workers. These initiatives will also increase workers' satisfaction, improve their morale and greatly decrease worker absenteeism and turnover.
A full length version of this article was previously published in the International Journal of Social Psychiatry.
---
Hasanat Alamgir is a public health professional based in New York. He has published several research papers and reports on garment workers.
---
Follow

The Daily Star Opinion

on Facebook for the latest opinions, commentaries and analyses by experts and professionals.
To contribute your article or letter to The Daily Star Opinion, see our

guidelines for submission

.
---