Hasina-Modi agreements on shared rivers: What did Bangladesh get?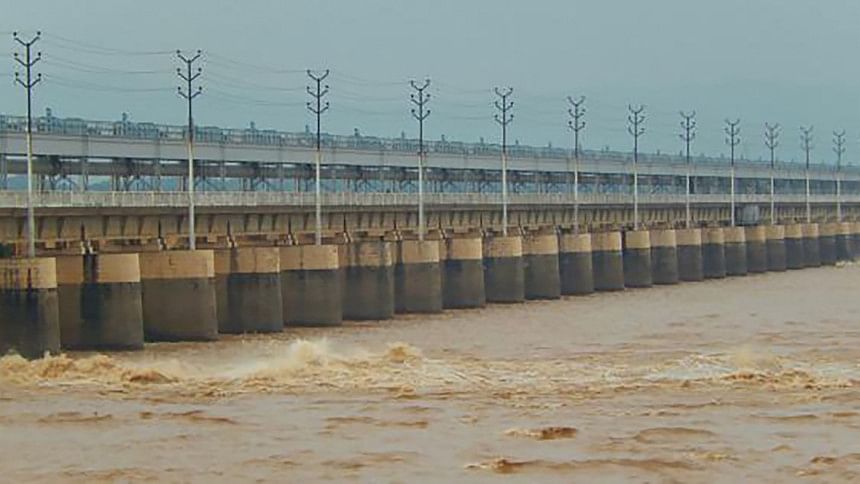 During her recent visit to India, Prime Minister Sheikh Hasina met with the Indian Prime Minister Narendra Modi. At this meeting, a number of agreements were signed, several of which concern shared rivers.
According to press reports, the meeting reached the agreement to "operationalise the Dhulian-Gadagari-Rajshahi-Daulatdia-Aricha Route (to and fro) and include Daudkandi-Sonamura Route (to and fro) under Protocol on Inland Water Transit and Trade." It agreed to "exchange updated data and information and prepare the draft framework on Interim Sharing Agreements for the six rivers, namely Manu, Muhuri, Khowai, Gumti, Dharla, and Dudkumar, and to firm up the draft framework of the interim sharing agreement of Feni River." At the meeting, the Indian prime minister assured his Bangladeshi counterpart that "his government is working with all stakeholders in India for conclusion of the Agreement (on sharing of Teesta River) soonest possible." Finally, Bangladesh agreed at the meeting to allow India to withdraw 1.82 cusec water from the Feni River.
Clearly, some of these agreements cater to the interests of India. There was hardly any concrete progress toward meeting Bangladesh's concerns regarding shared rivers. This is disappointing when many parts of the country's west adjoining the Padma River are experiencing unprecedented flood, the root cause of which is the Farakka Barrage. India regulates the gates of this barrage in winter in a way that diverts water, causing siltation, encroachment, shallowing, and other harmful morphological changes, which reduce the carrying capacity of the Padma River. As a result, when India opens the floodgates in summer and autumn, severe bank erosion and floods occur. The same is the situation with Teesta and many other shared rivers on which India has built water impounding and diversionary structures.
Both India and Bangladesh should realise that unless this basic problem of diversion of flow and destabilisation of Bangladesh's rivers is addressed, it will be difficult to meet India's need for water routes through Bangladesh to its seven northeastern states. Maintaining the proposed river routes will require enormous and perpetual dredging, which at some point will become simply untenable. India's plan to divert Brahmaputra water, under its River Linking Project, will aggravate the situation further.
Without this basic realisation, efforts to reach agreements regarding sharing of rivers will not be fruitful. The unpleasant fact is that the 1996 Ganges Treaty has not increased the winter flow of the Padma River and has not stopped the process of destabilisation of this river.
Similarly, assurances of a Teesta sharing agreement are not of much value, because Bangladesh has been getting such assurances for many years now, and more importantly because, by the time any such agreement may be reached, there will be hardly any flow left of the Teesta River beyond the Gajoldoba Barrage in winter.
Against this backdrop, it is ironic that the only concrete river-related outcome of the Hasina-Modi meeting was Bangladesh's agreement to allow India to withdraw part of the Feni River flow. The quantity is small, but the symbolism is large. It shows that, as far as shared rivers are concerned, India gets what it wants while Bangladesh keeps on pleading.
It is indeed unfortunate that Bangladesh fails to raise the demand for the removal of diversionary structures built by India, when there is an increasing recognition that the Farakka Barrage has failed to achieve its stated goal of desilting the Kolkata port and has instead become a problem even for India now, causing upstream flooding in the Indian state of Bihar. As a result, there is a growing demand inside India for demolition of the Farakka Barrage. Important figures of the Indian polity—such as Nitish Kumar, the ex-chief minister of Bihar, Rajendra Singh, the "waterman of India", and many others—have been urging for demolition of Farakka Barrage for quite some time now. On July 17, 2016, Mr Kumar raised his demand formally at the 11th Interstate Council Meeting, chaired by Prime Minister Narendra Modi and attended by Union (Central) ministers and the chief ministers of the states. There is a saying that "one has to cry one's own cry!" It is not surprising that Bangladesh is not getting the necessary hearing from India when it hesitates even to cry its own cry.
It is, therefore, high time for Bangladesh to insist on its rights on the shared rivers. It should sign the 1997 United Nations Convention on the Law of the Non-Navigational Uses of International Watercourses, and use its Articles 7, 20, 21, and 23 to urge India not to cause "significant harm" to Bangladesh through its impounding and diversionary structures, and to "protect and preserve (Bangladesh's) ecosystem" and its "marine environment," including the Sundarbans, by restoring full natural flow of the shared rivers.
Given the experience of Farakka, the idea of constructing a Ganges-Padma Barrage of the usual type inside Bangladesh with India's help does not make much sense. Such a barrage will provide justification for the Farakka Barrage and cause similar downstream and upstream harms as Farakka has already caused.
The governments of both Bangladesh and India should, therefore, seriously consider the "transit in exchange for rivers" formula that Bangladesh Environment Network (BEN) put forward in 2011. Under this formula, India will restore natural flows of Bangladesh's rivers by removing impounding and diversionary structures, while Bangladesh will provide India transit and transshipment facilities to its northeastern states, subject to common international practices.
Unfortunately, governments of Bangladesh have so far been meeting India's demands regarding transit and transshipment without getting much in the way of rivers in return. Such an unequal exchange cannot be sustainable in the long run.
It may be hoped that the leaders of both Bangladesh and India will see the merit of the "transit in exchange for rivers" formula as a win-win solution for their respective needs. The goodwill that such a solution will create can then spill over into other areas of cooperation between the two countries.
Dr Nazrul Islam is an economist, founder of Bangladesh Environment Network (BEN), and vice-president of Bangladesh Poribesh Andolon (BAPA).