Dhaka, Delhi sign deal on port use
India to transport goods thru' Ctg, Mongla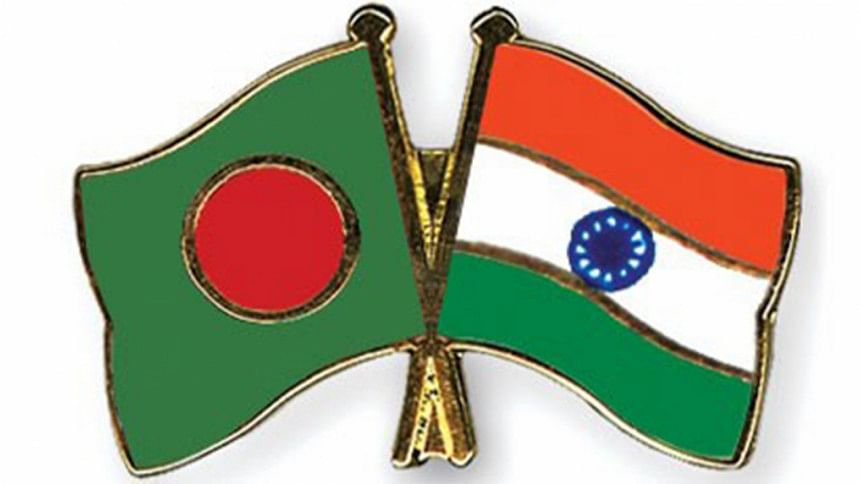 India and Bangladesh yesterday signed three agreements for allowing New Delhi to use Mongla and Chattogram ports as transit points to access India's northeastern states for trade.
The two countries decided to explore the possibilities of river links between Rajshahi and Dhuliajan in West Bengal's Murshidabad district.
After talks held at the Le Meridien Hotel here, Bangladesh Shipping Secretary Abdus Samad and his Indian counterpart Gopal Krishna signed the agreement on the use of Chattogram and Mongla ports for movement of goods to and from India.
A Standard Operating Procedure (SOP) for passenger and cruise services was also signed.
The two sides also decided to introduce a passenger cruise service between Chennai city of India and Cox's Bazar, a distance of about 1,600 nautical miles, Gopal Krishna said.
An addendum to the bilateral Protocol on Inland Water Transit and Trade (PIWTT) between India and Bangladesh was also inked for inclusion of Dhubri (Assam) and Pangaon (Bangladesh) as new ports of call. 
Discussions were also held to make Nakugaon land port in Bangladesh and Dalu Integrated Check Post in India operational and to connect with Gelephu (Bhutan) as a tripartite cross-border route, Samad and Gopal Krishna told the media.
Replying to a question, Samad said Bangladesh was yet to firm up its response to India's offer of allowing Dhaka to use Kolkata and Haldia ports for transhipment of its exports.
"We appreciate India's offer. We received the Indian proposal recently and have not had enough time to study it. We will have a meeting with all stakeholders and form a committee to examine the stakeholders' views before arriving at a decision."
Samad acknowledged that Bangladesh's exports to third countries using Haldia and Kolkata ports would travel faster, but suggested that Dhaka has to keep in mind the interests of Chattogram and Mongla ports also.
He pointed out that Chattogram's capacity of handling goods expanded and was growing further.
Samad said the three agreements inked yesterday would further boost connectivity between Bangladesh and India because it had been "a least connected region".
Referring to the two countries' efforts to the pre-partition river route between Dhuliajan and Rajshahi, he said it would promote people-to-people and business-to-business contacts at a time when Bangladesh and India's economies had been growing at impressive rates and the two countries had been moving away from agriculture to industries. 
Gopal Krishna termed the agreements "very significant" and particularly pointed to the importance of the Rajshahi-Dhuliajan river link which would allow the mineral-rich eastern Indian state of Jharkhand to access Bangladesh market and benefit those in and around Murshidabad.     
He said Jharkhand is rich in stone which is a key material used in civil constructions.
The Indian shipping secretary said the Dhuliajan-Rajshahi river route would considerably cut down the journey time between the two countries. At present, Haldia port is being used to carry cargo along the river through the Sundarbans right up to Rajshahi or the land route using the Benapole-Petrapole border which is "cumbersome", he added.
Gopal Krishna said a technical team from India would visit Bangladesh soon to examine the revival of the Rajshahi-Dhuliajan route.
He said an Indian technical team would also visit Bangladesh to explore if a 20km stretch of Gomati and Titas rivers in India and a 70km stretch in Bangladesh can be made navigable by dredging for being included in the bilateral inland river waterway protocol route. Both the rivers are shared by the two countries across Tripura state.
"If the two rivers can be made navigable, it will augment trade between landlocked Tripura and other eastern Indian states," he said.
The directors general of shipping of India and Bangladesh would meet on December 4 to see if more ports like Cox's Bazar could be added to the bilateral coastal shipping agreement, he added.
Permission for the transportation of third country cargo on protocol routes and coastal shipping routes were also discussed. Inclusion of Dhamra port, Chidambaranar port (formerly Tuticorin port) and Kamarajar port under the coastal shipping agreement was also deliberated upon. These will be further discussed in Joint Shipping Committee meeting scheduled in December this year.
The shipping secretary-level talks followed the 19th edition of the Standing Committee meeting under Protocol on Inland Water Transit and Trade (PIWTT) between high-level delegations of India and Bangladesh yesterday.
Currently, 3.5 million tonnes of cargo is transported on protocol routes through inland waterways and it was expected to increase substantially after the declaration of additional ports of call and extension of protocol routes.
The North Eastern Indian states would get connected directly to the ports of Kolkata and Haldia in India and Mongla through waterways which would facilitate movement of export-import cargo and would also reduce the logistic costs.