India visit: PM to brief media tomorrow
Hasina returned home this evening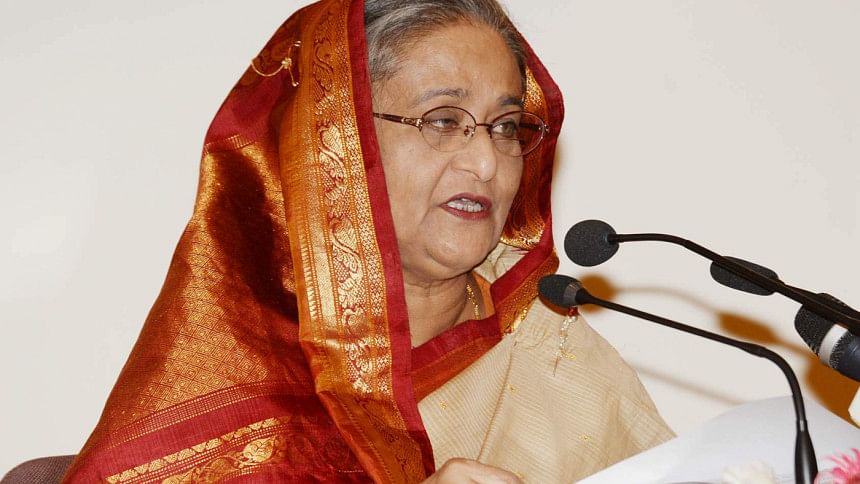 Prime Minister Sheikh Hasina will brief the media about the outcome of her four-day India visit tomorrow.
The briefing is scheduled to be held at the PM's official residence Gono Bhaban around 4:30pm, PMO sources told The Daily Star.
Earlier in the evening, the premier returned home ending her four-day state visit to India.
A VVIP flight of Biman Bangladesh Airlines carrying the prime minister and members of her entourage landed at the Hazrat Shahjalal International Airport in Dhaka around 7:05pm, Mosaddek Hossain, managing director of Biman, told The Daily Star.
Read More: 'Have I sold out the country?'
On Friday, Hasina along with her entourage left Dhaka around 10:10am on the official visit to India where the premiers of both the countries signed several significant deals.
Cabinet members, chief of three forces and several high officials of the government received the prime minister at the airport.
Besides, a good number of senior leaders and members of Awami League central working committee led by the party's General Secretary Obaidul Quader accorded a reception to Hasina at her Gono Bhan residence.
BSS adds: Dhaka and New Delhi signed 34 instruments in the forms of agreements, MoUs and bilateral documents after the two premiers' talks at the ball room of the Hyderabad House.
Also Read: Teesta: Hasina's trust on Modi's words
Sheikh Hasina paid homage to Mahatma Gandhi, the preeminent leader of the Indian independence movement in British-ruled India, by placing a wreath at his Samadhi in Rajghat.
The two prime ministers unveiled the Hindi edition of Bangabandhu's autobiography "Unfinished Memoirs of Bangabandhu".
Sheikh Hasina honoured Indian Armed Forces members who embraced martyrdom in Bangladesh's 1971 Liberation War.
At the fag-end of her tour, Sheikh Hasina joined a reception accorded by India Foundation and attended a business event in New Delhi.
It was Prime Minister Sheikh Hasina's maiden official visit to India after her present government was voted to power through the January 5 elections in 2014.
The premier last paid her official visit to India in January 2010 which was reciprocated by her Indian counterpart in June 2015.