Teesta: Hasina's trust on Modi's words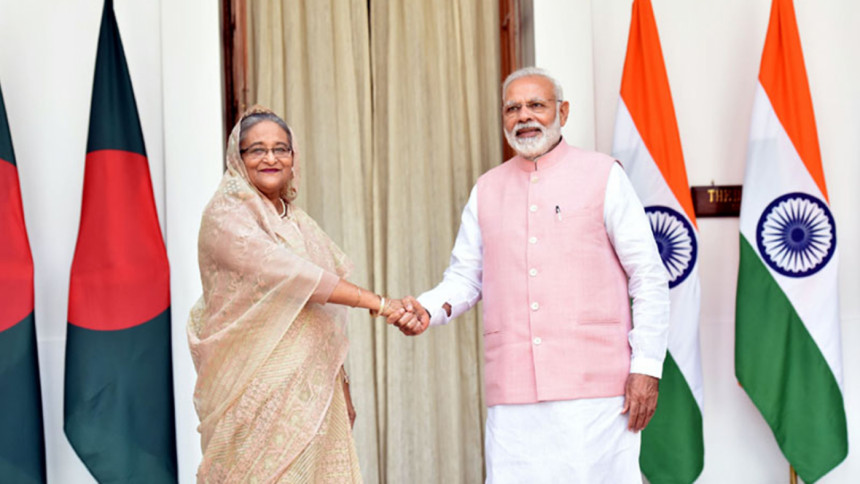 Prime Minister Sheikh Hasina is banking on the assurance of her Indian counterpart, Narendra Modi, on the prospect of sharing water in the Teesta river.
She reminded India of Modi's assurance on Teesta at a reception of India Foundation this morning ahead of her return to Dhaka after a four-day visit there.
It is quite clear that sharing of Teesta waters will remain at loggerheads during Sheikh Hasina's India trip – where many hoped that the pending stalemate would be resolved.
---
ANALYSIS: IS MAMATA'S CONSENT ESSENTIAL?
Legally, the Modi government can strike the Teesta deal ignoring Mamata's opposition.
"According to article 253 of the Indian constitution, the Union government has the decision-making power in the matters of sharing waters from the transboundary rivers," said Dr Amit Ranjan, visiting research fellow at the Institute of South Asian Studies at the National University of Singapore.
But, he said, the emergence of powerful regional political parties and regional leaders in India has created a situation where their consent, especially over resource sharing with the neighbouring country, has been important.
At present, Mamata's party Trinamool Congress is also an effective opposition in the central parliament. "Hence, the Union government cannot ignore the State leadership while taking such decisions which have deep social, political and economic impacts in West Bengal," Ranjan wrote in a recent article on Hasina's visit to India.
However, the Modi government does not need to depend on allies to remain in office like the past Manmohan Singh government, he argued.
The point to remember is that the central government cannot be accused of unconstitutionality if it concludes the Teesta water-sharing agreement with Dhaka, writer Avijit Ghosal noted in an article published in Hindustan Times on Friday.
But then, Mamata is only too aware that the Indian foreign policy takes the relevant states on board while dealing with neighbours, which is why Tamil Nadu is important while dealing with Sri Lanka, Jammu and Kashmir with Pakistan and Bengal (and the North East) when dealing with Bangladesh, he added.
---