Stop encroachment of Arial Beel
Authorities must act on High Court's directive to save the endangered wetland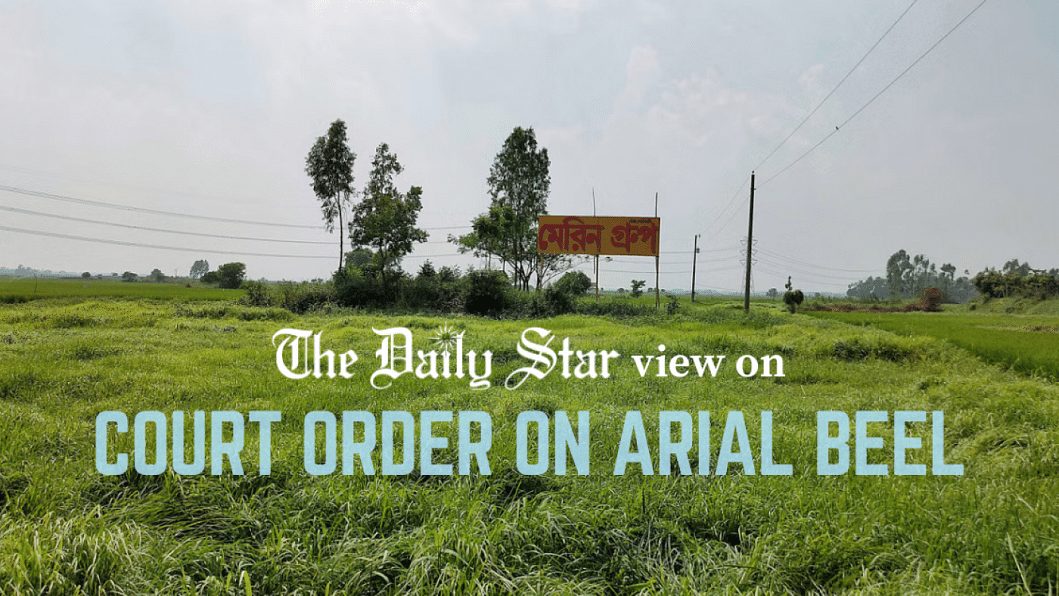 We appreciate the High Court's intervention after reports emerged of a real estate-enforced transformation that Arial Beel, located in Munshiganj, is going through. On Wednesday, the court directed local authorities and environment officials to immediately stop illegal earth-filling and construction of structures on this wetland after a writ petition, based on a report by The Daily Star, brought the issue to its notice. The court also issued a rule asking them to explain why their inaction to protect Arial Beel should not be declared illegal. It also asked them to issue show-cause notices to the encroachers.
Our report, published on July 22, had showed in detail how the wetland – which once captured the imagination of citizens after local farmers united to protect their land from acquisition as part of an ill-conceived airport project – is now facing an invasion by unscrupulous real estate companies. These business groups have acquired large portions of the area, filling them up with sand and promoting residential development through strategically placed signboards. The report also showed how this is already having a devastating effect, with the wetland's once-thriving ecosystem under threat, land fertility being lost, and fish production seeing a decline.
The importance of putting an end to the encroachment and giving the wetland a chance to recover and revert to its old, pristine self cannot be overstated. Arial Beel is one of the largest wetlands in the country. Aside from having wide varieties of flora and fauna, these water bodies have a very practical utility in that they, as natural reservoirs, help absorb excess water during heavy rainfall or storms, mitigating the risk of flooding. After having witnessed (and suffered) the consequences of filling up such beels and haors in other parts of the country in recent years, we really cannot allow another precious reservoir to fall into the "development trap".
We hope that the court's directive will propel responsible offices into taking necessary steps to prevent this scenario. However, some concerns remain given the chequered history of public officials with such directives on nature. Their inaction is not the only thing that worries us. Their alleged collusion with powerful encroachers in many cases has been equally troubling. We hope that, given the importance of Arial Beel for the country, those in charge will take the task at hand seriously this time.