Spare a thought for patients with rare diseases
They are being undone by misdiagnosis, lack of awareness, and limited treatment options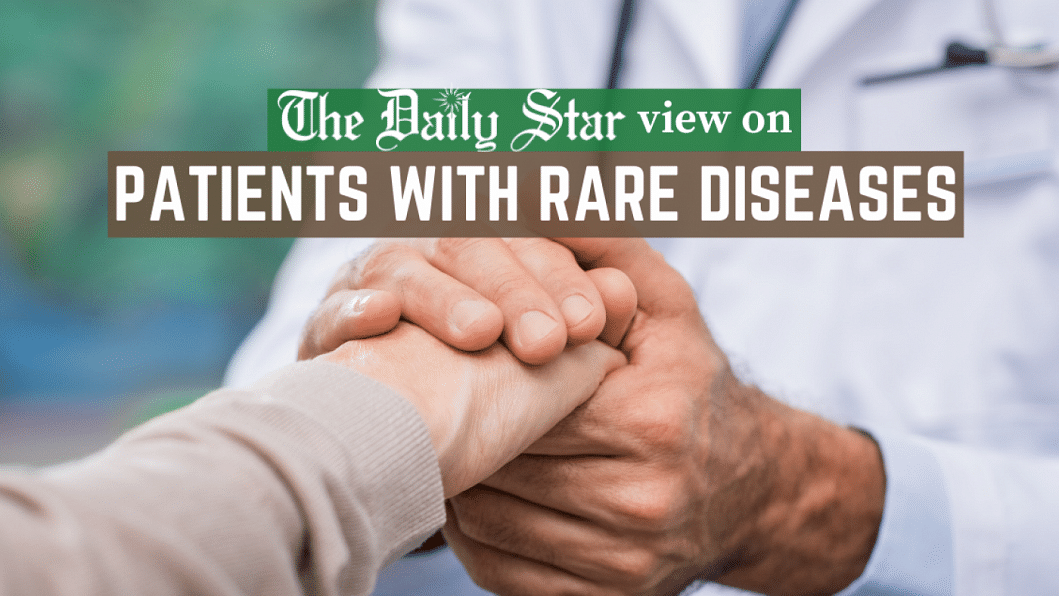 In a country where the vast majority of ordinary patients – those with easily diagnosable diseases – are often deprived of the care and treatment that they deserve, it's easy to overlook the small minority of patients afflicted with rare diseases. But their plight is no less dismal. As well as enduring problems that patients in general do in terms of access, cost and quality of care, those with rare diseases also suffer from misdiagnosis, lack of awareness on the part of doctors, limited treatment options, etc.
As a recent report by this daily shows, these factors, coupled with lack of policy response from the health authorities, make this group of patients suffer disproportionally. The report presents a number of cases to illustrate their vulnerability. There is the case of Iraboti Roy, 40, a patient of the rare Myasthenia Gravis disease, who died a day after a doctor used a sedative on her that allegedly caused the death; the case of Jakia Abedin, 36, another Myasthenia Gravis patient, who lost two babies just days after giving birth to them in 2006 and 2014; the case of Anisur Rahman, 9, suspected to be suffering from a premature ageing problem, the treatment of which is not available in his home district; the case of Sumona Monzur, also a Myasthenia Gravis patient, who had to wait for 12 painful years before her condition could be diagnosed.
Myasthenia Gravis – a chronic autoimmune, neuromuscular disease – is one of approximately 7,000 rare diseases said to have been discovered so far. These conditions affect the lives of around 300 million people worldwide, according to an estimate. Being rare, it's understandable that doctors may not always be aware of them, nor is medication to treat them widely available. Delayed diagnosis or misdiagnosis is another factor, which may lead to potentially dangerous wrong treatment.
Cases examined in our report have shown that patients with rare diseases mostly suffered because of lack of awareness and information. Most rare diseases take more time to be diagnosed and treated, at a comparatively high cost, of course. But delays in detection and treatment – in a country where out-of-pocket health expenditure is 68.5 percent of the total cost – only increase the costs further. This makes poor patients like Jakia and Anisur even more vulnerable among their peers. Unfortunately, the policy response to this threat remains woefully inadequate – with no separate fund for rare diseases, no policy guidelines, no research, no awareness drive for patients and doctors, no change in how medical students are taught to approach symptoms, etc.
This lack of response represents a lack of priority in our already stretched healthcare system. But those suffering from rare diseases deserve as much attention and care as ordinary patients. And the onus for that falls squarely on the health authorities, both at the policy level and at the medical college/hospital level. They must combine to form a national policy that addresses the threat of this growing challenge in the country.