Helplessly, rare disease patients soldier on
Bangladesh's stretched healthcare system has no room for rare disease treatment, leaving patients with misdiagnosis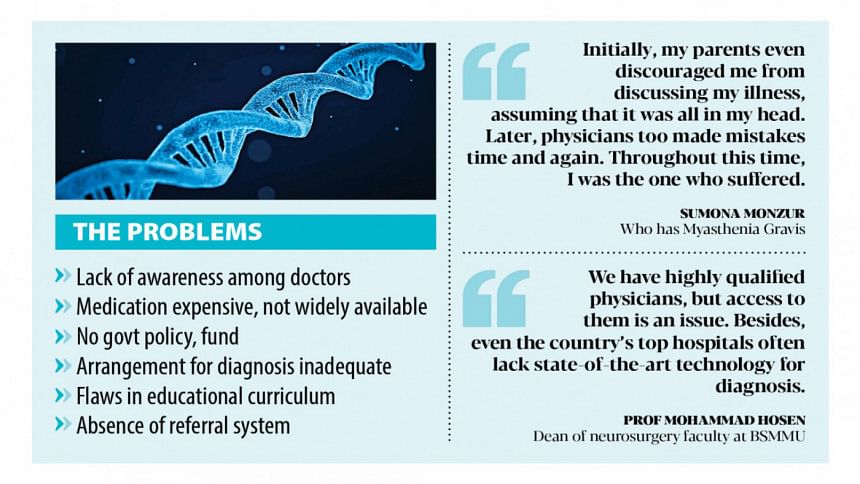 In 2014, Iraboti Roy, 40, died a day after a doctor in Bangladesh's top neuroscience institute hospital in Dhaka administered her a sedative.
"Had the doctor not given that injection, my sister would have still been with us," said Shashanka Baran Roy, Iraboti's brother.
But Roy is not blaming the physician: his sister was suffering from Myasthenia Gravis (MG), a rare, long-term condition that causes severe muscle weakness and often remains undetected in patients leading to misdiagnosis and wrong treatment. 
The reason MG is so difficult to pin down is that its primary symptom, which is weakness, is a common precursor of many ailments. Complicating matters is the fact that the symptoms may be vague, fluctuate or only affect certain muscles. 
And MG doesn't "perform" on demand; the eyelid that droops at 7:00pm may not show for a 9:00am doctor's appointment.
Suspecting her weakness was due to nutritional deficiencies in early 2006, Iraboti took medication for that but to no avail. 
Other than feeling weak, her muscles would freeze randomly, leaving her as good as paralysed. Suspecting something was wrong with her hypothalamus, Roy took Iraboti to a neurologist, who was finally able to diagnose her condition. 
Like MG, there are about 7,000 such rare diseases that affect the lives of about 300 million people worldwide, according to Global Genes, a US-based non-profit advocacy organisation for individuals and families fighting rare and genetic diseases.
Due to their rare nature, there is a lack of awareness among physicians and a lack of availability of medication to treat them, leaving sufferers mostly helpless.
For sufferers of such rare diseases in Bangladesh, a country where healthcare infrastructure is said to be inadequate for its populace and out-of-pocket expenditure accounts for 68.5 percent of the total cost for treatment, their ordeal is particularly heart-breaking. 
Even if it gets diagnosed in time, no government policy or state funds for rare diseases means only the very well-off can afford the expensive treatment.
Take the case of Jakia Abedin, who has been diagnosed with MG in 1999 after a year's suffering. 
In 2004, her doctor advised the removal of her thymus gland as an option to effectively manage the symptoms of MG. The procedure would cost Tk 2 to Tk 10 lakh ($2000-10,000), but Jakia, who was then a housewife in Munshiganj, could not manage the funds.
Her condition has since gotten worse, leaving her incapable of leading a normal life.
"At times, I am unable to even swallow my food or move my limbs. Out of nowhere, I get the spasms and I turn to stone and drop to the floor."
She needs Tk 4,000 a month for the full dose of her medication that would prevent her muscles from freezing at random.
"But I can't afford it. I only take the medicine when I have to pull myself out of bed," she said.
Like Jakia, Anisur Rahman's parents are passing their days in a state of helplessness.
Their nine-year-old son is displaying symptoms of Progeria, an ultra-rare disease, according to local physicians, that shortens the lifespan of children to 13 to 14.5 years. 
A medicine that costs Tk 6.68 crore could extend Anis's life to 17 years, which his parents are unable to afford.
Let alone afford the expensive treatment, his parents are so poor that they can't even pool the funds needed to make the trip to Dhaka from Lalmonirhat to see a specialist to diagnose Anis's condition.  
"We are so poor that we can't even afford enough food for ourselves. But I still dream my son will get proper treatment and will recover one day," said Anis's mother.
Without some divine intervention, a fate like Faridul Islam's awaits Anis.
In 2015, Farid died at the age of 14 of Fibrodysplasia Ossificans Progressiva, a rare genetic disease that causes human connective tissue to turn into bone. 
Although FOP has no known cure yet, with medical attention, such patients on average have a lifespan of about 56 years.
"Due to poverty, I could not ensure a comfortable life for him. I had to watch my son die right in front of me and I couldn't do a thing," said Mazidul Islam, Farid's father.
Ahmedul Kabir, who co-authored the book "101 Interesting Cases in Clinical Medicine", called for a government policy on rare diseases. 
"The treatment cost of a rare disease is very high. We need to raise a separate sickness fund to support patients with rare diseases," he said.
The absence of a referral system is the major cause behind the delayed diagnosis of rare diseases, said Mohammad Hosen, dean of the faculty of neurosurgery at the Bangabandhu Sheikh Mujib Medical University.
"We have highly qualified physicians, but the diagnosis arrangement is systematically inadequate. The patients can't reach the right physicians due to the lack of information," he added.
Sumona Monzur, the coordinator of the Bangladesh Myasthenia Gravis Patients Society, echoed the same.
Bangladesh Myasthenia Gravis Patients Society has 58 patients who help each other by sharing information.
"One thing we suffered in common is that even renowned physicians made mistakes."
Were there any specific platform centrally for rare diagnosis, physicians would send suspected cases there, said Sumona, who suffered for 12 years before her MG could be diagnosed.
"Initially, my parents even discouraged me from discussing my illness assuming it was an imagined illness. Later, the physicians too made mistakes time and again. But I was the one to suffer," she added.
Medical students are often taught to consider a common diagnosis for evaluating a patient and not a rare one.
There is a need for adjusting a clinical challenge-oriented curriculum to address the existing gaps, Kabir said. 
"It should be started at the undergraduate level," said Kabir, who is also the additional director general (administration) at the Directorate General of Health Services.