No reason for a black law to exist
We support the call of the UN rights chief about DSA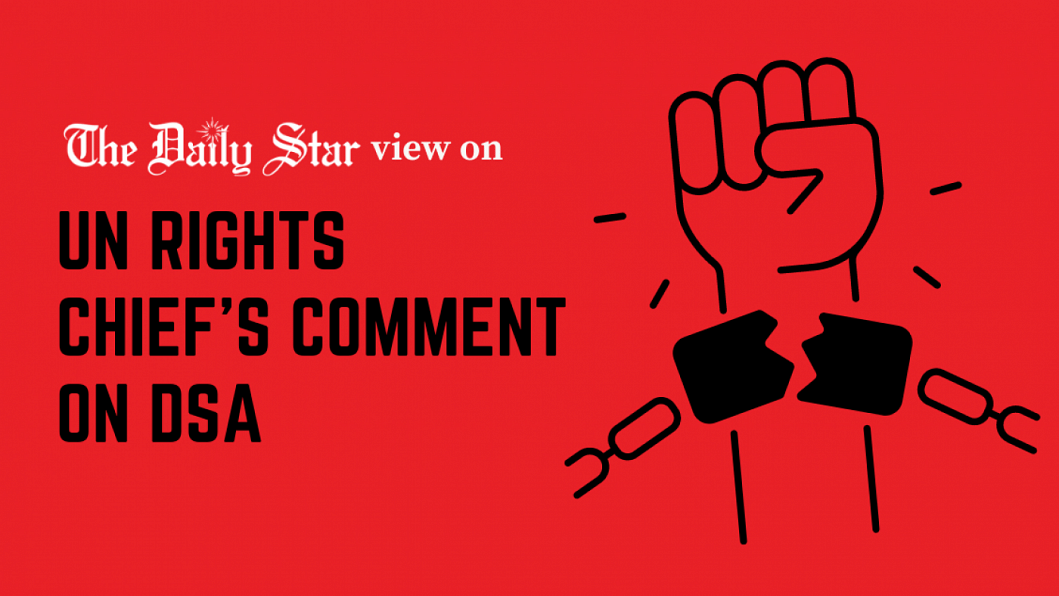 It bears repeating that the Digital Security Act (DSA) is nothing but a tool of repression as it is being used to muzzle freedom of speech and press freedom. This has been proven time and again in the last four years or so. The way it has been used particularly to target and harass journalists, editors, political activists and human rights defenders is unacceptable in any democracy. Unfortunately, despite activists frequently raising concerns over its abuse and demanding its abolishment, the government seems to be not only turning a deaf ear to the demand but is, in a way, advocating its abuse. The law minister's recent comment – that the law is required in the present context – is an example of this.
Against this backdrop, we appreciate the call of the United Nations High Commissioner for Human Rights Volker Türk to amend the DSA. He has also raised concerns at the "increasing incidents of political violence, coupled with arbitrary arrests of political activists, and ongoing harassment of human rights defenders and media personnel in the build-up to the elections." We think these are all valid concerns, and should be addressed with the same urgency that the abuse of DSA deserves.
By now, there is ample evidence that the law has been abused to harass people unnecessarily, with the majority of cases filed under it hanging unresolved for long. According to the Centre for Governance Studies (CGS), at least 1,109 cases were filed between October 2018 and August 2022 – in which a total of 2,889 individuals were accused. What happened to these cases? The CGS study has found that only two percent of the accused saw their cases come to a close, with the court handing either a conviction, an acquittal or the dismissal of the case. And the rest have been suffering through prolonged investigation and trial processes.
The CGS also found that, of all the cases filed under this draconian law, 60 percent were filed over Facebook activities, which is hardly surprising. And the fact that a total of 140 cases were filed for allegedly defaming the prime minister alone further reveals the absurdity of the law.
Moreover, the cases filed under this law are not being handled as per the law. Reportedly, at least 725 of all the cases that police are now investigating are from before 2022. Although the law gives a 60-day time limit to submit an investigation report – with an extension of 15 days, if sought by an investigation officer – this is rarely followed. This is a clear violation of rules governing the investigation process.
There is simply no reason anymore for the law to exist. Therefore, we demand that the government repeals this law urgently, or at least amend it in a manner reflective of the concerns of the activists.