Let no child die from drowning
Death by drowning continues to be a major headache for rural communities in Bangladesh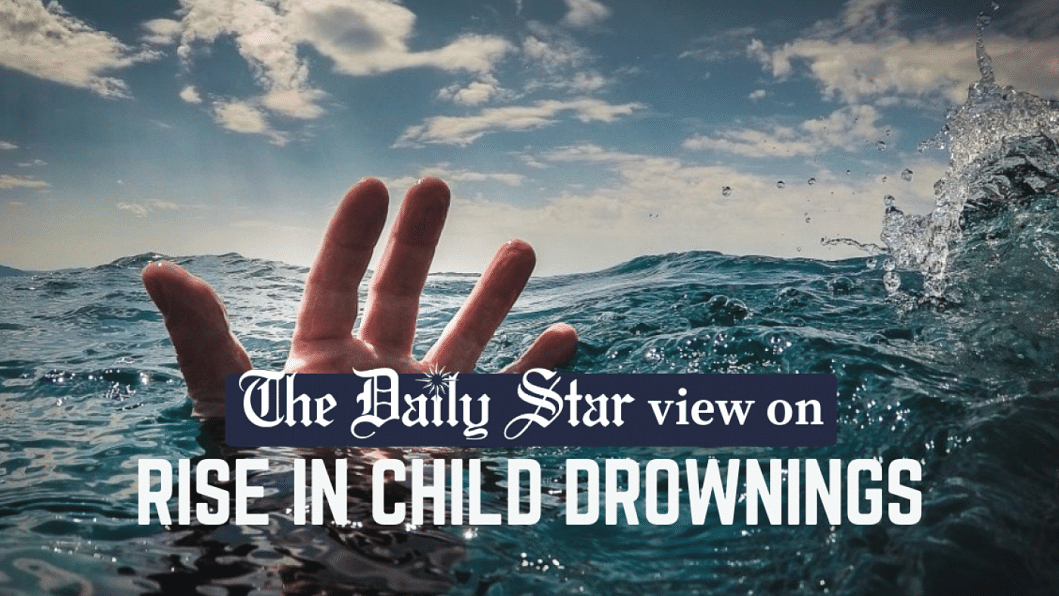 Drowning is perhaps one of the most common but overlooked causes of death in the country. What's bleaker still is the fact that it is mostly children who die from drowning, even though it is preventable. As reported by this daily, an average of 50 people die from drowning every day, 40 of whom are children. Altogether, the number comes up to a staggering total of 19,000 annually. Unfortunately, efforts from the authorities to prevent this menace have been quite disappointing so far.
Take, for example, a project undertaken in May last year by the Ministry of Women and Children Affairs which aims to establish coordinated child care centres in 16 districts countrywide. Given that many rural children are left unsupervised while their parents or caregivers go to work, such community-based initiatives can help keep them away from potential drownings. However, the project has seen very little progress so far, with care centres set up only in six districts, each catering to a maximum of 25 children under the age of five.
Another initiative related to this project is the SwimSafe programme. It aims to provide swimming lessons to over 306,000 children aged 6 to 10 across 1,600 venues (100 in each of the 16 districts). However, the Centre for Injury Prevention and Research – which is overseeing the programme – has only been able to run three centres in the Patuakhali and Barguna upazilas, offering their services to around 3,000 children. While this is still a positive development, especially given the alarming child drowning rate in Patuakhali – according to the Patuakhali civil surgeon's office, the death toll is nearly doubling each year – it is far from satisfactory.
In Bangladesh, drowning is the second leading cause of death for children under the age of five, according to Unicef Bangladesh and the World Health Organization. Clearly, existing measures are failing to deliver results. This is quite alarming. On this World Drowning Prevention Day, we urge the authorities to take a critical look at this state of affairs and ramp up efforts to prevent drownings. Bureaucratic delays, such as late recruitments or plan approvals, as well as other institutional barriers must not hinder the progress of projects that can save children from dying such avoidable deaths. The authorities should also engage community leaders to raise awareness about water safety, especially among low-income families.