More and more children drowning every year
Proper measures not in place to prevent such deaths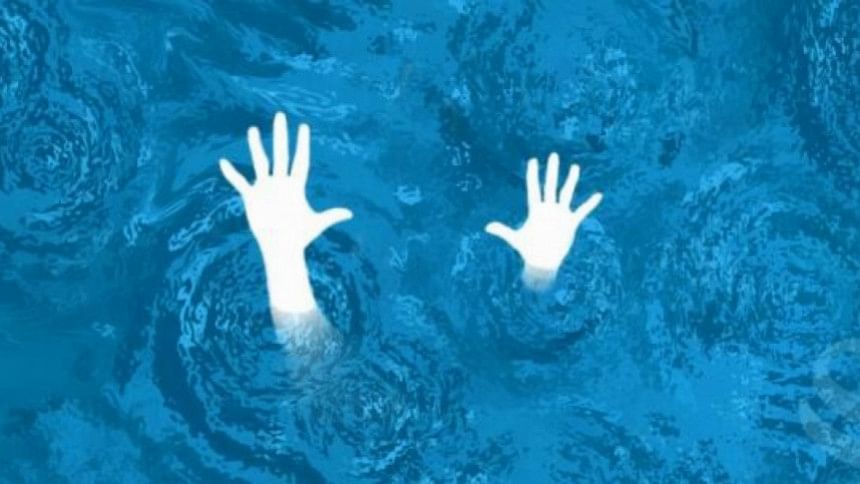 On August 29, 2022, three-year-old Abdullah and 18-month-old Fahim, the two sons  of Azizur Rahman, a municipal councillor of Patuakhali's Bauphal upazila, drowned.
In the morning of the tragedy, Azizur was in a grocery shop near his home. He was accompanied by the boys; their mother Fatima was back home.
"I saw my kids  playing in front of the shop," Azizur said, taking a deep breath.
"However, they suddenly vanished. I ran out of the store to look for them. The next thing I knew, locals informed me that they had fallen into a canal near our house," he said.
"Some teenagers dove into the waterbody and dragged my children out. I immediately took them to the upazila health complex. But it  was too late. The doctors declared them dead," he said, sobbing as he finished the sentence.
Every year, the number of children drowning in various ponds and canals of Patuakhali doubles. In 2021, 56 children drowned, but in 2022, the figure rose to 100. The number was 29 in 2020. According to the data provided by the office of Patuakhali civil surgeon, the number nearly doubles after every year.
In 2022, 26 children drowned in Kalapara upazila alone, the highest in the district. Most of the deaths occurred between morning and noon, and majority of them were children aged under six years.
Mariam, 7, daughter of Masud Mridha of Sutabaria village in the district's Galachipa upazila, and Rafia, 4, daughter of Nizam Mridha of the same village, drowned in a pond near their house on December 30.
When Rafia fell into the waterbody, her cousin Mariam jumped into the pond to save her baby sister, but both perished. Relatives later recovered their floating bodies.
Masum said, "The pond was unfenced. If it had been netted, my child would not have drowned."
The World Health Organization (WHO) has recommended 10 essential measures to prevent child drowning. These include child day-care centres, learning swimming and first-aid. Such measures, however, are few and far between. A lack of awareness in this regard prevails in society.
Meanwhile, the private organisation Center for Injury Prevention and Research has been working  in Kalapara for the last one year  to prevent child drowning.
Its field manager Motaher Hossain said children aged between 6 and 10 years  are being taught swimming in Kalapara to prevent drowning. They also operate a day-care centre in the upazila called Anchal.
"Around 2,500 children have been taught swimming during this time. We also provide primary-level education at our daycare centre," he said. "We take care of the children from morning to noon when the mothers are busy doing household chores, as most accidents take place during this time." 
According to sources at Patuakhali civil surgeon office, out of 100 children who drowned in Patuakhali in 2022. Among them, 24 are from Dashmina upazila, 26 from Kalapara, 17 from Baufal, 13 from Dumki, one from Mirzaganj, and 17 from Galachipa.
During this time, 231 children were rescued from drowning.
Patuakhali Civil Surgeon SM Kabir Hossain said a campaign is being launched to raise awareness to prevent child drowning.
Ponds will be fenced with net and some ditches or marshlands next to the homesteads will be filled up with soil. Besides, the issue of teaching swimming to children after a certain age should be transformed into a social movement, he said.