Why are so many children drowning in Patuakhali?
Authorities must scale up drowning prevention programmes in the district and elsewhere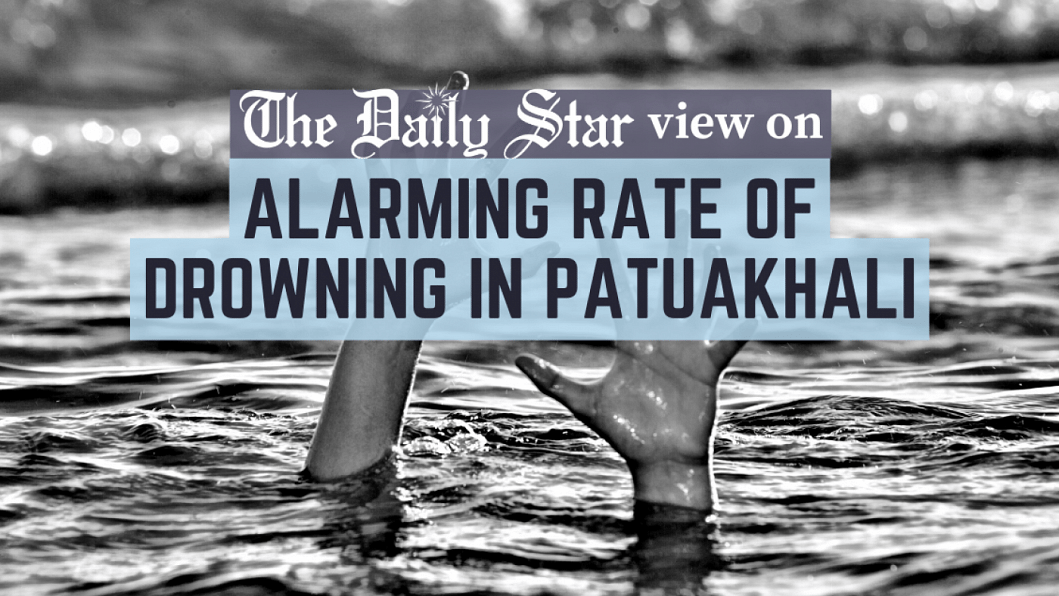 It is hard to believe that drowning is still one of the major causes of child death in the country. In the Patuakhali district alone, such deaths are increasing at an alarming rate, with the number nearly doubling with each passing year. In 2022, for example, a hundred children reportedly drowned in the district, while the number was 56 in 2021, and 29 in 2020, according to data from the office of Patuakhali civil surgeon. This is indeed an alarming development. As well as lack of public awareness, it indicates a serious lack of initiatives from the authorities to prevent such avoidable deaths of children.
It should be noted that drowning is an issue not just in Bangladesh but the world over – it is one of the top ten causes of mortality for children and adolescents aged between 1 and 24 years globally. However, drowning-related deaths are particularly high in Bangladesh. According to an estimate, as many as 2,155 deaths occurred countrywide in 2020 and 2021 due to drowning, with 83.5 percent of the victims being children. Equally worryingly, 80 percent of the under-five victims drowned within 20 metres of their homes. Another study has found that 68 percent of drowning incidents take place between 9am and 1pm, while the majority of incidents take place in ponds (66 percent) and ditches (16 percent) located within around 40 steps of households.
Clearly, children are particularly vulnerable, especially if they are kept unattended by parents. It can also be said that children from poorer households are more at risk of drowning, since both of their parents may have to be at work during the day. In case of Patuakhali, it has been seen that most of the incidents happened between morning and noon when the children's mothers were most busy with work. And these children also drowned in ponds and canals closer to their homes.
We urge the authorities concerned, particularly the district administrations, to take effective measures to prevent drowning. The authorities in Patuakhali should particularly take urgent measures, too. The World Health Organization has developed a drowning prevention strategy with detailed guidelines to prevent it, which our policymakers should follow. Erecting barriers surrounding water bodies, setting up childcare centres for preschool children, teaching children swimming and about water safety, and instructing bystanders in proper rescue and resuscitation procedures are some of the measures that should be adopted immediately.
But for a wider impact, we need to adopt national-level policies with due seriousness. The draft national strategy for drowning prevention – prepared by the Directorate General of Health Services – should be approved soon, and as outlined in it, there should be massive awareness-raising campaigns. Drowning is the most preventable cause of child deaths. With proper policy interventions, we should be able to check the trend.