How long before BRTA does its part?
Rampant irregularities and corruption must be checked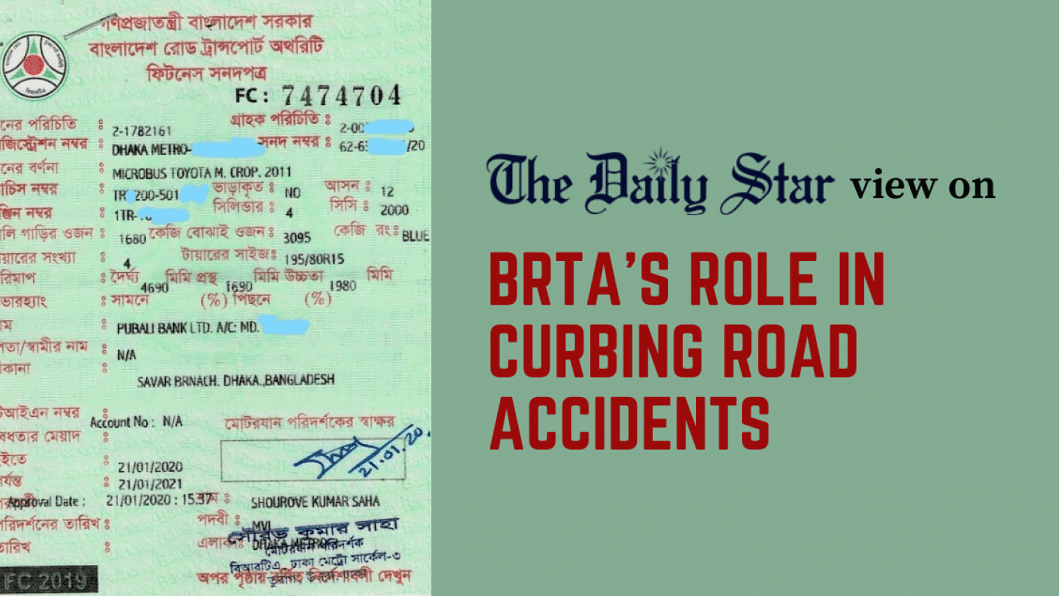 It is exhausting to have to confront news of traffic accidents every day, particularly when we come to learn that the Bangladesh Road Transport Authority (BRTA) has done little to prevent these accidents. According to our report, unfit vehicles have been causing increasingly more road accidents in recent years. This raises serious concerns about the BRTA's inspection quality and its process of issuing fitness certificates to motor vehicles.
Lately, multiple allegations have been brought against the BRTA for issuing fitness clearance certificates to vehicles without carrying out any inspection, which violates the Road Transport Act 2018, and other relevant laws. The most egregious example of this phenomenon came to light in a recent report by this daily. A mini truck, which had been seized by police during a robbery in Cumilla, was apparently given a fitness certificate while it was still in police custody. Last year, another vehicle involved in an accident case was given clearance without any inspection.
Sources at the BRTA confirmed that some unscrupulous officials were involved in this activity with brokers. This is unacceptable, not least given the fact that BRTA has increased its service fee by 233 percent, which is another burden on citizens during the worst cost-of-living crisis in over a decade. We would like to know what actions the BRTA has taken to identify the syndicate in question. And despite repeated reports, why has it failed to put an end to the mockery that the inspection process has been reduced to?
Earlier in 2020, the High Court issued a rule that no unfit vehicles should be allowed to ply our roads. The High Court also asked the BRTA and the IGP to explain what actions they had taken to address the increasing number of road accidents, while directing the authorities concerned to ensure that no vehicle could get fuel without valid fitness certificates. But the directions fell on deaf ears, as usual. A large number of vehicles are not even registered under the BRTA, which means they don't have any fitness reports, but are still plying the streets, endangering people's lives. 
The BRTA's failure gives us a glimpse into the sorry state of road safety in our country, despite a number of protests and strong citizen activism in recent years seeking specific redress. We, too, have repeatedly urged the BRTA to take its mandate seriously. We ask again that it makes its services transparent, accessible, and modern. Corruption that has become ingrained within its activities – and, dare we say, its ethos – must be exposed. The BRTA cannot take its role lightly, as people's lives depend on it.