BRTA must justify the increase in service fees with quality services
Another cost burden on citizens in Bangladesh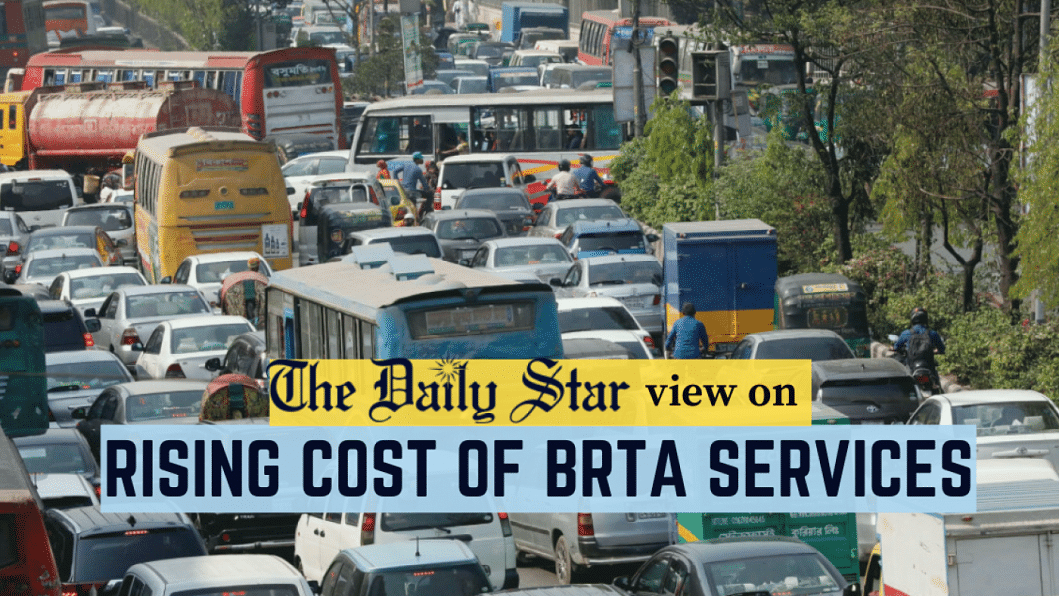 The rules of the Road Transport Act 2018 have finally been published, and alongside detailing the compensation that victims of road crashes can expect to receive, it has also been announced that the fees for 75 services provided by Bangladesh Road Transport Authority (BRTA) will increase by up to 233 percent. This includes the registration of vehicles, issuance of fitness certificates, route permits, and driving licenses. The decision is expected to be put into effect within the coming two weeks. Transport operators have already declared that the cost will be passed onto the public. This is despite the fact that long-suffering commuters have already seen a round of price hikes after the cost of fuel shot up in August last year.
The increase in the cost of BRTA services will be levied on private and commercial vehicles alike, but it is noteworthy that the charges for registering two types of motorcycles are some of the few services that have not gone up in price. Given that research from BUET last year found that Bangladesh has one of the highest death rates from motorcycle crashes in the world, this rather contradicts the government's promise to reduce such deaths on our increasingly violent roads. Conversely, the fact that fees for driving licenses, annual fitness checks of vehicles, and licenses for driving schools and instructors, among other services, have seen a sharp rise is worrying, too. Why increase the prices of the very services that can ultimately make our roads safer?
Having said that, if the provision of these services actually leads to greater road safety, as well as to qualitative improvement in the institutions that provide these services, then we believe that most people would be willing to bear the costs. However, that has hardly ever been the case in the transport sector. Instead, the ordinary public have continued to pay the price for the BRTA's ineffectiveness and inefficiency.
Last year, it was found that while the registration of vehicles has risen sharply, the number of fitness clearances had dropped to a seven-year low. The BRTA's time-consuming and difficult procedure for this, as well as the frequent requirement of bribes for officials and middlemen, have been cited as some of the reasons behind this. The scourge of fake driving licenses continues to plague us. And despite the Road Safety Movement and all the promises that were made after, 2022 has emerged as one of the most devastating years in terms of lives lost in crashes (6,548).
In such a scenario, simply setting up a compensation fund or making services more expensive will not restore the nation's faith in the BRTA. If prices go up, then it must go hand in hand with greater efficiency at BRTA and greater safety on the roads, instead of simply becoming just another burden on the public.