Greater effort needed to stop sand extraction from Teesta
Government must protect our rivers from being polluted, encroached or harmed in other ways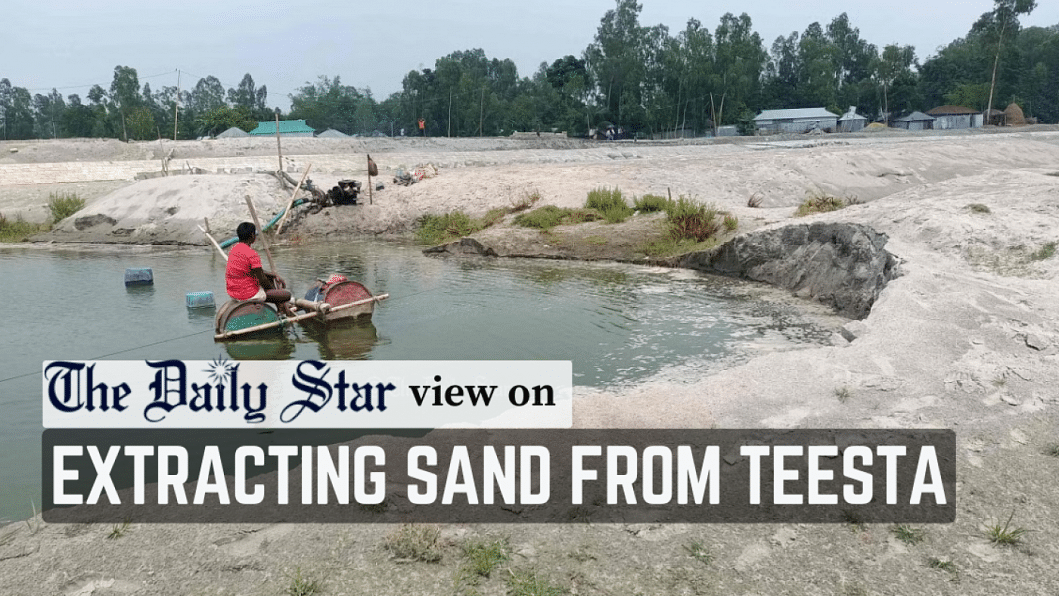 The senseless and continuous destruction of our rivers for the sake of personal benefit is deeply saddening. According to a new report by this daily, a powerful syndicate has been extracting sand from Teesta River at the Mohishkhocha union of Aditmari upazila in Lalmonirhat. This has endangered not just the health of the river, but also the lives and livelihoods of those who live on its banks.
With the monsoon season right around the corner, locals have expressed fear that their homesteads and agricultural land along the river will be at risk of erosion owing to continued sand extraction, inevitably paying the price for the exploits of an unscrupulous few. It is quite telling that those directly affected by this feel they do not have the means to stop this activity because of the involvement of politically connected people in the syndicate. Reportedly, the local administration recently conducted a drive against sand extraction in Teesta. They destroyed one of the machines used for extraction and fined three people in this connection. Locals, however, said that those in charge conduct such operations irregularly and usually fine workers – employed by the syndicate – but those truly responsible are not held accountable.
This, we must say, only helps keep the sand extraction business alive.
Without ensuring accountability for those committing crimes against rivers, we cannot stop such practices. It is no secret that our rivers are dying. In the 57 years until 2020, at least 158 rivers dried up in Bangladesh. Indiscriminate disposal of waste as well as irresponsible river management have turned once-mighty and healthy rivers like the Buriganga, Meghna, Kirtankhola, Galachipa and Payra into veritable garbage dumps. Encroachment and unplanned development have finished many others.
The question is, why are the authorities responsible for our rivers not doing anything to reverse this trend? It is because of their inaction and indifference that Bangladesh is a Land of Dying Rivers now. This must stop. The authorities must take stern action against the perpetrators of river pollution and destruction.