Stop sand extraction from rivers
It's increasing the risk of river erosion, endangering farmland and depleting soil fertility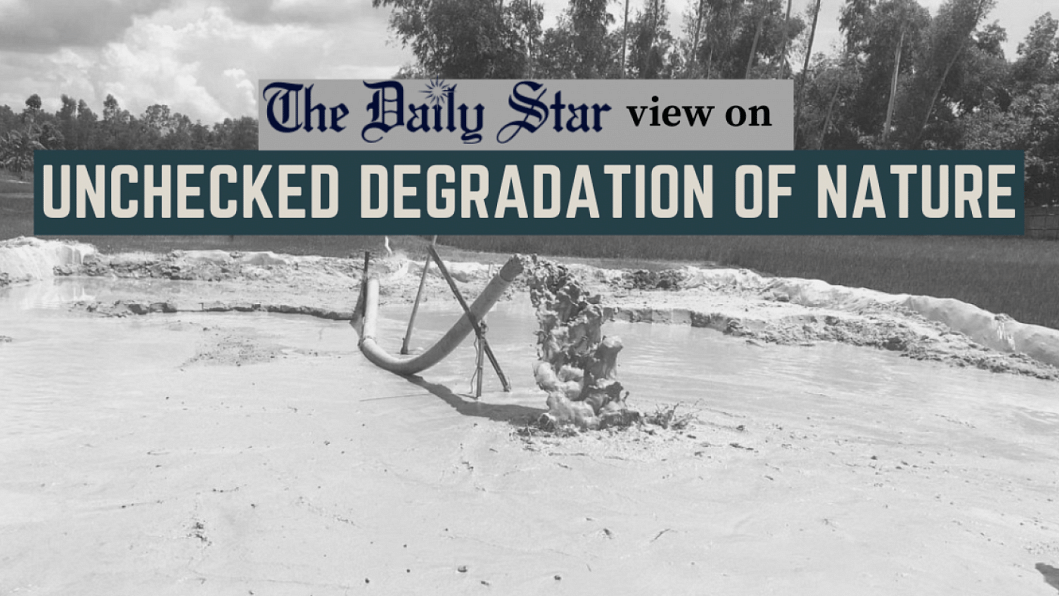 Despite the fact that sand extraction from rivers is doing severe damage to our environment and local communities, this mindless act is going on unabated across the country due to lack of action from the authorities. According to a report by Prothom Alo, sand is being lifted illegally from the Padma river near the Baulikanda area of Shivalaya, Manikganj. Although locals fear that their homesteads and agricultural land along the river will be at risk of erosion by these acts, they do not have the means to stop these activities because of the involvement of influential people in this.
Reportedly, the local Union Parishad chairman, a UP member, as well as other politically connected sand traders are involved in extraction in the area, making the life of those dependent on the river more vulnerable. Sadly, the local administration is turning a blind eye to the issue.
This is no isolated incident, however. If we only look at the newspapers of the last one month, we will get plenty of reports on sand extraction as well as other types of environmental degradation. For instance, in January, this daily reported how influential locals were illegally lifting sand from the seabed along Chattogram's Sitakunda coast, increasing the risk of coastline erosion. Erosion is, however, just one example of the damage that results from sand lifting; other risks include loss of croplands and depletion of soil fertility.
We see such environmental degradation being carried out through countless other activities – such as polluting and encroaching rivers, cutting down hills, felling trees, destroying mangrove forests, polluting air, etc. Every day, something is being done somewhere to degrade our nature and thereby threaten our survival as a species. It is as if we are waging a war against nature. But it's not a war that we, or anyone, can win in the long run. Can we live a normal, healthy life by ruining the very environment of which we are just a part?
What is inexplicable is why the state is still doing little to stop such acts, despite having of several laws and regulations as well as dedicated administrative wings to address these issues. In many cases, we have seen that local administrations only conducted mobile court drives, which helped little to improve the situation. More often than not, after the drives are over, the unscrupulous people engaged in such activities get back to their work again.
Clearly, protecting our environment from harm will need greater efforts and coordination from all the government agencies concerned. No ad-hoc measure can stop sand traders or river grabbers and polluters. We have ample laws for environmental protection which should be used evenly and effectively. Most importantly, we must break the culture of impunity of the politically connected people who are often the ones harming our environment.