Forests are vanishing acre by acre
Why are the authorities so negligent in protecting forests?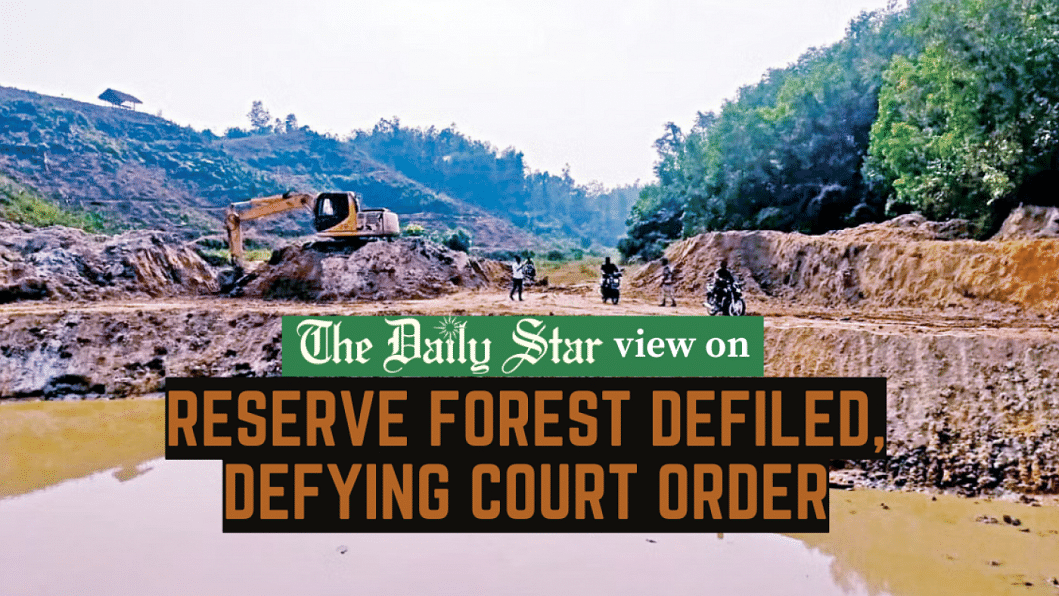 To say Bangladesh has a weak forest policy would be an understatement. The legal and institutional safeguards that are there do have loopholes, which are often exploited, but so much of what's happening today has more to do with how the state approaches the very idea of forests. Forests, to it, are valuable until they're not. They should be protected until they cannot be, when more "practical" or parochial interests override that need. This secondary status makes forests expendable, leading to frequent encroachment attempts, sometimes even from within the government.
The latest case that came to our notice involves a tea company that dug a lake right in the middle of a reserved forest in Fatikchhari, Chattogram. According to a report by this daily, the company, Halda Valley, also felled hundreds of trees in the Ramgarh-Sitakunda forest, despite a court order to maintain status quo on the land. Apparently, the 135 acres of land where the lake was dug are part of a stretch of land that it had leased from the Chattogram district administration, which considers it a khas land. But as per the forest department, it belongs to the reserved forest, and was mistakenly recorded as khas. The department has also filed at least 21 cases accusing Halda employees of encroachment, land grabbing, felling trees and assaulting its officials.
While it is easy to be distracted by the criminal activities of the tea company, and thereby forget about the responsibility of the bickering government parties, the truth is, the latter are no less responsible. Their dispute over the nature of the land has continued for two decades, allowing for the defilement of one of the oldest and richest forests in the country. It's not just a question of legality. It's a question of intent, and whether they have it. Clearly, they don't. The sense of urgency that the transformation of this forestland – from a natural habitat for wildlife into a man-made abomination – warranted was nowhere to be found.
It may be recalled that the cabinet on October 31, 2022 approved the extension of a ban on cutting trees in reserved and natural forests until 2030. The authorities in Chattogram should have known that khas or not, no one can cut trees on land belonging to forests. They should have been able to stop this madness. Unfortunately, over the years, we have frequently seen how responsible government departments either allowed for encroachment of forestland by other government institutions or leased them out to private entities – which, while legal, inevitably made way for illegal activities such as felling of trees and levelling of forestland.
Once you ignore the excuses and circumstances leading to such developments, you begin to see a pattern of institutional neglect when it comes to protecting what little forest coverage we still have left in Bangladesh. This is deeply worrying, not to mention in direct contravention of Bangladesh's deforestation pledge at the COP26 summit. We urge the relevant authorities to shed this laissez-faire approach to forest protection. They need to show strong leadership and better coordination. The forest grabbers must be punished.