FIFA ban deserves close scrutiny
BFF must answer for alleged financial irregularities, organisational failures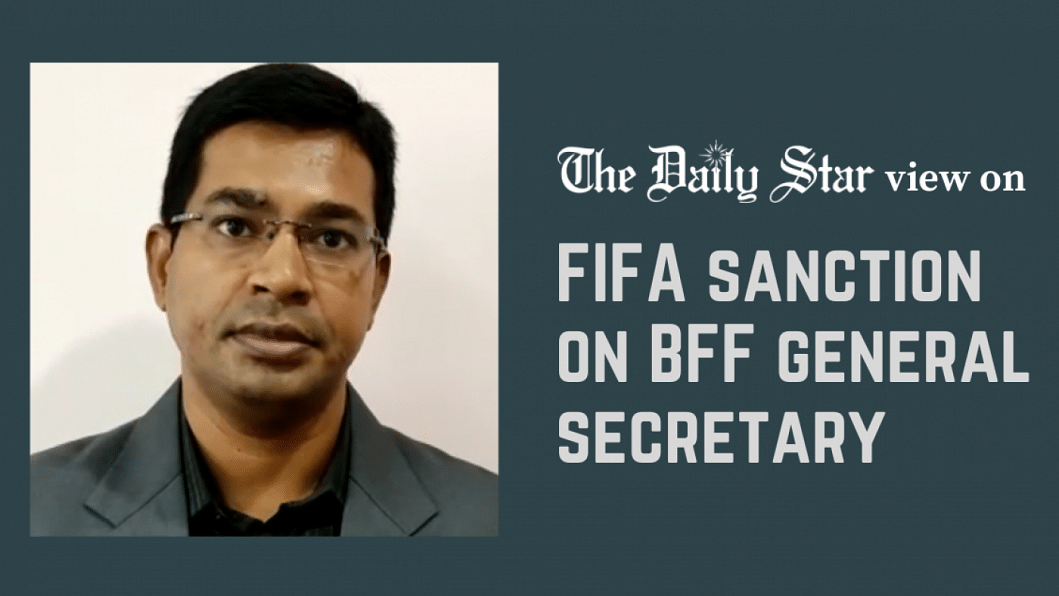 We are alarmed to learn that FIFA, world football's governing body, has imposed a two-year sanction on the general secretary of Bangladesh Football Federation (BFF), Abu Nayeem Shohag, on the grounds of his using forged documents to justify payments made with FIFA funds. This has come to light after a lengthy investigation by an ethics committee into allegations of financial irregularities conducted between 2017 and 2020. In this regard, a 51-page description of the charges brought against him as well as probe results, made available on the FIFA website, is quite telling.
We must admit, all this is very unsettling. Not only does it again bring to light the shambolic state that our football is in presently, but it also paints Bangladesh in a negative light on the global stage. It seems unbelievable that football was once the most popular sport in Bangladesh. But over the last two-three decades, it has gone through a dramatic decline because of a lack of vision, organisational failures, and financial irregularities of those concerned, with only two regional championship wins (SAFF trophies in 2003 and 2022 for men's and women's teams, respectively) to show for it. Things have taken a nosedive particularly during the 15-year tenure of the incumbent BFF president, the latest example of which came after the withdrawal of the national women's team from Paris Olympic qualifiers despite its surprise success last year.
Seen against this backdrop, the FIFA ban, although restricted to one person, has been a long time coming. As with any institution in the public sector of Bangladesh, the BFF is no stranger to allegations of corruption, mismanagement and undue interference in football-related decisions. Although FIFA takes financial irregularities and government interference seriously – one may recall its ban on Bangladesh in early 2002 because of a politically influenced dismissal of the then BFF executive committee – the relevant authorities have frequently failed to address concerns raised by football lovers or establish accountability in their procedures. As a former executive committee member has indicated, what FIFA has uncovered is only the tip of an iceberg of irregularities of various kinds that have been plaguing the BFF for long.
This needs an urgent response. We can no longer ignore the woeful state in which our football languishes. At a time when countries are heavily investing in sports because of their potential to improve their image intentionally, our authorities seem to be paying little attention in this regard. We urge the government, particularly the ministry for youth and sports, to follow up on the latest development. They should conduct their own investigations and take stern action against all involved with the allegations raised. The BFF, because of its consistently poor performance over the years, also needs to be overhauled so that it can bring back the glory days of Bangladesh football by reviving the domestic leagues for both men and women and taking football to the ordinary people again.