BTV's costly nod to World Cup
Its belated move for media rights came with a hefty bill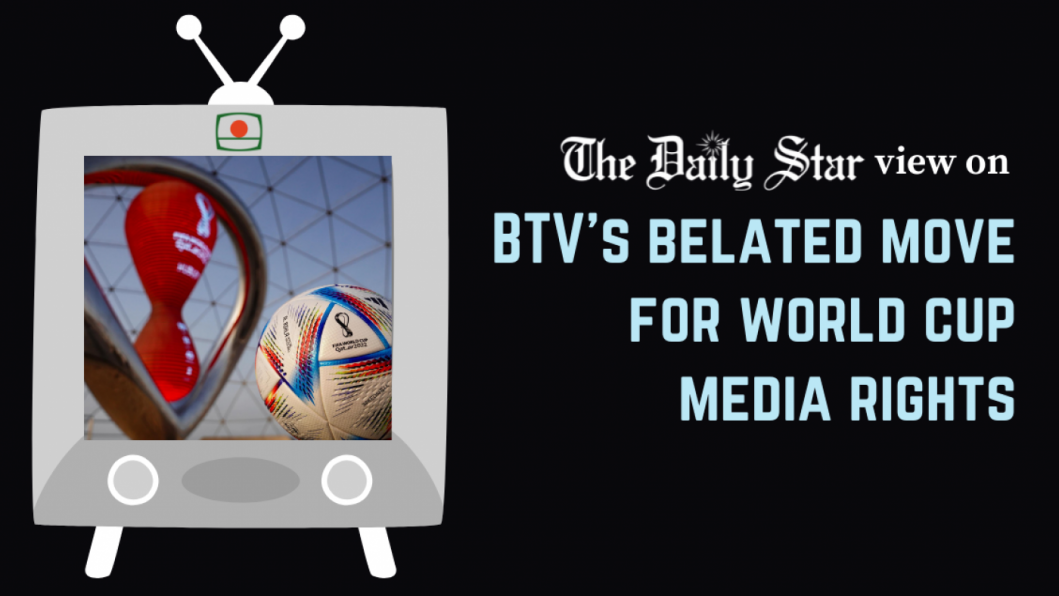 While much of the world is gripped by the football fever brought about by the FIFA World Cup 2022, the situation in Bangladesh is no different, with fans boasting jerseys of their favourite teams or hanging their flags on their rooftops. Watching World Cup matches live on television is clearly everyone's favourite pastime at the moment. There is a high demand for its broadcast, and it must be met. But what the Bangladesh Television (BTV) did to meet this demand is quite questionable.
True, BTV is still the only source for many people among the poorer sections of society who do not have access to satellite channels. But most people, even in remote areas, today have access to various channels, where they can easily watch the matches. Against this backdrop, the BTV bought the media rights to World Cup in a belated move that cost it much more than it would have had it acted in time. The price, according to a report, was Tk 98 crore. In the 2018 World Cup that took place in Russia, BTV had to spend no money to show the matches and actually turned a profit from all the advertisement deals it got. This time, however, it is not only haemorrhaging money for acting late – having finalised the decision to buy rights only four days before the tournament began – but has also lost the opportunity to get sponsors, which could have softened the blow by bringing in some revenues.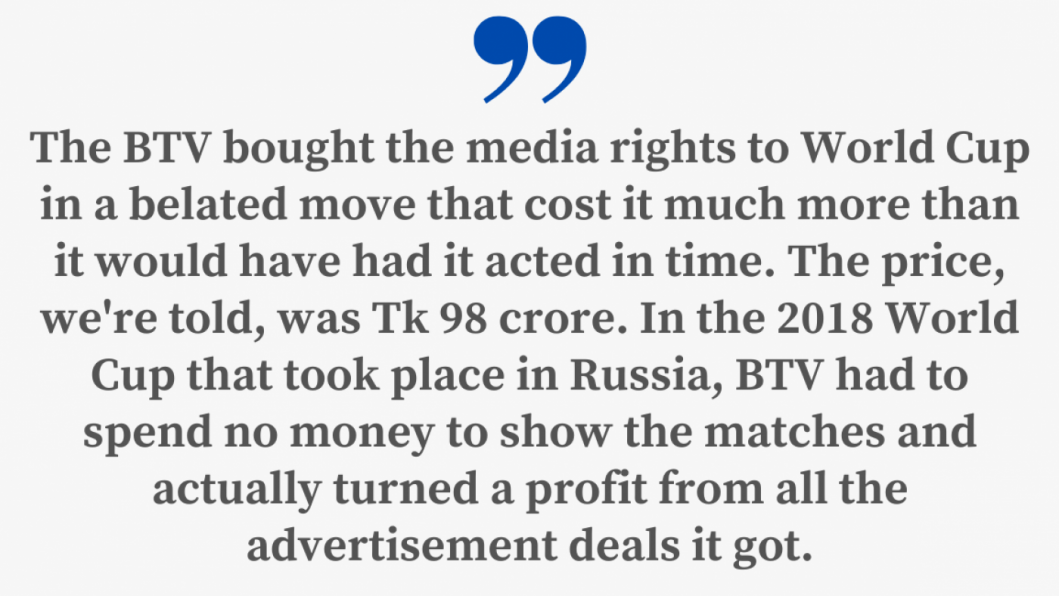 This has happened at a time when the government is pushing for austerity at every level and asking people to live with less. It is public institutions and public officials that should lead by example, but everywhere we look, the opposite seems to be happening.
BTV officials, however, claim that they lacked the money and logistics to take part in international bidding. If that is the case, why did they have to wait until the rights changed three hands from the Indian company that originally won the media rights for the South Asian territory? If BTV had acted sooner, they could possibly buy the rights straight from the source and avoid the extra costs.
The way this deal was managed suggests poor planning leading to unnecessary spending. This is, however, only the latest in a long list of government initiatives and projects that, despite their potential to serve public interests, were marred by inefficiency, corruption and mismanagement of public officials. Such wastage of money amid an ongoing economic turmoil is very unfortunate. And it is because of lack of accountability that such incidents keep happening. We, therefore, urge the authorities to investigate the BTV media deal and hold those responsible for the botched operation to account.