Enjoy football, with your eyes (wide) open
Qatar World Cup will be a joy to watch. But do spare a thought for the workers who made it all possible.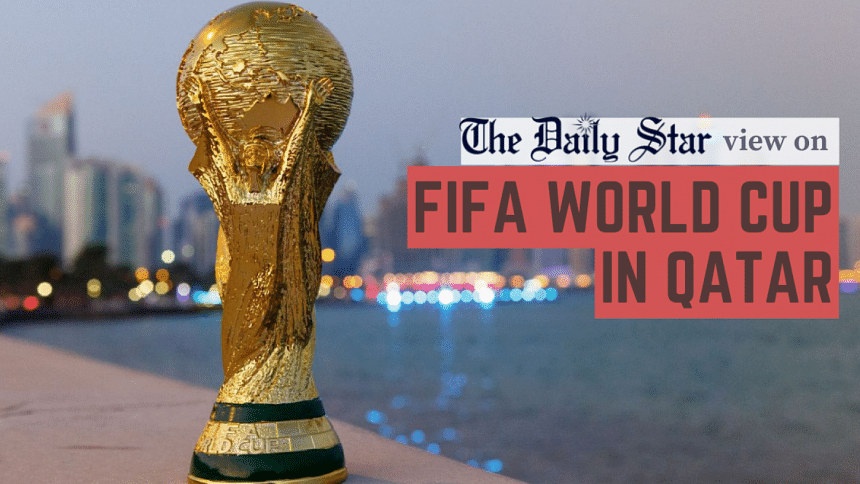 Yet another World Cup is finally upon us. After intense speculations about the 32 participating teams and their superstars – as well as a 12-year build-up since Qatar was chosen to host this event – it opens on Sunday, with the host team taking on Ecuador in Group A. If you're a football fan, watching the matches on TV from the comfort of your couch, or out in the stadium, get ready to enjoy a month of footballing extravaganza. The games will no doubt be nail-biting, uplifting or heartbreaking, depending on which team you're rooting for.
This is the first-ever World Cup to be held in the Arab world, and the first to be staged outside of the northern hemisphere's summer window. Both facts are important for different reasons. Without going into detail, let's just say that they represent the change that football as a sport, and as a concept, is going through. For most fans in Bangladesh, however, the FIFA World Cup is a chance to watch their favourite teams lock horns on the grandest of stages. Defending champions France, Brazil, Spain, Germany, and Argentina are tournament favourites, but lesser teams will also fancy their chances. Of course, as always, Brazil and Argentina will be the two teams most closely followed. The playful frenzy that rival fans in Bangladesh bring to the tournament, despite having little connection with those countries, is a unique feature of the game which, we hope, will not degenerate into anything beyond that.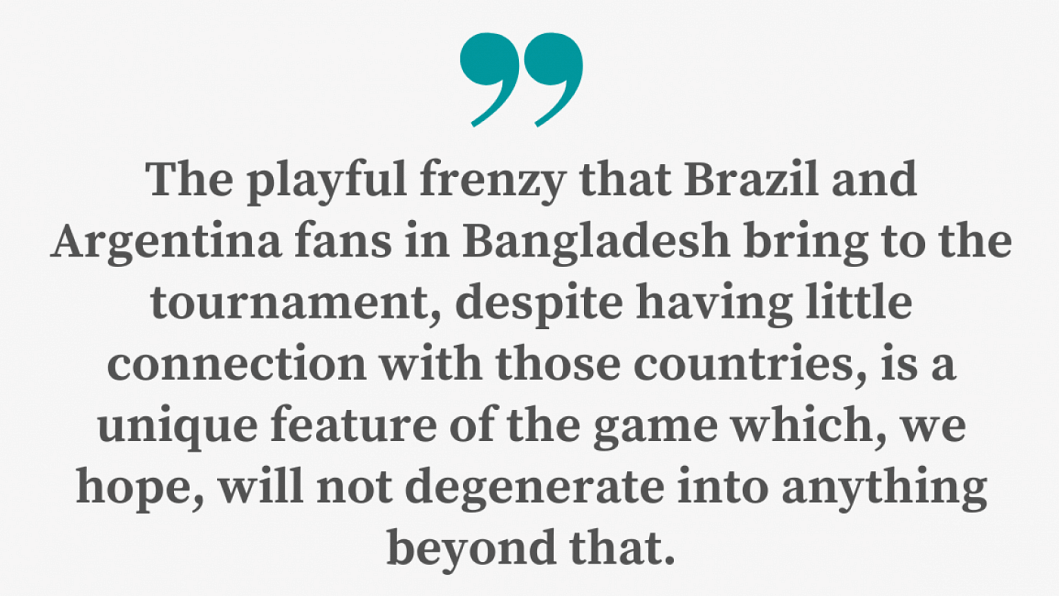 Football today is not just about football, however. In a testimony to the increasing polarisations in the world, events off the field are becoming as important as events on it, sometimes for compelling reasons. The 2022 World Cup – and Qatar's role in it – has also been the subject of critical scrutiny by human rights observers, who noted allegations of corruption, mistreatment of migrant workers, as well as criticism of Qatar's human rights records. One may recall a damning report by The Guardian early last year saying that more than 6,500 migrant workers from India, Pakistan, Nepal, Bangladesh and Sri Lanka had died in Qatar since it won the right to host the World Cup. We have come across stories of returnee migrants, involved in various construction projects related to the World Cup, who accused their Qatari employers of harsh treatment and wage theft. Their stories should not be drowned under the cacophony of cheers by football fans.
So while we welcome the World Cup 2022 from a sporting perspective and hope it will create joy and fond memories – as such events have historically done – we also hope it will be a moment of reflection on the plight of migrants, including those from Bangladesh, working in the Gulf countries. We need to work together to ensure that their rights are protected, and their sacrifices honoured.