. 16 Days of Activism against Gender-Based Violence
Why are Rohingya women and girls so unsafe in refugee camps?
One in four Rohingya women and girls in refugee camps in Cox's Bazar, Bangladesh, has suffered gender-based violence (GBV), according to data gathered by the International Rescue Committee (IRC) in their centres between July and December 2019.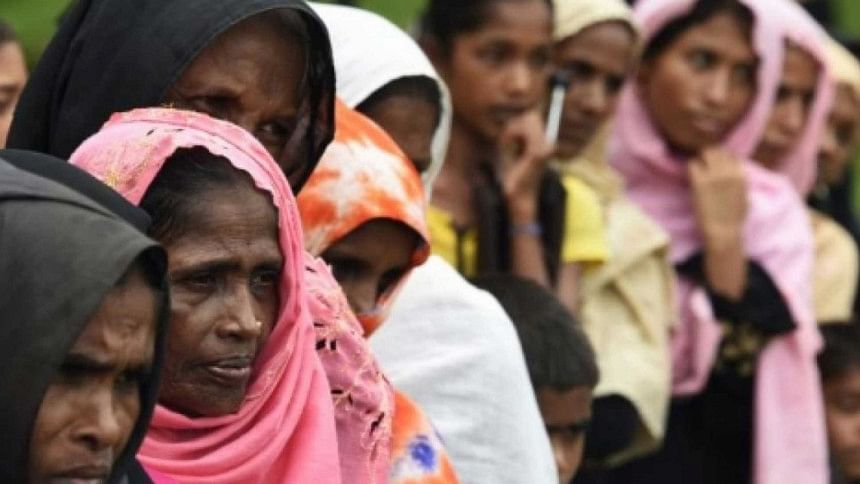 One in four Rohingya women and girls in refugee camps in Cox's Bazar, Bangladesh, has suffered gender-based violence (GBV), according to data gathered by the International Rescue Committee (IRC) in their centres between July and December 2019. These findings were confirmed by the ISCG secretariat in their 2020 mid-term review, which said that during the initial months of the Covid-19 pandemic, "women and girls have faced an increase in unpaid care work, greater protection risks in and out of their homes, and mental health issues, while simultaneously being less able to access lifesaving services and support."
The IRC further added, "In the face of the substantial new barriers posed by Covid-19, reported rates of GBV among (the) Rohingyas in Cox's Bazar remain shockingly high, particularly among women and girls in their own homes."
Intimate partner violence remains a major problem for Rohingya women and girls, many of whom refrain from speaking up about their sufferings due to fear of repercussions. IRC data from January to October 2020 has also revealed that "an average of 94 percent of recorded GBV incidents were perpetrated by intimate partners, higher than the 81 percent average" that was found in their 2019 report. Physical assaults invariably remain the most common form of intimate partner violence.
Apart from this, domestic violence in the form of battery, mental torture, verbal abuse, intimidation, economic marginalisation, sexual abuse by relatives and extended family, and abduction, rape and torture by the "night government" are some of the many other types of violence women and children at the Rohingya camps endure day in and day out.
The "night government" is mostly thought to be the Arakan Rohingya Salvation Army (ARSA), but can also include local gangs and mobsters; there are so many powerful criminal outfits in the Rohingya camps that it often becomes difficult to identify individual criminals within the gangs. They are a major threat to the Rohingya community, but mostly to the Rohingya women and girls—especially those who dare to speak.
Women who are vocal, who work as volunteers with NGOs, or those that work in support groups, and women who raise awareness against gender-based violence in the Rohingya camps, are often targeted by the night government. They are forced to give up on their activities through intimidation, coercion and, if needed, vile physical torture.
There are women who have had to succumb to the demands of the night government, fearing reprisal. In a report titled "As violence soars in refugee camps, Rohingya women speak up," The New Humanitarian wrote about the plight of six Rohingya women who had been threatened by the night government to stop their activities. One of them said the threats against her had grown so severe that she wouldn't leave her tent home to use the toilets at night. Weeks ago, she started receiving online abuse after she wrote a Facebook post that supported women's rights. "'They asked me which way I would prefer to be abused,' she said, sitting hunched over on a chair in a quiet corner of a community centre."
And there are many other women who choose to endure violence, torture and pain in silence, since they are sceptical about the effectiveness of support from law enforcement agencies. "There's nowhere for us to complain," a female community worker told The New Humanitarian. "None of the women said they dared to seek help from the Bangladeshi police or authorities that oversee the refugee camps, where there is no formal justice system and crimes routinely go unpunished," the report elaborated.
Once the last of the vehicles carrying humanitarian workers leave the camps in Cox's Bazar and darkness falls over the camps, it's a different kind of atmosphere there—one that reeks of fear, violence, and persecution, especially for women and girls.
Human trafficking remains another major cause for concern at the Rohingya camps in Cox's Bazar. Young girls are often sent off with the traffickers to Malaysia and some East Asian countries, where their betrothed had already migrated. Unfortunately, many of them do not reach their destination—at times they are devoured by the seas; at others, they are sold into the sex trade by traffickers.
Not just girls, but even adult Rohingya women are lured by nefarious traffickers with false promises of well-paid jobs and better living conditions, and sold into bondage, domestic servitude and the sex trade. Many of these victims can be found in the shady dance bars and nightclubs in India, Nepal, Thailand, and many other East Asian and Middle Eastern countries. With little knowledge about the intention and modus operandi of the trafficking rings, many of the Rohingya women and girls opt for overseas "opportunities", only to fall victim to worse torture and violence than they are subjected to in the camps.
Even within the camps, young girls and women are forced into prostitution. Kutupalong has a thriving sex industry where "at least 500 Rohingya prostitutes live," according to a fixer, who was also quoted by Thomson Reuters Foundation News as saying, "Recruiters now have their eyes set on the newcomers."
Hunger, poverty, squalid living conditions, and desperation have pushed these Rohingya girls and women into prostitution. Some of these girls are in their early teens. The 2017 Thomson Reuters Foundation News report revealed that a sex worker would earn around Tk 200 from a client, half of which would be taken by the pimp.
Personal hygiene and safe sex are luxuries not afforded to these girls and women, and many of them suffer from sexually transmitted diseases (STDs). One of the girls interviewed by Thomson Reuters Foundation News said she took birth control injections. "But I worry about HIV every day," she said. She never got screened for STDs.
While helping the Rohingya women and girls has been a challenge from the beginning, during the lockdowns to contain the spread of Covid, when movement was restricted, it became even more difficult for the humanitarian agencies to reach the victims and provide them with the necessary medical care and emotional support. Although things have improved a little with reduced transmission of Covid-19, the rampant problem of gender-based violence in the Rohingya camps still persists.
The Bangladesh government needs to take a hard look at the factors that enable and sustain gender-based violence in the Rohingya camps, including the issues related to security and law enforcement, and take immediate measures to address them. The night government needs to be dismantled, and the humanitarian agencies should be supported in establishing community leadership and support groups to combat violence against women.
The human rights and dignity of the Rohingya women and girls in the Cox's Bazar camps must be safeguarded, and as the host country, the responsibility falls on Bangladesh. The government needs to take this problem seriously and take comprehensive measures to eliminate the issues that plague Rohingya women and girls.
Tasneem Tayeb is a columnist for The Daily Star.
Her Twitter handle is @tasneem_tayeb