Don't let Saarc wither away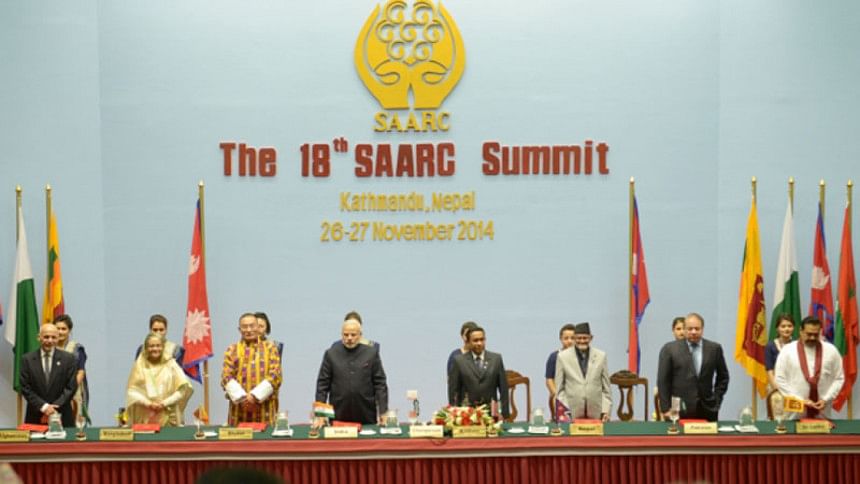 Recently, Nepalese Prime Minister KP Oli, during his visit to Delhi (April 6–8) proposed to reschedule the 19th Saarc summit. But Delhi firmly refused to go ahead with the summit because cross-border terrorism is a disruptive force in the region. Obviously, the finger was pointed at Pakistan.
The 19th summit was scheduled to be in Pakistan in November 2016 but was postponed primarily due to India's refusal to attend. India's decision came following terrorist attacks in Uri in Indian-administered Kashmir in September 2016, which left 19 Indian soldiers killed, driving Indo-Pak relations into a hostile mode. Delhi accuses Pakistan of masterminding the terrorist attacks in Kashmir, which Pakistan denies saying that these attacks are homegrown. Since then Delhi's diplomatic strategy has been to isolate Pakistan regionally and internationally by designating it as a sponsor of terrorism in South Asia.
In the process of this rivalry, Saarc has become the casualty. There has been no summit since 2016 and the process has literally come to a standstill. It does not reflect well on the members of this organisation that summits have been repeatedly postponed or cancelled because of strained bilateral relations between member states.
Saarc is a summit-driven organisation. The annual summits actually lay the roadmap for its programmes and activities. When summits are cancelled the Secretariat becomes non-functional. Records show that out of 18 summits so far, only eight (1st, 6th, 8th, 9th, 10th, 12th, 14th, 17th) were held more or less on time and in the designated venues. The remaining 10 were either delayed or held in changed venues.
The 2nd summit was scheduled to be held in Thimpu in 1986 after the Dhaka summit in 1985. But because of Bhutan's lack of infrastructure India hosted the summit in Bangalore in 1986. The 3rd summit also could not be held in Thimpu for the same reasons and was held in Kathmandu in 1987.
The 4th summit was scheduled to be held in Colombo in 1988, but tensions between India and Sri Lanka related to the Tamil issue and deployment of Indian Peace Keeping Force (IPKF) in Sri Lanka, led to a change of venue. Colombo wanted the IPKF withdrawn before any Saarc summit could be hosted by Sri Lanka. After a standoff of several months, the 4th summit was eventually shifted to Islamabad and held in December 1988. When the IPKF was withdrawn in March 1990, Colombo expressed its readiness to hold the 5th summit in 1990, but it was swapped with Male and held in November 1990 to become part of Maldives' national day celebrations.
The 7th summit was scheduled to be held in Dhaka in December 1992. But just before the summit the Babri Mosque in Ayodhya was demolished by Hindu kar sevaks on December 6, 1992. That led to serious communal riots in India. The then Indian PM Narasimha Rao refused to come to Dhaka for the summit citing lack of security in Dhaka. Delhi wrongly blamed Bangladesh for the unrest related to the demolition of Babri Mosque. However, Narasimha Rao came to Dhaka when Babri Mosque-related unrest cooled down in India and the summit was held in April 1993. 
A great deal of drama surrounded the 11th summit which was scheduled to be held in Kathmandu in November 1999. India was already contemplating refraining from attending the summit because of the Kargil War (May 1999) and relations between India and Pakistan plunged. Delhi's negative attitude exacerbated when, just before the moot, General Pervez Musharraf seized power in Pakistan in October 1999. After lots of diplomatic brouhaha between the two rivals, the summit eventually took place in January 2002 in Kathmandu.
The 13th summit scheduled in Dhaka in January 2005 was delayed again because of India's refusal to participate. Two reasons were put forward by India: the massive tsunami that hit the region on December 26, 2004 and declaration of emergency in Nepal by King Gyanendra. India officially announced it would not attend because of the prevailing security concerns in the neighbourhood. Actually, Delhi was unhappy with Dhaka. The summit was finally held in November 2005.
The 15th summit scheduled in Male in 2008 was not held there as Maldives went into general elections. The venue was shifted to Colombo and was held in August 2008. Male also could not host the 16th summit in 2009 because of the economic recession and the venue was shifted to Thimpu in April 2010. The 18th summit scheduled in Nepal in November 2012 was repeatedly delayed because of internal political turmoil and was eventually held in November 2014.
The issue here is that it has become normal for Saarc members to delay, cancel or change venues of summits. Since the 19th summit could not be scheduled because of India's unwillingness to go to Pakistan, it would be worthwhile for the members to try to change the venue and hold the summit as soon as possible. If Pakistan and India have any responsibility and loyalty towards the organisation, both should agree to hold the conclave at a different venue. It is silly of Delhi to think that it is punishing Pakistan by not allowing it to host the 19th summit. Delhi is actually punishing all the member countries, because all Saarc programmes have stalled. India, being the largest member of Saarc, has the responsibility to protect Saarc.
For Bangladesh the South Asian fraternity has not yet made any collective statement or shown any solidarity with Dhaka on the Rohingya problem. Dhaka should work for convening the 19th summit and get a strongly worded declaration on the Rohingya issue. A supportive Saarc declaration would have a positive impact at the forthcoming BIMSTEC summit and at other international organisations of which Bangladesh is a member.
It would be folly if member countries let Saarc wither away as they have much to lose sitting idle.
Mahmood Hasan is a former ambassador and secretary of the Bangladesh government.