CLEAR AS MUD
A requiem for football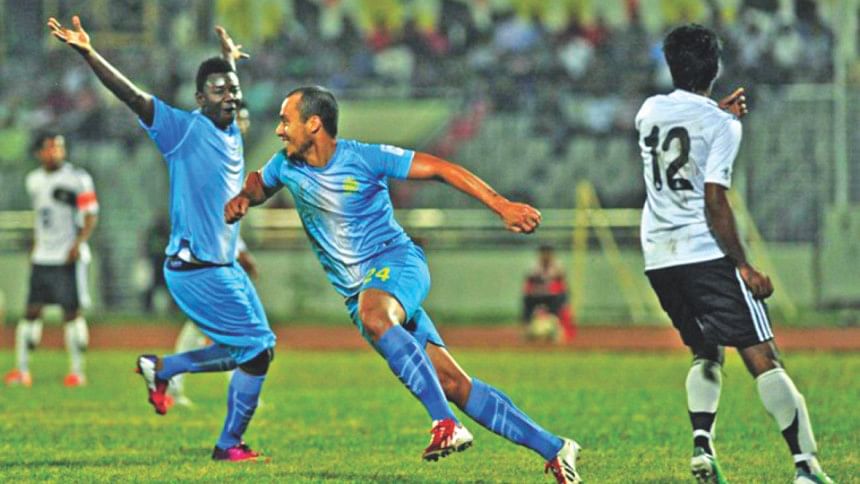 When thousands of Bangladesh fans at the Mirpur National Stadium were shouting mauka mauka and making fun of the beleaguered Indian cricket team to celebrate Bangladesh's historic ODI victory against its fancied neighbours, the country's football bosses had rather quietly made a decision that would literally change the face of Bangladesh football. Guinea born footballer Ismael Bangoura, Nigerian forward Kingsley Chigozie and Ghanaian defender Samad Yussif are going to be the first few sportsmen to be given Bangladesh citizenship so that they can play for the national side. The country had previously bestowed nationality to sportspersons; US professional boxer Muhammad Ali is a case in point. But Ali and some other famous foreigners were given honorary citizenship, which is markedly different from what the African trio will get.  
Football, however, is no stranger to such a custom. Many European countries regularly give citizenship to foreigners who play well in the local league. The Bangladesh football team is in dire need of a good striker who will be able to find the net, preferably more than once in a match. The lack of a good striker has been felt on many an occasion, and Bangoura and Chigozie, who have played in the national league for more than five seasons, fit the bill well. If everything goes on as planned, Bangoura will be seen in Bangladesh's next match against Australia. 
Gone are the days when Babul, Abul and Aslam used to entertain the capacity crowd at the national stadium. The rivalry between Mohammedan and Abahani drew hundreds and thousands of fans across the country and around the globe too, where the Bangladeshi diasporas live. In fact, throughout the eighties, the Bangladesh team were at par with Southeast Asian giants like Indonesia, Malaysia and Thailand. Bangladesh's presence in the Merdeka Cup used to carry an added charm to the Asia's oldest tournament. Aslam's famous head, that brought Bangladesh the President's Gold Cup in Dhaka, now belongs to the memory of a forlorn past, so is Kaiser Hamid's goal against the Maldives, a match that had witnessed the island nation being trounced by Bangladesh 8-0. The Maldives is now a formidable force in South Asian football, having lately beaten Bangladesh in an international match.   
The game itself now attracts a motley crowd of a few hundreds and that too only in the high voltage matches. Even though the Bangladesh Premier League went professional in 2006, it has become a skeleton of its amateur self, failing to generate the enthusiasm that football used to boast even in the early nineties. Cricket's meteoritic rise in the country is inversely proportional to the glory of local football. While the latter had a competitive advantage, cricket concentrated more on spreading the game to different age groups, an area where football lagged behind. It has some other advantages over cricket, which follows a set of complicated rules and demand a couple of special gears. But cricket's success in gaining the test status, along with its entrance into the ivy league of the game has paled football's all previous achievements. 
There is however no denying that in Bangladesh, football, as a game, is much more popular than cricket. We can see its manifestation during the Fifa World Cup, when fans decorate even buildings with the flags of their favourite teams. But unlike cricket, football has never been able to translate this fan following into something concrete. Saving football demands a concentrated plan and that too should be the part of a long term strategy. Nationwide inter-school football tournaments should be held on a regular basis, age group divisional leagues can also be introduced. The thrust needs to be on the creation of under-14, 16, 19 and 21 sides in all districts and at the national level. It is time that Bangladesh set up a football academy for teenagers which will hire world renowned coaches. Bangladesh should hold two international tournaments that will be participated by Asian national side and a championship where major Asian and African nations will send their U-19 teams. It is indeed interesting to see that football, under the leadership of Kazi Salahuddin has gone through a mini renaissance of sort. But Bangladesh football still has a long way to go.  Bangladesh needs to work on building its own footballing infrastructure, something that used to exist in the early eighties. It does not merely mean building new stadiums, which the country already has. We have to work on attracting the younger generation into the local football scene. Giving citizenship to the three African players can help Bangladesh play well against teams like Kazakhstan and Australia, but it is a remedy meant to work only in the very short run.

The writer is an author, editor and journalist. He is Head of Daily Star Books. Twitter: @ahmedehussain