The shadow of border disputes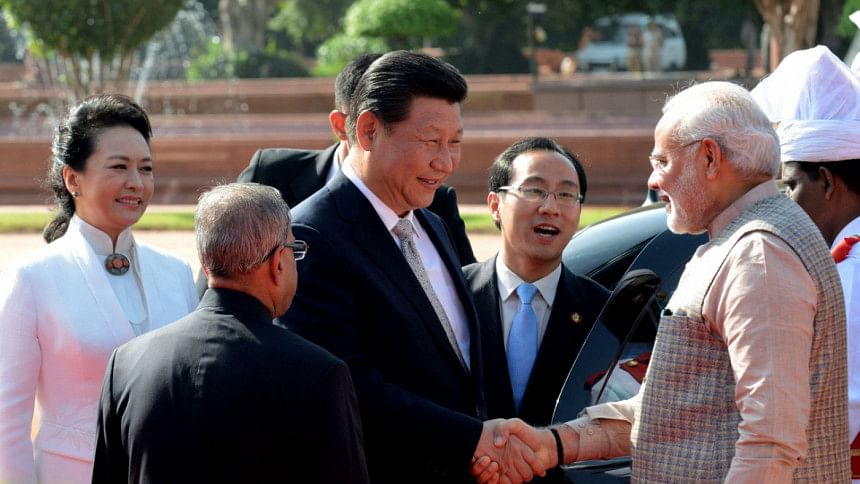 NONE of Prime Minister Narendra Modi's foreign visits drew as much attention as his three days visit to China. The visit assumed significance in the background of global and regional developments like the growing tension in the South China Sea, US 'pivot Asia' policy and China's aggressive quest to pursue 'one belt and one road' initiative and more specifically in the South Asia context, the BCIM corridor, the vigorously pursued Maritime Silk Route (MSR), the proposed China-Pakistan Economic Corridor and its increasing involvement in Afghanistan. 
China's increasing foray to the South Asia region has already raised concerns among the strategic community in India but what has deepened their suspicion is its increasing assertiveness in the border and its position on Jammu and Kashmir and Arunachal Pradesh which China refers to as South Tibet. While these are important issues that would bedevil the bilateral relations between the two countries, both India and China are also eager to strengthen trade and investment and exhibited a desire to have a common position on climate change especially for the upcoming Paris conference. 
Bilaterally, border disputes would continue to overshadow the greater desire for engagement. China's controversial position on issuing stapled visa to the residents of Jammu and Kashmir was a major bone of contention. According to reports, China started issuing stapled visas to the residents of J&K from 2009 while it did not adopt a similar policy towards the residents of Pakistan occupied Kashmir (PoK) which indicated its stance with regard to India and Pakistan's position on J&K. 
Its policy of issuing stapled visa to residents of Arunachal Pradesh started in 2010 and in the past Beijing has always issued statements objecting to Indian Prime Ministers' visit to Arunachal Pradesh. It successfully blocked an ADB loan to Arunachal Pradesh in 2009. Reacting to India's objection on stapled visa to residents of Arunachal, China said,"China has resorted to a special arrangement of issuance of stapled visa to address the need for travel of local people. This gesture is out of goodwill and flexibility and if we do not do that we will not be able to address the concern of outbound and overseas travel of these people." India raised this issue during the bilateral meeting. However, Beijing's ambiguity toward improving bilateral relations was reflected when the state owned CCTV beamed a controversial map of India that showed Arunachal as South Tibet and a large part of J&K was missing from the map on the eve of Prime Minister Modi's visit. Such ambiguity was demonstrated when major incursions happened in Ladakh when the Chinese President was on a state visit to India.
Yet, India and China realise the   'imperative of forging strategic trust' as a prelude to expanding bilateral ties and enhance their global role. Both the countries recognised the need to settle the boundary dispute and maintain 'peace and tranquillity'. They decided to institute a State/Provincial Leaders' Forum –a first of its kind– to engage the Indian states and Chinese province. Both the countries have been holding joint counter-terrorism exercises and the fifth such exercise is going to be held in China this year. The two countries decided to enhance their cooperation on counter-terrorism and also asked countries to cease cross border movement of terrorists. China is facing the threat of terrorism in its restive Xinxiang province. Their Navies also hold joint Passage Exercise (PASSEX) and Search and Rescue (SAR) exercises. Both the countries have decided to take steps to address the trade and investment barrier and agreed to constitute a Strategic Economic Dialogue to iron out the differences. In spite of objections from the security establishment, Prime Minister Modi has decided to provide   e-visas to the Chinese tourists in a bid to enhance people-to-people contact. All these reflect the multiplicity of India-China bilateral relations.
Regionally, China's relations with Pakistan has been a major factor in trust deficit between the two countries. India has raised strong objection to China's engagement in Pakistan occupied Kashmir and its proposed China Pakistan Economic Corridor that would pass through the PoK. Beijing's policy of propping Pakistan to counter-balance India through nuclear and other strategic engagements is well known. However, while emphasising that India and China can increase their engagement in their 'shared neighbourhood', India also made it clear that "we must ensure that our relationships with other countries do not become a source of concern for each other". While China is expanding its relations with South Asian neighbours, it reacted angrily to India's statement on South China Sea in May 2014, its joint statement with the US mentioning need for peace in South China Sea. Earlier, ONGC's oil exploration with Vietnam in the South China Sea was criticised by Beijing. 
India is involved in the BCIM corridor but it has certain reservations on the MSR and perceives this as China's effort to bolster its presence in the Indian Ocean which would have strategic implications. 
India-China relations cannot be divorced from global geo-politics and its regional context. China's engagement in South Asia would be watched by India carefully as China watches India's engagement with its East Asia neighbours and specifically India's relations with Mongolia, Vietnam, South Korea and Japan. India is now part of the East Asia summit and China is now an observer in SAARC, aiming to become a member. Both the countries' relations with the United States will have implications for their bilateral relations and regional engagement. 
As India and China grow economically, their roles in regional and global forums are likely to increase. Though strategic and geo-political conflicts and the position the respective countries take will have an impact on bilateral relations, both have expansive ground to forge close cooperation on some of the global commons that affect the interests of the developing countries. Issues of energy, climate change, terrorism, protecting sea lanes of communication, dealing with piracy would bring the two countries together. India will closely watch China's engagement with its South Asian neighbours and how its bilateral disputes with Beijing unfold and draw strategic conclusions. There are more grey areas than dual shades of black and white to the bilateralism that the two countries are pursuing.
The writer is Research Fellow, IDSA.