In Shame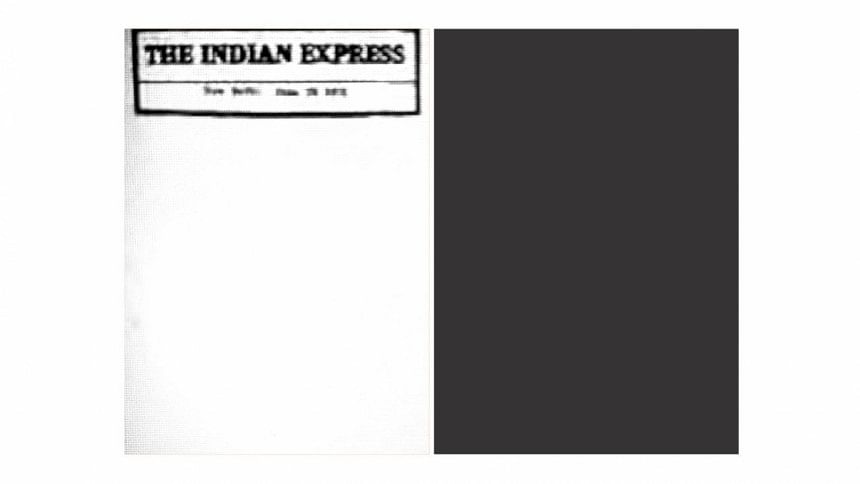 I was originally planning to write on our Finance Minister's comments on the readymade garments industry being strong enough to return favours to the government. I am certain that he sees no dearth of growth in the sector and senses that all ready-made garment factories are making tons of money, evading taxes and siphoning money overseas. What he said does not surprise me, as that must be his perception. What worries me is the possible impact of his "perception" that may impact the budget and in the process hurt the industry, which has four million workers, out of which three million are women.
Looping women into any argument is easy and serves the purpose. That is why in most cases reference to women support and expedite any cause. Your columnist seeks your pardon in doing the same. But then again, most of us hold erroneous perceptions, give the same references, and practice the same evil. The most recent example of evil is of the gang rape that happened in the microbus. That is when I changed this week's topic from being one about the RMG sector to telling her story.
When I saw her, tragedy was already twenty-four hours old. She had a tiny frame; possibly did not weigh more than 40 kilograms and had a smile. Your columnist had difficulty spotting her as she came in with another woman, slightly bigger than her, looked shaken up and did not smile. Surprisingly the one with the smile was the one who was raped in a moving microbus for one and a half hours by five men. In no time, I was relearning the language of courage from her. Commonly referred to as Garo, this tiny girl in front of me would perhaps rather have been referred to as chick mandi (hill tribe) or achie (mountaineer). For someone who has to interact with the mainstream of the society on a regular basis, for reasons of earning her livelihood, she lives in Dhaka, removed from her original setup of being part of a matriarchal society where she is taught to take her mother's surname and value her mother's descent. 
For over thirty minutes, she narrated with precision how she had tried to break the glass of the microbus, how they had violated her by taking turns, how they had squeezed her face in order not to let her scream, how they had told us that they were bhodro (decent) boys and finally how after the fourth culprit, the fifth one, being the driver, had finally parked the car and satiated his ugly desire. She also added that she had recognised one rapist who had visited her workplace and had come in with two foreigners (of which, one was an African) and asked her details of her residence. The girl happened to even know his name, as while they were engaged in the dirty act, a phone call had come through and his name was called out. Quite ironically, his name evokes images of whiteness and purity. 
In a landscape, where according to the Bangla daily, Prothom-Alo, out of 5,321 women, only 41 got justice in the last fourteen years, how much will this frail 21-year old benefit from a one-stop crisis centre? Your columnist has no answer. To be honest, the reason why I rushed to the police station that night was simply because I had to see for myself that the girl was safe there. Contrary to my assumption and perception, the Officer-in-Charge there was a decent man who had ensured that the girl was well taken care of and got a safe place to stay in the thana along with her sister and dad. Your columnist had reasons to thank the officer for having taken her case as she had earlier been rejected in two other stations. The girl, who was subjected to a mountain of shame at night to have gone to the police stations from 4:00 in the morning and then to have found her safe haven at Bhatara, spelt an incredible tale of resilience. 
While Bangladesh marches ahead with the female net enrolment rate in the primary education being 98.1 percent, where the net enrolment in secondary education stands at 63.6 percent, where 57 percent of all women above 15 years of age are all economically active, where 20 percent of the national parliament seats are held by women, where 80 percent of our RMG workers are women, where 49.4 percent of the total population are women, how can Bangladesh afford to be put to shame when, according to Ain-o-Shalish Kendro, equally shameful statistics of 208 women being raped, 117 cases being filed, 4 having committed suicide and 29 having died, surfaces in the public sphere? 
A recent World Bank development update reveals that raising the Female Labor Force Participation (FLFP) to the current level of male participation of 82 percent implies adding 2.5 million female labourers every year which would boost the potential GDP growth rate by about 1.8 percentage points, leading to 7.5 percent growth by 2021. When we say so much, predict so much, pin so much hope on women, where is the safety net at the bottom of the hill when every time a woman like this 21-year old decides to take a leap of faith and share her story with the rest of the country? Apart from simply complaining of inaction in unresolved issues, apart from occasionally voicing our protest, why can't we all come out of our homes every week on a Friday, take time off from our families and hold a candle vigil for every woman who has been sexually assaulted so far? Can the language of our protest change and reach the most isolated woman in every family who is subjected to even passive aggressive behaviour on a regular basis? Can this become our ultimate campaign where all women decide to leave their homes and step out on the street right in front of their house and just light one single candle in respect for all the women in this country on a weekly basis? Can we take this campaign beyond just the educated and the aware section of citizens and make it a national language of protest for all?
Our voices must change. Our tears must not dry up. In Greek mythology, Philomela, whose tongue was cut off, wove a tapestry and shared her story of being raped by her brother-in-law Tereus and reached out to her own sister Procne. Let no Philomela ever lose her tongue in this land of ours; let there be a Procne in each of us so that all of us come together in one heart when we punish our own sons, husbands and brothers for bearing the mark of sexual assaulters. 
Our time has come to reinvent the discourse on protest. Maybe we need to refer to history to learn lessons, yet again. On June 26, 1975, India's Prime Minister Indira Gandhi declared a state of emergency which lasted for a little less than two years during which elections and fundamental rights were suspended, news and media were censored and more than a hundred thousand Indians were arrested. The most powerful gesture of protest was demonstrated by Indian Express on the June 28, 1975, where the daily protested by leaving the editorial section blank. A blank space carried the strongest voice…
Today, your columnist too replicates the same stance by requesting the daily to leave the highlighted section of the piece black and blank. 
The writer is the Managing Director, The Mohammadi Group.