Politics, terrorism, and the state of denial
Terrorism has re-emerged in Bangladesh – this time, with more vigour! For the first time ever, Bangladesh experienced suicide bombing in a mosque. On December 25, a terrorist blew himself up and injured a few people during the Jumma prayer inside an Ahmadiyya mosque at Bagmara in Rajshahi district. As per media reports, the dead terrorist was a member of the proscribed terrorist group Jamaat-ul-Mujahideen Bangladesh (JMB), purportedly linked with the Middle East-based Islamic State (ISIS).
However, after going through about a dozen leading Bangladeshi newspapers since December 26, I'm disappointed by the sketchy, scanty and half-hearted coverage of this devastating news. Only a couple of analysts have shed any light on the grave danger. The state of apathy about the first suicide attack in the country makes it seem that suicide terrorism isn't that different from any other violent crime the country experiences every day! 
There might be "international instigation" (as suggested by top leaders of the country) behind the resurgence of terror in Bangladesh, but as proven in the past, indigenous terror outfits – the JMB and HUJI (B) – can be as deadly. I believe there's no room for any complacency about terrorism having no place in Bangladesh because it's "not another Pakistan or Afghanistan" or because "Hindus, Muslims, Buddhists and Christians fought together to liberate this country". No country is immune to terrorism, and you don't need foreign hands to stir it up.
Unfortunately, it hasn't yet dawned on our leaders and analysts that suicide terrorism may signal the beginning of the end of any semblance of stability, peace and order in the country. Contrary to the layman's understanding of suicide terrorism, as famous terrorism experts (including Robert Pepe) have argued, "dying to kill others" is a "rational" behaviour. Conversely, there is nothing rational about being smug and denying the unpleasant truth about the existence of indigenous terror groups in Bangladesh. I'm afraid that this overconfidence and denial of the reality might eventually backfire.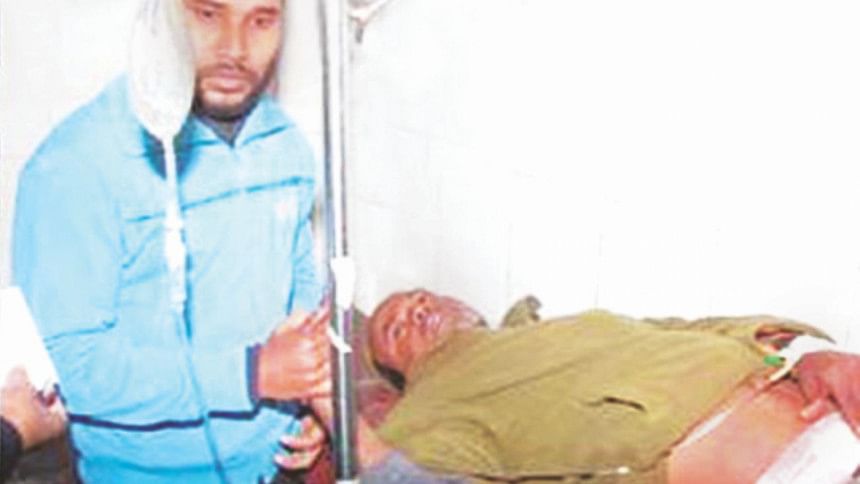 While complacency and the state of denial are counterproductive to effective counterterrorism, so is the prevalent politics of hate, mistrust and acrimony. Heightened political polarisation in Bangladesh has further aggravated the situation to the extreme. Thus, a fractured Bangladesh is least prepared to tackle terrorism. It's not the time to relax and engage in acrimonious politics – as Bangladeshis are doing – just because the police have arrested some JMB terrorists, effectively unearthed some terrorist dens, and confiscated deadly weapons from different parts of the country. We must not forget that law-enforcers aren't the only and most effective antidotes to terror. Terrorism is very different from crime, and isn't a typical law-and-order problem. 
Unbelievably, when there was no credible terrorist threat in the country, we heard people who cried wolf about "impending" terrorist threats that first originated within, and then travelled beyond, Bangladesh. So much so that in March 2000, when President Clinton visited Bangladesh, he cancelled his road trip to the outskirts of Dhaka, to stay away from "potential" Islamist terror attack on his motorcade. And of late, we hear there are no terrorists in the country, that only opposition activists resort to terrorism. Despite local and international security analysts'/ intelligence agencies' cautionary advice, the government seems to have remained in a state of denial, too complacent to take any Islamist terror threat seriously. 
While Islamist terrorists have re-emerged recently, killing bloggers, writers, foreign nationals and Shias, and attacking an Ahmadiyya mosque, with impunity, one wonders how leaders, intellectuals, and ordinary people in Bangladesh can afford to waste time and energy in partisan politics! In less than a year of independence, various factors polarised Bangladeshis between the supporters and opponents of the ruling Awami League party. However, the country was never as fractured and polarised as it's today, since the controversial parliamentary elections of January 5, 2014.
Had this polarisation been only political, due to ideological differences between the followers of the two major political parties – Awami League and BNP (and their allies) – there would have been nothing extra-ordinary or worrisome to take notice of, at all. Leaders of both the groups portray their political rivals – sworn enemies seems to be the right expression – as "liars", "killers" and "anti-Liberation" people. In view of the above, it seems that ending the various "never ending stories" in Bangladesh is more important than getting united against terrorism! 
One may raise the recent controversy over a statement by Khaleda Zia, the main opposition leader, in this regard. Pro-ruling party leaders, intellectuals, students and others are demanding her trial, and even expulsion from the country, for merely asserting: "There is still a controversy about the exact number of people martyred in the Liberation War".  While the Ghatak Dalal Nirmul Committee has asked for a law to make challenging the Liberation War facts a criminal offence, a metropolitan magistrate in Dhaka ordered probe over Khaleda's "sedition charge", and a former Supreme Court Justice said Khaleda had insulted the Liberation War, which "is tantamount to sedition".
Unfortunately, people in Bangladesh hear only very sketchy, partisan, doctored and incomplete accounts of major upheavals in Bangladesh. There's hardly any consensus on any man-made disaster that befell this country since 1971, including killing of politicians, intellectuals, military officers and ordinary people. Rumours and conspiracy theories abound. The lack of mutual trust and respect between politicians, and the non-existing transparency and accountability of government machinery have not only stalled democratic transition since independence, but are also responsible for bad governance, violent crimes, and terrorism.
We may agree with a recent piece on Bangladesh in the 

Foreign Policy magazine ("Why the Extremist Threat in Bangladesh Needs to be taken Seriously", November 7, 2015), which is instructive and illuminating. We can't agree more with the article that partisan politics is at the root of Islamist terrorism in the country: "Political polarisation between the ruling Awami League government and opposition Bangladesh Nationalist Party is creating space for the rise of Islamist extremism in Bangladesh." We believe over-polarisation of the over-populated polity and the zero-sum game of politics in Bangladesh – where the winner takes all – contribute to the rise of dysfunctional governance, terrorism and anarchy. And politicians' tendency to put down others, lie, hide the truth, and deny the reality has further aggravated the situation.
It's time that Bangladesh learns how to foster a bi-partisan political culture from advanced democracies. Before denigrating political rivals as enemies and traitors, Bangladeshi politicians must know as to how even relatively partisan Americans (among people in the West) respect political opponents. President George H.W. Bush is said to have told his son that despite their mutual differences, both the Republicans and Democrats were patriotic and that only their ways of running the country were different. During his election campaign in 2012, Republican Mitt Romney went overboard in praise of rival Democrats: "Democrats are more patriotic than Republicans". 
In sum, instead of putting down political rivals as killers and traitors, if politicians in Bangladesh could respect each other – at least for the sake of showing respect to the millions of voters who elect their political rivals to power – the country would become more livable, democratic and free from any terrorist threat. Partisan, unaccountable and corrupt political system is at the root of terrorism and anarchy. Long-drawn-out terrorism has the potentials to retard growth and progress, and destroy whatever the country has achieved in the last four decades.
The writer teaches security studies at Austin Peay State University. Sage has recently published his latest book, Global Jihad and America: The Hundred-Year War Beyond Iraq and Afghanistan.